Carpet Cleaning Questions Answered: Why Should I Choose Carpet for My Home?
June 15, 2022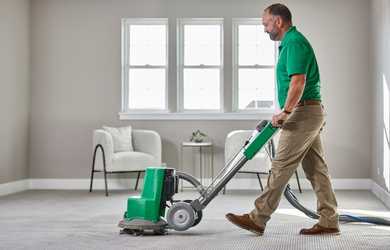 Whether you are building a new home or embarking on home improvements for your current house, one of the most common questions is whether you should choose carpet or hard flooring. Both have benefits, but when it comes to cleaning, carpets just might be easier to deal with. Especially when you have a trusted carpet cleaning company on call.
Why Carpets are Such a Great Addition to Any Home
There are a number of reasons why people are drawn to carpets for their home, and carpets have some surprising benefits. If you are debating between carpeting or hard flooring, consider these advantages:
Carpets Contribute to the Style of Your Home
Your carpets offer an instant style statement. With the range of colors and textures available, hard floors simply are no competition in this area. Carpets can act as a neutral backdrop or even can become the focal point of your interior decor if you choose to go with a bold color or pattern.
Carpets can Improve Indoor Air Quality
As long as proper carpet cleaning is done on a regular basis, your carpets will passively trap dust particles, pollen, and other airborne pollutants, taking them out of the air your family breathes. When you opt for hard flooring, dust and other pollutants are kicked back up into the air. With carpet, dust is securely held in your carpet, giving you the chance to inhale cleaner air at home without investing in a more high-tech air-cleaning solution.
Carpets Bring Warmth and Comfort to Any Room
Carpets are simply more cozy than many other floor types. Whether you're simply walking across the room or if choose to take a seat and spread out a project on the floor, you'll be more comfortable on carpet than a hard surface. Carpets also provide a level of thermal insulation, which can conserve energy in cooler seasons.
Carpets Offer a Safe Landing
In addition to cushioning each step you take, carpet is also a less slippery surface than hard floors. This feature can give families extra peace of mind if there are little ones running around the house or elderly adults at risk of falling. When falls do occur, the soft, springy texture of carpet cushions falls and minimizes the potential for injuries.  
Carpets Absorb Noise
Noise bounces off hard floors, making even smaller homes feel loud and echoey. Noise transference between rooms is especially challenging in today's open floor plan homes.
In contrast, carpets absorb the sounds of chatter, foot traffic, and entertainment systems to bring more peace and quiet to your living environment. This noise absorption also helps block sound from transmitting between floors, ensuring entertainment stays in the entertainment room rather than blasting through your home.
Chem-Dry Makes Carpet Cleaning Easy
Maintaining the carpet in your home is easy too. Weekly, or more frequent, vacuuming is essential to removing surface dust, pet hair, and other debris. With twice yearly professional carpet cleaning, deep-set dirt and dust is removed. Regular professional carpet cleaning also ensures your carpets retain their best features and continue to perform at the highest level.
When you call on the experts at Chem-Dry, you can enjoy a fresh, clean carpet without having to invest in machinery of your own or worry about the risk of mold and mildew growth. Our Hot Carbonating Extraction process removes deep-set dirt and grime by leveraging the power of carbonation and an non-toxic, detergent-free cleaner that doesn't leave a dirt-attracting residue on your carpet. Plus, our innovative approach uses about 80% less water than traditional steam cleaners. As a result, your carpet will be dry and ready to enjoy within hours!
Learn more about our carpet cleaning services today. Just call (800) CHEM-DRY to connect with a Chem-Dry technician in your local area who can help you enjoy all the advantages of a carpeted home.