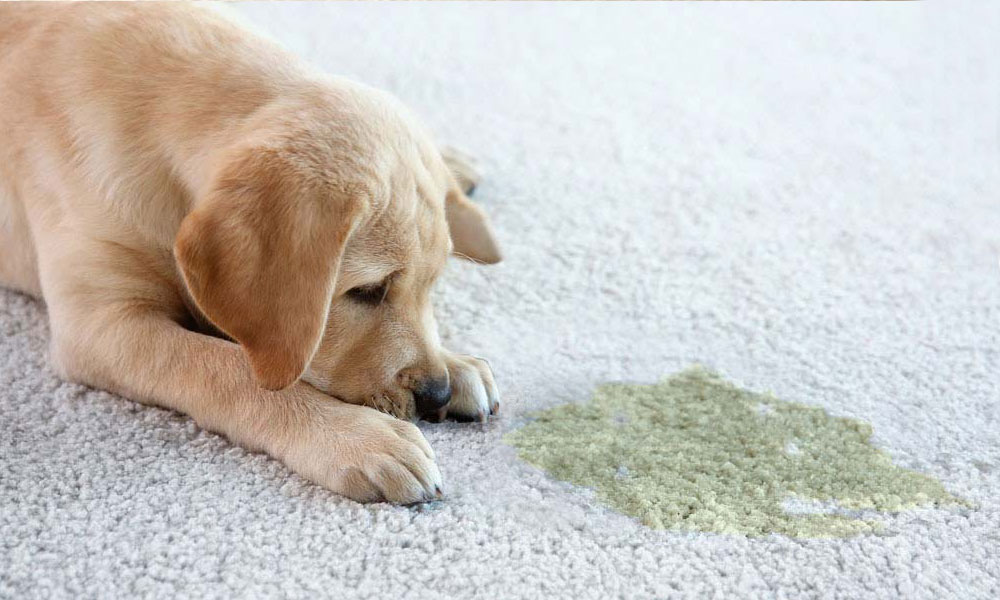 Pet Carpet Cleaning and Pet Odor Removal
We all love our pets, but their accidents can make it a real challenge to keep your home clean, healthy, and smelling fresh. That's why you need a reliable and professional pet carpet cleaning and odor removal service.
Dealing with the pet urine accidents you can see is hard enough. It's even more difficult to know where past accidents may have taken place.
These hidden accidents could be emitting an unpleasant odor and can encourage your pets to urinate in the same spots again and again. That's why the best pet carpet cleaning service will provide a full deep clean that doesn't leave any lingering stains or smells.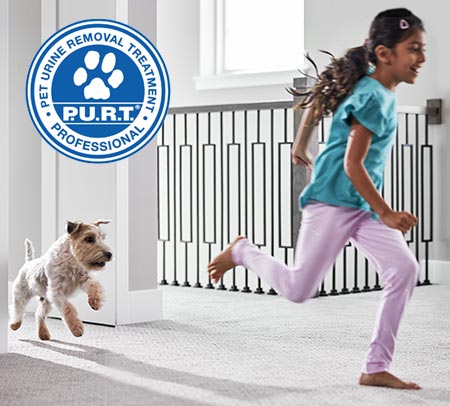 Our Unique Pet Carpet Cleaning and Odor Removal Service
You can trust the professionals at Chem-Dry to eliminate pet urine and the resulting odor for good. Our revolutionary Pet Urine Removal Treatment (P.U.R.T.®) attacks the odors at the source, deep down in your carpet fibers. Rather than masking odors with perfumes, P.U.R.T. causes a chemical reaction that destroys the urine crystals and eliminates the odors once and for all! 
Our technicians use a special UV light to detect all pet urine accidents in your home, even the ones you may not have been aware of. You can count on P.U.R.T. to remove even the most stubborn pet urine odors from carpets, rugs, and upholstery.
Tested and Proven Pet Carpet Cleaning for Superior Results
An independent laboratory conducted multiple tests of our Pet Urine Removal Treatment to determine its effectiveness in treating pet urine odors. In tests against the most common odor sources found in dog and cat urine, the study found that P.U.R.T. removes an average of 99.9% of pet urine odors from carpets*. These results clearly show that our P.U.R.T. process is much more effective than both store-bought alternatives and processes used by other professional cleaning companies.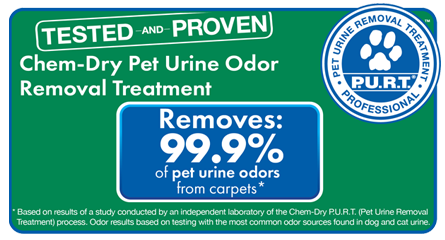 Pet Odor Removal That Eliminates Pet Urine Odors Forever 
Not only will cat and dog urine in the carpet leave an unsightly stain and an unpleasant odor, but it also penetrates the fibers and contaminates both the carpet and the floor underneath. If not treated properly, odor from pet accidents can travel through your entire home, impacting both your health and your happiness. 
The smell also encourages your dog or cat to have repeat accidents in the same spot unless it's fully eliminated. As the urine dries, the liquid evaporates but the urine crystals become even more concentrated and pungent. That's why simple cleaning and do-it-yourself methods don't work.  
You need the help of a specialized pet carpet cleaning and pet odor removal service like the professionals at Chem-Dry. Our revolutionary Pet Urine Removal Treatment works at the molecular level to fully eliminate odors for good. With P.U.R.T., even the most severe pet urine odor issues can be solved, and your carpets, rugs, and upholstery saved. 
How the P.U.R.T. Cleaning Process Works
Our proprietary P.U.R.T. process is unparalleled in the industry. Here's what you can expect during a P.U.R.T. service: 
First, a Chem-Dry professional pet carpet cleaner will do an inspection of your carpets with a special ultraviolet light. This helps to expose any problem areas and urine deposits that may not be visible to the naked eye. 

Next, we'll use our Hot Carbonating Extraction cleaning process to remove any liquid or loose urine crystals from the carpet. 

Then, we'll apply our revolutionary Pet Urine Removal Treatment to each stain. P.U.R.T. travels deep into the carpet pad and even the subfloor, allowing it to reach areas that typical cleaning products and processes cannot reach. 

P.U.R.T. goes to work, breaking down all of the odor-causing matter over the next 24 to 36 hours. When each treated area has dried, the odor will be gone for good! 
Contact your local Chem-Dry today to schedule a free, no-obligation pet urine analysis and learn more about our pet carpet cleaning and pet odor removal services.