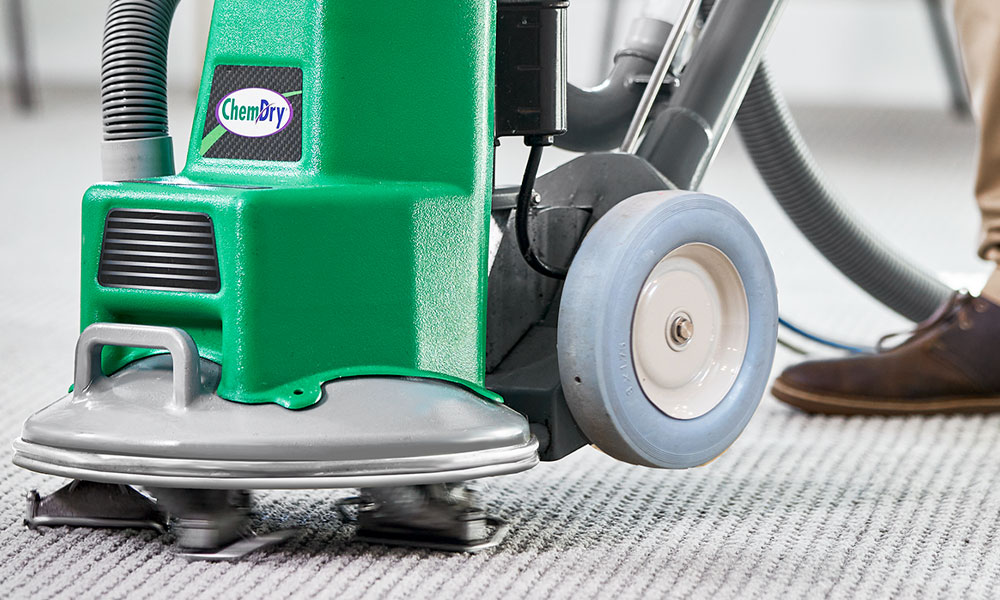 For over 40 years, homeowners have chosen Chem-Dry for a healthier approach to carpet cleaning services. Our unique process delivers a deeper clean to carpet fibers, without the soapy chemicals and excessive amounts of water used by other carpet cleaners!
At Chem-Dry, we don't rely on harsh chemicals or soapy detergents to achieve a deeper, longer-lasting clean. Instead, we harness the natural cleaning power of carbonation to clean your carpets.
Our Hot Carbonating Extraction process uses a Chem-Dry Green Certified solution called The Natural®, combined with PowerHead® cleaning technology. This process tackles the deep-seated stains and traffic patterns your carpets naturally develop over time.
At the same time, we can help improve indoor air quality inside your home. That's why we say, "We clean for your health like no one else.®"
Want a deeper, healthier clean for your carpets? Find your local Chem-Dry to learn more and get a carpet cleaning estimate!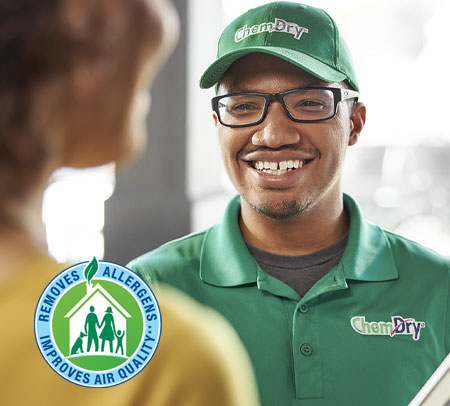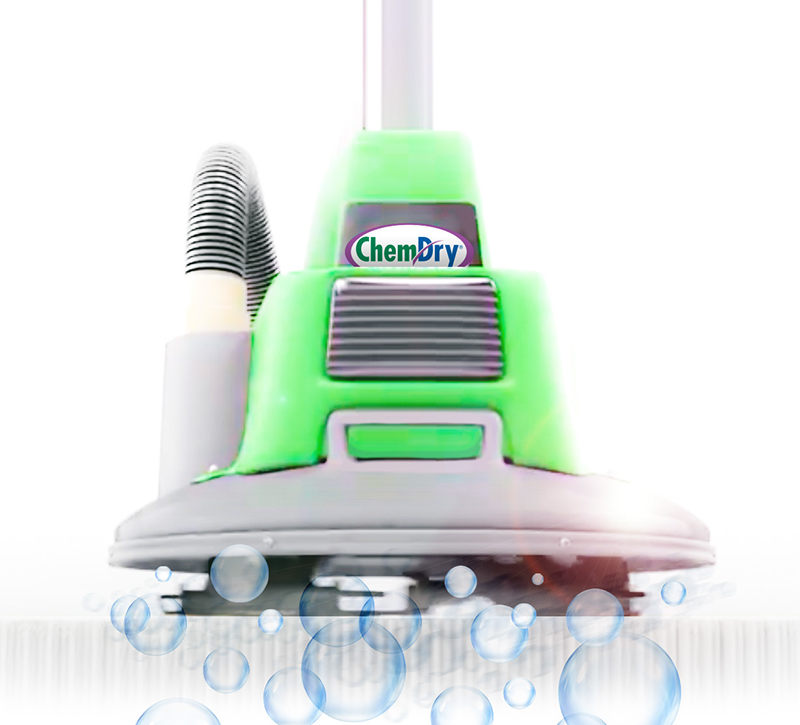 A Deeper Clean for a Healthier Home
Did you know your carpets help filter the air inside your home? Carpet fibers trap dirt and allergens, which keeps them from circulating in the air you breathe.
But without regular deep cleaning, dirty carpets will become full and unable to trap additional dirt and grime.
That's where Chem-Dry comes in! With our Hot Carbonating Extraction (HCE) process, we can deep clean your carpets. This improves indoor air quality and delivers a healthier home.
Our innovative cleaning process uses about 80% less water than traditional steam cleaning. That means faster drying times and less risk of mold or mildew growth due to wet carpets.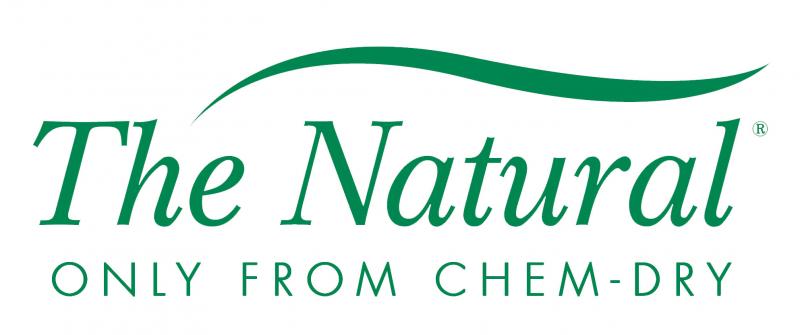 Chem-Dry Green Certified Carpet Cleaning Solution
Unlike other cleaners, Chem-Dry doesn't rely on harsh chemicals or soapy detergents. Instead, we use a Chem-Dry Green Certified solution called The Natural®. This exclusive product is at the heart of our carpet and upholstery cleaning services.
Instead of using detergents, The Natural uses carbonation to clean carpet fibers. The solution releases millions of tiny carbonated bubbles that reach deep into your carpets. These bubbles loosen dirt, grit, and grime and lift them to the surface. At that point, our PowerHead® extraction equipment whisks the dirt out of your carpets.
The solution is based on ingredients copied from Mother Nature. That makes The Natural® a perfect choice for a healthier home.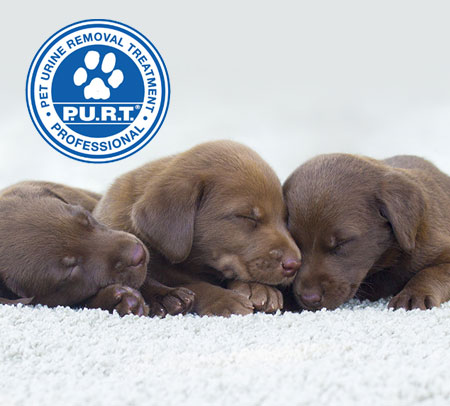 Neutralize Odors in Carpets
Your home is filled with odors that get trapped in the fibers of your carpet. From cooking to pets and kids, some of these stubborn odors can linger even after a professional cleaning.
Our carpet cleaning company has the solution to lingering smells. With our deodorizer, we can knock out even the toughest of odors, leaving your home smelling clean and fresh.
Even odors from pet accidents are no match for Chem-Dry! Our revolutionary Pet Urine Removal Treatment (P.U.R.T.®) is perfect for pet urine stains. In fact, the P.U.R.T. process is proven to remove 99.9% of pet urine odors from carpets.
Our Carpet Cleaning Packages
Basic Package
Clean
In our Basic Package, your carpets will get a healthy deep cleaning, using our innovative Hot Carbonating Extraction (HCE) process.
This process penetrates to the base of carpets to lift and whisk away dirt, grime, and non-living allergens. By removing these contaminants, we not only improve the appearance of carpets — we also improve the health of your home!
Stain Fighter Package
Clean + Protect
Our Stain Fighter Package gives you the same deep clean as our Basic Package, plus the added benefits of a protectant.
With this package, we apply a protective stain-fighting solution during the cleaning process. This allows the protectant to coat carpet fibers, boosting your carpet's stain-fighting power.
If you're worried about existing stains, we also offer a specialty stain removal service for carpeting and upholstery. Our stain removers can handle tough stains from sources like wine, lipstick, permanent marker, grass, and more!
The Fresh & Healthy Home Premium Package
Clean + Protect + Anti-Allergen + Deodorize
The Fresh & Healthy Home Premium Package offers our deepest possible clean for your home.
In this package, you get the deep clean offered by our Basic Package, the protectant from our Stain Fighter Package, plus an anti-allergen and odor removal treatment for your carpets.
Rather than simply masking lingering smells, we eliminate odors at the source. At the same time, we reduce common household non-living allergens and improve indoor air quality, creating a fresher and healthier home!
Find Local Carpet Cleaners
Ready to bring a deeper, healthier clean to your carpets? Enter your ZIP code below to find your nearest Chem-Dry location!
Frequently Asked Questions