Toddler Proof Your Home
March 07, 2014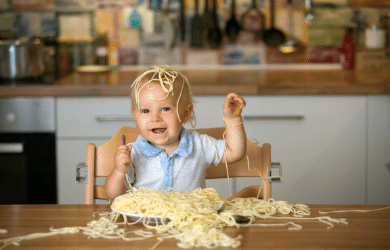 If you are the parent of a toddler, then you probably know every trick in the book for cleaning up all kinds of messes!  You have probably spent countless hours mopping up spills and vacuuming your floors. You have probably "googled" every DIY carpet cleaning remedy.  It's time to stop cleaning and start preventing! Here are a few suggestions for avoiding the countless spills and messes caused by toddlers.
Eating and Drinking 
When it comes to eating, toddlers have a unique ability to make an elaborate mess with just a small amount of food.  For starters, it is best to avoid eating or drinking in carpeted areas.  Try to establish proper eating habits by limiting food and drink to the kitchen area.  If possible, give your toddler a small table that is just their size.  This will make it fun for them to eat at their own special table.  If you do not have room for a small "kid" table, then perhaps you can provide a special chair or colorful booster that they can use.  Boosters will also help your toddler to reach the table, helping to avoid spilling their food as they eat. 
If you must allow eating and drinking in an area with carpet or furniture, it is best to stick with clear liquids and juices.  This will help to avoid stains if the child were to have a spill.  Sippee cups and snack cups with lids are another great way to avoid spills, especially when eating on the go. 
Craft Time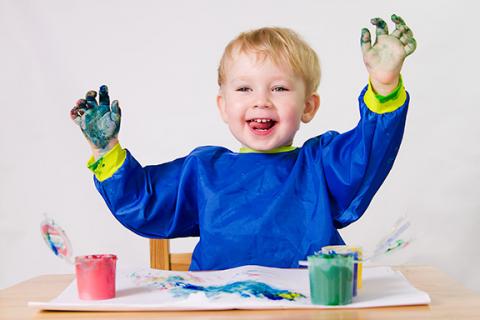 Toddlers love crafts; but, with crafts comes messes! Don't worry!  You don't have to hide the markers and crayons! Simply designate a special place for arts and crafts activities.  Set ground rules for using the craft supplies and make sure your child understands the rules for playing with those items.
It is also best to constantly supervise a young child when they are using crayons, markers, glue etc.  Choose an area that is away from upholstered furniture and carpet.  As an extra precaution, make sure your child's art supplies are washable.  Play-doh is a popular and fun activity for little ones but it can be a nightmare to get out of carpet.  Have your child use a tray or cookie sheet with edges to help avoid getting playdoh on carpet.  In addition, keep pens, markers, paint, etc. out of your child's reach.   These simple solutions will allow you to spend quality and fun time with your toddler without the stress and worry of making a mess. 
Bringing In the Outdoors   
Most toddlers love to play outside…rain or shine!  They also tend to bring the "outside" in your house.  To avoid tracking in mud and dirt, encourage your toddler to take their shoes off as soon as they enter your home.  You might even have a special place for them to put their shoes. (This will make finding their shoes much easier!)  You might also place a doormat in front of all of your doors as an extra precaution.    
Toddlers have many unique qualities, but "messy" does not need to be one of them!  Help maintain a happy, healthy, and clean home by utilizing some of these simple strategies.  It's time to forget about cleaning up messes and start cherishing this wonderful and precious time in your child's life!
Handling the Mess
If you do find a mess from your toddler that you need help cleaning up, Chem-Dry is here to help. For common spills and stains, stock up on Chem-Dry's at-home cleaning products. Try Stain Extinguisher for most common dirt and food spills and Grease & Oil Remover for things like crayons.
For more set-in stains, call Chem-Dry for a professional cleaning and ask about our Specialty Stain Removal. Our technicians are equipped with state-of-the-art products that can take care of virtually all spots and stains. Chem-Dry can knock tough stains out of carpets, rugs and upholstery for good. That's why we say "If we can't get it out, no one can."