Gentle vs. Harsh Cleaning Products
November 05, 2014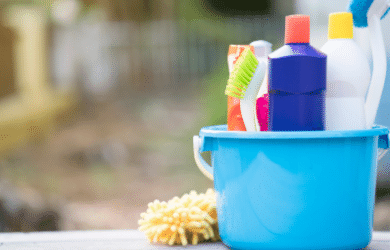 Families with children know just how hard it can be to keep their home looking clean and fresh.  From dirty shoes to endless spills, maintaining clean carpets can seem almost impossible.  For this reason, choosing the right cleaning products is crucial.  However, when looking for that perfect product to remove stains, it is important to consider the effects on your carpet and even your health. 
When customers are shopping for strong, effective cleaning products, they often overlook an important aspect…how safe is this product for my carpets and my health?  While many products claim to remove stains, germs, and bacteria, they fail to mention the risks associated with using the product.  From damaged carpets to a variety of health effects, there are risks involved with commercial cleaning products.  Many products contain harsh chemicals and toxins that can damage your carpets over time.  Certain chemicals can weaken your carpet fibers, causing your carpets to deteriorate much faster.  They might also cause fading, stains, or discoloration on your carpets. 
In addition, these toxins and chemicals can be detrimental to your health.  When inhaled, many of these chemicals can irritate allergies or asthma sufferers.  They have also been known to cause liver damage, eye and skin infections, as well as burns.   Furthermore, thousands of children suffer fatal injuries each year from ingesting household cleaners.  The solution to this problem is a simple one…switch to gentle, eco-friendly cleaning products.
Eco-friendly cleaning products, also known as green products such as Chem-Dry's home cleaning product lines of Stain Extinguisher, Grease & Oil Remover, and Carpet Deodorizer, are just as effective at removing stains and bacteria but without the risks of harsh chemicals.  They are made of all natural ingredients that come straight from Mother Nature.  You can feel confident that your carpets are getting a deep clean all while knowing that the products are safe for children and pets.  In addition to the health benefits, green cleaning products are gentle on carpets.  They will not damage your carpet fibers or cause discoloration.  Thus, you can protect your investment by using these eco-friendly products. 
When choosing a cleaning product for your home, choose more than a stain remover.  Make the choice to provide a clean, healthy home for you and your family.  Eco-friendly products are not only beneficial to the environment, but they will leave your home naturally fresh and clean.  Green products are the perfect solution for those looking to maintain a clean home and the health of their loved ones.
You can buy Chem-Dry's line of green home cleaning products conveniently from a local Chem-Dry technician or online: