How to Get Your Upholstery Ready for Guests
November 18, 2014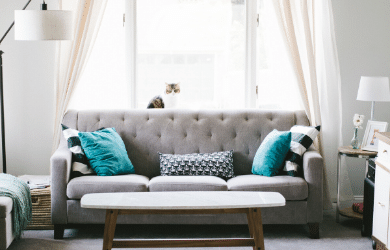 Oh, the madness, fun and busy-ness that Thanksgiving time brings. It's a time of sitting around the table, eating a delicious spread of food and laughing with relatives that have come from near and far. It's getting together with friends and neighbors while watching football, and playing a game or two during halftime in the backyard!
But with the fun, clatter and reunion of old friends and family, it's the unpredictability….that at any moment, your furniture can become stained from red wine, cranberry sauce or turkey grease! Here's how to prepare your upholstery for those occasional Thanksgiving mishaps!
Make Your Sofas and Chairs Spill Proof
Every Thanksgiving, it goes without saying that a red wine spill or coffee stain on your white couch or Persian rug can dampen the mood of the host. Cover your bases with an upholstery protectant like one you can get from Chem-Dry, to create a barrier around the fibers to resist staining!
Need another helpful tip to prevent spills? Turn over your sofa cushions before the guests arrive. Doing so will allow the 'spotless side' to be what your guests see, and by turning over your pillows (the same goes for the cushions) you can distribute wear and tear. Then, after Thanksgiving has come and gone, hire a professional such as Chem-Dry to give your upholstery a thorough upholstery cleaning from top to bottom!
When minor spills do happen on the big 'Turkey Day' (such as when your teenage son spills his soda, or your neighbor bumps his beer in excitement all over your favorite lounge chair) clean it up as soon as possible. Just be sure to blot—not rub or scrub—and you can at the very least, minimize its damage to your furniture. And if you did have a Chem-Dry protectant applied to your upholstery beforehand, the good news is spills can be removed before staining occurs.
A Natural Upholstery Cleaning You Can't Do Without This Holiday Season
The upholstery cleaning you want in order to preserve your couches, chairs and recliners is a safe one for everyone in your home. Chem-Dry's upholstery cleaning doesn't leave a sticky residue behind, and although gentle on the environment and those who inhabit your home, it does the same job that a tough and toxic cleaner does – just without the nasty side effects. Chem-Dry is the perfect solution for your 'furniture prep session' for Thanksgiving!
They offer a natural, eco-friendly cleaning solution that works deep into the fibers of your upholstery, and using minimal water so that your furniture isn't drenched—it's just clean and dry for your Thanksgiving company. Watch your couches withstand Aunt Karen's cranberry spills and Uncle Joe's gravy stains like a pro! Contact your local Chem-Dry here today!