How to Best Protect Your Oriental Rugs
November 26, 2014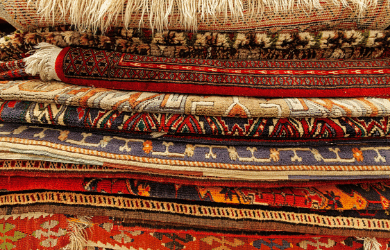 Whether you have carpets or hard wood floors, stains happen. But when you have an oriental rug that requires a higher level of care that other types of flooring do not, keeping it in excellent shape is all about the technique. While it's not an easy thing to do, it's not nearly as difficult as you may think it is. Let's break it down, so you can easily apply a do-it-yourself strategy that works.
Live in a Barefoot Home
There's no doubt in your mind that the work involved with keeping your oriental rug looking its best is worth it. Whether you may own a Persian, Indian or Chinese woven oriental rug, you have a gorgeous woven rug that adds value and beauty to your home. Add an oriental rug to you living room, and diversify—even add space—to your home, instantly!
The first rule of thumb to keeping your one-of-a-kind rug looking flawless is applying a "No shoes, no service!" rule for everyone involved. If you live in a high traffic home (children, pets, and the occasional unannounced guest or two!) be sure to set your home up for success.
Let everyone know that a barefoot only rule applies at all times. Shoes drag in dirt, grime, and pollutants—that's just a fact. By having your family members and houseguests remove their shoes, you're adding years of value and enjoyment to your rug's lifespan!
Vacuum at Least Once a Week
No home owner can survive without vacuuming their floors on a regular basis, but it's even more important for those who own an oriental rug. Why? Oriental rugs have beautifully woven, intricate patterns that make stains hard to see with the naked eye. Vacuuming doesn't just allow you to suck up the crumbs and loose bits of dirt, but gives you the opportunity to notice blotches, stains and spills you would have otherwise missed.  When you vacuum your rug at least once a week, it will prevent dust particles from adding up, which in turn, prevents worn spots on your rug from occurring.
Rotate Your Rugs
If you live in a busy house, then preventing a worn out rug may be difficult to do. Is your Persian rug located in a high traffic area of your home, such as your living room or master bedroom? If so, be sure to rotate your rug every couple of months. Rotating it will allow even sunlight and traffic to occur, which will save you high maintenance costs down the road.
Invest in Extra Treatment With Chem-Dry
Despite your best DIY efforts, nothing can replace the gentle, yet effective cleaning technique of a professional. Chem-Dry professionals are trained to thoroughly clean your oriental rug, and restore it to a "looks like brand new" state. Whether you have a Pakistan-Keshan or a Romanian-Tabriz, Chem-Dry uses specialized equipment and expertise to get the job done—and without leaving any residue left behind. Find your local Chem-Dry here and book your appointment today!