Chem-Dry Carpet Cleaners vs. Rental Machines
July 27, 2022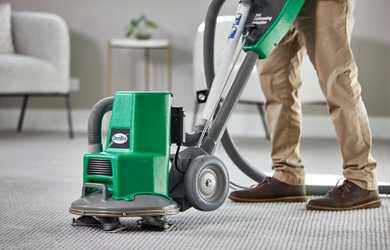 Over the years, a certain carpet cleaning myth has prevailed among homeowners. Thanks to intense marketing, ubiquitous coupons, and constant availability, homeowners often assume that renting a carpet cleaning machine can give them the same results as professional carpet cleaners at a lower price. While renting a machine for 24 hours could potentially cost less than a visit from professional carpet cleaners, the experience and results will be far from the same. 
How Chem-Dry Carpet Cleaners Compare to Rental Machines in 3 Areas
We know a rental carpet cleaner can be tempting, especially when you're used to taking on DIY projects around your home. However, cleaning your carpet isn't quite like painting a dresser or implementing an organization hack. 
Because your carpet is such an important investment in your home, it's important to consider how your choice of cleaner could affect its longevity, not to mention the health and safety of your family. Below, we've outlined three of the ways in which your experience with our carpet cleaners will differ from your experience with renting a carpet cleaning machine.
1. Time & Labor
If you're willing to rent a carpet cleaning machine, you've proven you aren't afraid of a little hard work. However, renting one of these machines will probably be a lot more work than you imagined.
First, you have to lug the machine from the store to the trunk of your car before finally getting it home. If you need to clean a room that's not on the first floor, or even more worrying, you need to clean carpeted stairs, there's a lot more lifting in store. Once you've actually done the cleaning, you'll still have plenty of lugging to do to return the machine to the store. As you've likely only rented it for 24 hours, you probably won't have much time to spare before you need to head back.
In contrast, when you choose the professional carpet cleaners from Chem-Dry, you won't have to worry about lifting heavy machines or wear yourself out just trying to get your carpets clean. Our experts have a specific process in place to work quickly, safely, and efficiently, without putting any of the labor on your shoulders. As a result, you won't have to put aside an entire day for carpet cleaning and can use your free time for other priorities in your life. Both your schedule and your body will thank you for making this wise choice!
2. Home Health & Carpet Safety
Along with a rental machine will likely come a bottle of carpet shampoo. At first glance, this may not seem like a problem. After all, you use sudsy detergents to wash everything from your clothes to your hair. Why should your carpet be any different? 
Once you put the machine to work, though, you'll see that sudsing up a carpet is not a good idea. You'll have to use a lot of water to get all of that detergent out. As a result, your carpet will be soaking wet. It's not uncommon for carpets to take days to dry after being cleaned with one of these machines. The moisture left in the carpet to dry invites mold and mildew to grow. The growth of mold and mildew is not only damaging to your carpets but can also take a toll on your family's health.
At Chem-Dry, our proven method cleans carpets without soapy detergents or gallons of water. We call our innovative approach Hot Carbonating Extraction (HCE) because it relies on the power of carbonation to lift up dirt and grime that's stuck deep within carpet fibers and near the carpet backing. 
The HCE process extracts contaminants using only a fraction of the water required by steam cleaners and does not rely on harsh chemicals or soapy detergents to get the job done. Since we won't leave your carpets soaking wet after cleaning them, you can look forward to a drying time of just hours - not days - without the worry of mold or mildew. 
3. Final Results
If you've ever stepped onto a carpet that had that "crunchy" feeling, it's likely that a rental machine or steam cleaning service was used to clean the carpet. Unfortunately, while these approaches can clean carpet to some extent, they don't always leave carpet feeling plush and comfortable. Because it's so hard to wash away sudsy detergents, a soapy residue is often left in the carpet fibers. This not only results in that awful crunchy feeling but can also attract dirt and grime, resulting in a soiled appearance soon after cleaning has taken place.
When you call on Chem-Dry carpet cleaners to care for your carpets, you can have peace of mind. We won't leave behind dirt-attracting residues, nor will you have to live with that stiff carpet feeling. Because our HCE process works so well without the use of soapy detergents, there's no risk of turning your carpets into a dirt magnet. Rather than feeling crunchy, your carpets will look and feel soft, comfortable, and clean. Moreover, they'll stay that way for longer!
Leave the hassle of the rental machine behind and experience the benefits of working with Chem-Dry carpet cleaners today! Just call (800) CHEM-DRY to get started.