Top Rated Carpet Cleaners? Check Out Chem-Dry
June 23, 2021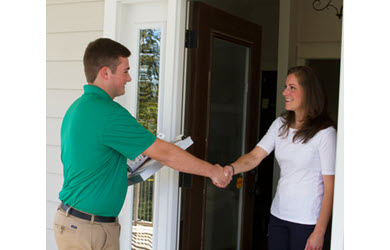 At Chem-Dry, we're proud to be carpet cleaning experts with more than 30 years of experience in the industry. Over this time, we've developed a proven process our customers know they can rely upon to keep their home environment clean and sanitary. Thanks to the breadth of both our experience and the range of services we offer, we're one of the top-rated carpet cleaners currently working in the industry.
Carpet cleaning is one of those processes requiring in-depth knowledge and expertise. When it's time to choose carpet cleaners, you want to rely on professionals who can prove their know-how and have stellar reviews to back up their services. 
Many homeowners opt to clean their own carpets or partner with amateur teams who might use products or techniques that actually harm their carpet and their family's health. Instead of going this route, you can opt for a top-rated carpet cleaner. 
By working with the professionals at Chem-Dry, you can experience the difference of having a cleaner, healthier carpet as well as the confidence that comes with knowing exactly who to call when it needs a refresh.
What Our Clients have to Say About Our Top Rated Carpet Cleaners
We understand how important it is for a business to back up its claims with hard facts and real experiences. That's why we always direct potential customers to the results of an independent lab study that examined our Hot Carbonating Extraction process. This study revealed that our cleaning services make a dramatic difference when it comes to eliminating allergens, killing airborne bacteria, and improving indoor air quality.
However, we realize your decision-making process may take more than statistics into account. You may also want to know how easy our professionals are to work with, what kind of protocol they follow, and the visible and tangible results you can expect to experience. For these details, we'll point you to the many testimonials our customers have left on Google, Yelp, CustomerLobby, and other reliable review sites.
Below, we've listed some of the observations clients have highlighted when detailing their experience with Chem-Dry in their five-star reviews.
Consistency
From comments like "You can always count on them to do the job right" from Pia Grove to "Have used Chem-Dry services for over 30 years" from Cindy Jones, it's clear consistency is one of the many reasons Chem-Dry is known as a top-rated carpet cleaner. Lucy Talley even went as far as to say, "I'll never let anyone else clean our area rugs and carpet but ChemDry!"
"Like New" Results
Kristen Thompson raved in a review of Chem-Dry services that her couches and upholstered chairs "came out like NEW!" while Julie Fong described her carpets as "like sparkling new" following a visit from her local Chem-Dry technicians. 
Helen D. noted as part of her review that "The rugs were magically clean to near 'new purchase' condition. We couldn't believe how great they looked afterward." Randy Risher struck a similar tone in a Google review, writing, "Carpet looks like new… We could walk on the floors immediately after he was done. Highly recommend this company." 
Words like these are a testament to just how dramatic the results provided by Chem-Dry can be!
Professionalism
One common theme in the reviews we receive concerns the inscrutable professionalism of our technicians. Our clients love how easy we are to work with and consistently complement our team for their professional approach to carpet cleaning. 
Brittany Williams is one example; she wrote, "This has been the easiest and most professional company I have dealt with to schedule carpet cleaning." Likewise, David Hughes stated, "The job was completed expediently and professionally." On Yelp, Jasmin M. described her Chem-Dry technician as "Very reliable and professional," and also asserted, "I'm very happy with the service and the price."
Are you on the lookout for top-rated carpet cleaners who can back up their claims with years of rave reviews and a thorough scientific study? We encourage you to reach out to Chem-Dry at (800) CHEM-DRY to request more information about how we can accommodate your needs through our carpet cleaning services!