Trust Chem-Dry with Your Rug Cleaning Needs
July 14, 2021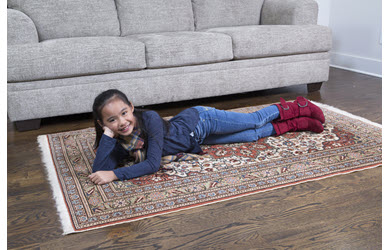 Are you looking for a reliable rug cleaning service? Many homeowners simply don't know where to turn to have their area rugs cleaned. If you are like most homeowners, you've probably put time and thought into choosing your area rug. After all, your rug isn't just a protective covering for your floor or a comfortable cushion under bare feet. It's a reflection of your personal style that adds to the overall ambiance of your home. 
For this reason, you're likely particularly picky about choosing a rug cleaning service. When it comes to cleaning and protecting your rug, you need a professional with proven processes that will be gentle on your rug, but thorough enough to completely get rid of the dust, dirt, and allergens trapped within its fibers.
All area rugs require special care to promote their longevity, durability, and beauty. Unlike other precious pieces in your home, your area rug endures a lot of traffic. Only by being carefully cleaned on a regular basis can it maintain the look and feel that made you fall in love with it in the first place.
Our Rug Cleaning Process
At Chem-Dry, our team can be trusted to clean almost any rug using a safe and effective process that's been proven time and again to deliver exceptional results. We'll start with an in-home analysis and provide a free quote for our services. As area rugs can vary greatly in their construction, material, style, and age, this up-close look is an important part of our preparation process.
After getting to know your rug and assessing any spots, stains, or problem areas requiring close attention, we'll initiate our deep-cleaning procedure, known as Hot Carbonating Extraction (HCE). HCE is one of the best rug cleaning processes available because it preserves the dyes within the fibers while lifting away accumulated dirt and grime. The result is a rug that looks vibrant, fresh, and plush.
HCE is unlike traditional steam cleaning in a number of ways. The most noticeable of these differences is that our process uses considerably less water to get the job done. This means the backing of your rug doesn't have to be soaked through for it to get clean.
Rather than flooding its delicate fibers with buckets of water, HCE harnesses the power of carbonation. This process generates millions of tiny bubbles that do the hard work of breaking up dirt and stains. Contaminants are then propelled to the surface to be extracted. Because so little water is used with this method, you won't have to wait days to use your rug again. In fact, it should be dry in just a matter of hours.
Another reason to trust Chem-Dry with your rug cleaning needs is we don't utilize soapy formulas with harsh chemicals while cleaning. These types of cleaning solutions often leave behind a sticky residue that acts as a dirt magnet, meaning your rug can get dirtier faster. 
To avoid this common problem, we work with a revolutionary cleaning formula called The Natural®. The Natural effectively knocks out stains and dissolves dirt and grime. However, since it is free of soaps, detergents, and harsh chemicals, it doesn't produce a sticky, soapy residue that could cause problems for your rug in the long run.
Enjoy a Cleaner Rug and a Cleaner Home
Did you know your rug acts as an air filter for your home? Its soft, textured surface takes in dirt, dust, bacteria, and allergens. By trapping these pollutants inside its fibers, your rug keeps your indoor air cleaner for longer. That being said, it can only do this job when it is well cared for. When dust and dirt become compacted in your rug, you may notice your indoor air quality suffering as a result.
Our rug cleaning services give your rug the care it needs to continue playing an important role in your home. Based on a study conducted by an independent laboratory, HCE has been shown to remove 98% of allergens and 89% of airborne bacteria from rugs. When you choose rug cleaning from our trusted professionals, you can enjoy a healthier home in addition to a cleaner, more vibrant area rug.
With Chem-Dry by your side, you can restore your dusty and tired rug to its original beauty. Learn more about our in-depth rug cleaning process today by calling (800) CHEM-DRY.