Professional Rug Cleaning From Chem-Dry
August 25, 2021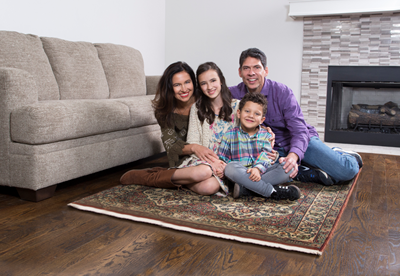 When was the last time you had your area rug cleaned? If you have not had professional rug cleaning done in quite a while, you may not realize how much dirt and dust have accumulated in your area rugs. 
At Chem-Dry, we're equipped to clean and refresh rugs of all types with our professional rug cleaning services. Unlike steam cleaners, we won't use gallons upon gallons of water and harsh, soapy detergents to get your rug clean. Instead, we'll put the natural power of carbonation to work to dissolve dirt and grime and propel it to the surface for easy extraction.
If you've only used steam cleaning or dry cleaning in the past to banish dust and crusty dirt from your rug, you're in for a pleasant surprise when you choose Chem-Dry. Our services take a different approach than these conventional options. We utilize innovative products and high-tech equipment to get the job done quickly, safely, and effectively.
Why is Professional Rug Cleaning so Important?
Our professional rug cleaning services go above and beyond what you can do on your own by simply beating your rug or using spot treatment products to attempt to remove unsightly stains from your rug. Our Hot Carbonating Extraction (H.C.E.) process has been specifically designed to gently release built-up dirt and dust from the delicate fibers of rugs and carpets. 
During this process, we do not rely on toxic detergents or soapy formulas that will leave behind a dirt-attracting residue. Our detergent-free product of choice is called The Natural®. 
This green-certified cleaning solution is composed of ingredients that can be found on the FDA's Generally Recognized As Safe List and is safe for use around the whole family. By carbonating this solution, we are able to harness the dirt-dissolving energy of millions of tiny bubbles to extract contaminants and bring your area rug back to life.
Another benefit of this process is it uses only a fraction of the amount of water used in the steam cleaning method. This prevents your area rug from becoming waterlogged, which could otherwise cause damage to its backing and provide a moist breeding ground for mold and mildew. 
With our professional rug cleaning services, you won't have to worry about damaging your rug as you attempt to get it clean. Instead, you can feel good knowing you are promoting its longevity while also improving the health of your home.
Boost Indoor Air Quality with Our Professional Rug Cleaning Services
You may not realize your area rug acts as an air filter for your home. The truth is rugs play a vital role in trapping airborne bacteria and allergens preventing them from circulating in the air. 
However, when your rug has done its job for months or years without being cleaned, it can no longer perform at its peak. Consequently, there may be much higher levels of dust and germs in the air now than there would be if your rug was regularly cleaned by a professional service.
At Chem-Dry, we know you want to use a service that will return your area rug to like new condition and remove allergens lingering in the fibers. Our process has been shown to eliminate 98% of allergens from carpets such as area rugs, according to a study done by an independent laboratory. 
That same study also showed how the use of Hot Carbonating Extraction along with a sanitizer can remove 89% of airborne bacteria from carpets and upholstery. With Chem-Dry, you can look forward to both a cleaner rug and a cleaner home.
Why You Can Trust Us with Your Rugs
At Chem-Dry, we are experts at cleaning area rugs of all types, including oriental and Persian rugs. We understand your rug isn't just a functional component in a high-traffic area. It is also a decorative piece in your home and likely has warm memories attached to it. 
We will care for your rug with this in mind, working to preserve its integrity and coloration while also freeing it of the dust and dirt that is preventing it from looking and feeling its best. Our specialized tools and high-quality solutions can gently and effectively clean rugs made from any kind of material, including synthetic fabrics, silk, wool, and cotton. We can even provide long-term protection for your rug through our Stain Protectant Package.
Could your area rug benefit from a little TLC? Get started with professional rug cleaning from Chem-Dry today! Simply call 1-800-Chem-Dry to find your local Chem-Dry.