What Makes The Chem-Dry Process Greener?
August 07, 2017
At Chem-Dry, we're dedicated to making your home a clean, healthy environment for your family. By removing dust, dirt, and other toxins from your home, we make sure that your family has a clean, safe place to live. We want to make sure that our clients are both happy and healthy.
Our goals go beyond that, though. We don't just want to make the inside of your home a healthy environment. We recognize how important it is to care for the wider environment as well. That's why Chem-Dry works so hard to make sure that our carpet and upholstery cleaning processes and products are safe for your family and safe for the environment. From using a non-toxic cleaner to conserving water, Chem-Dry is putting in every effort to ensure that we stay greener.
Less Water Means Less Waste
When you have your carpets steam cleaned, the cleaner will pump gallons and gallons of water into your carpet at very high pressures in order to loosen the dirt particles. Not only does this often end up pushing the dirt deeper into the carpet, but it wastes a huge amount of water. Particularly in areas that are experiencing a drought, water is an extremely precious commodity that should be conserved.
Chem-Dry's Hot Carbonating Extraction (HCE) process, on the other hand, uses only about one-fifth the volume of water as traditional steam cleaning. Instead of relying on the volume and pressure of the water to release the dirt particles, the carbonated bubbles from The Natural™ gently agitate and lift the dirt and dust away. The end result is a cleaner carpet with less wasted water and a much faster drying time.
The Natural™ Keeps Things Environmentally Friendly

In the vast majority of our cleaning services, we use our proprietary, non-toxic, natural carpet cleaning solution, The Natural™. That's more than just a name we use, though. The Natural™ is a blend of completely natural ingredients, containing absolutely zero soaps, solvents, detergents, or enzymes that could contaminate the water table or harm the plants and wildlife around your home.
Instead of harsh chemicals, The Natural™ relies on the power of carbonation. That's right—carbonation. The same bubbles that tickle your nose when you drink a soft drink. During our hot carbonation extraction (HCE) process, The Natural™ releases millions of tiny bubbles into your carpet, which attach to and break apart the dirt particles that are clinging to the carpet's fibers. We then use specialized machines to extract the solution, dirt and all, from deep inside your carpet, leaving a fresh, clean room with no dangerous chemicals and no soapy residue. Every ingredient in The Natural™ is on the FDA G.R.A.S. (Generally Recognized as Safe) list, so you know it's safe for your family and safe for the environment.
Green-Certified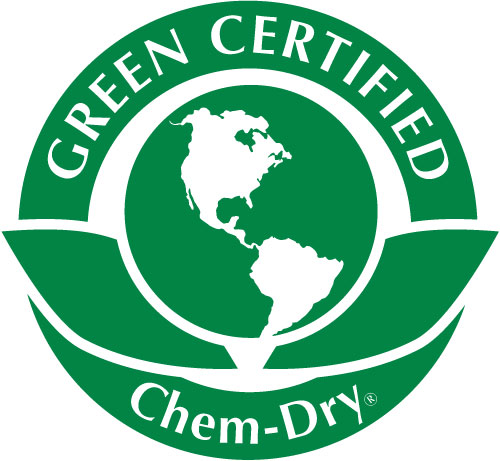 We know that there is more to being green than just saying the words and making the claims. In order to reassure customers that our services and products are environmentally safe, we follow rigorous standards to qualify for green certification. In addition to The Natural™, we use several other Green-Certified products, from our stain removers and carpet deodorizers to our proprietary P.U.R.T. (Pet Urine Removal Treatment) liquid. We don't take our responsibility to take care of the environment lightly, and we are willing to put in the work to make sure we fulfill that duty.