What's the Best Carpet Cleaner?
December 27, 2021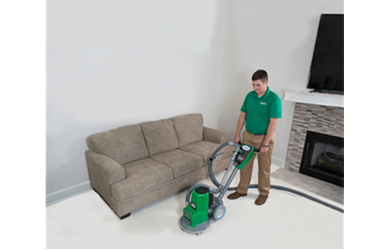 Finding the best carpet cleaner isn't only about finding a carpet cleaner that can work efficiently to eliminate deep-set stains and the build-up of dirt and grime.
Over the years, consumers' standards have changed for determining which carpet cleaning services deserve their business. These days, one of the most important criteria for many homeowners in deciding on the best carpet cleaner is eco-friendliness. This means there is a huge demand for carpet cleaners that use safer products and avoid wasting water. 
Why the Best Carpet Cleaner is a Greener Carpet Cleaner
At Chem-Dry, we understand why families are so concerned about the types of cleaning products used in their homes. Many other carpet cleaners work with harsh chemicals that can leave lasting fumes and acrid odors. Others utilize processes that require gallons upon gallons of water rather than leveraging innovative methods that focus on reducing water usage.
If you've ever hired a conventional steam cleaning company or a carpet cleaner that used questionable products to remove dirt from your carpets, you may be on the lookout for a better option. The good news is that when you choose the best carpet cleaner, Chem-Dry, you'll also enjoy the benefits of an eco-friendly approach to carpet cleaning. 
Choose an Eco-Friendly Approach to Carpet Cleaning
You should never have to settle for "good enough" when it comes to cleaning your carpets, the very foundation of your indoor home environment. Instead, you can look to the expert technicians at Chem-Dry to provide stellar results using eco-friendly solutions.
Take our proprietary cleaning solution for example. Called The Natural®, this cleaning solution is composed of ingredients that can all be found on the FDA's Generally Recognized as Safe (G.R.A.S.) list. What's more, The Natural is carbonated as part of our cutting-edge Hot Carbonation Extraction process. 
Because we focus on minimizing water usage as we clean, we leverage the natural powers of carbonation to do the hard work of lifting dirt and grime from the backing of carpets and the surfaces of carpet fibers. As a result, we are able to rely on around 80% less water than conventional steam cleaning.
You may wonder how we remove the dirt and grime that the thousands of tiny bubbles lift to the surface of your carpets without rinsing it away with loads of water. The answer is we simply extract it with our powerful machinery. Not only does this limit water usage, but it also leaves your carpets significantly drier than other cleaning techniques. When you work with the best carpet cleaners available, you should be able to get back to using your carpets within a matter of hours rather than having to wait days for them to dry. 
Promote Your Family's Health with a Greener Carpet Cleaner
With our Chem-Dry Green Certified products, we don't only care about the environment. We also care about utilizing our resources to promote and protect our clients' health to the best of our ability. In addition to working with products that are free of harsh chemicals and unhealthy substances, our services have also been proven to contribute to a healthier home environment. 
Our Hot Carbonating Extraction process, which can be used for both carpets and upholstery, removes 98.1% of non-living allergens* including dog and cat dander and dust mite matter. As a result, when you choose Chem-Dry, you won't just get a cleaner home with the help of our eco-friendly approach. You'll also get a healthier home for your family to enjoy.
Learn more about why the best carpet cleaner is an eco-friendly carpet cleaner! Call (800) CHEM-DRY to connect with a Chem-Dry technician in your local area. 
*Based on results from a study conducted by an independent laboratory using the Chem-Dry Hot Carbonating Extraction process. Allergens tested were dog and cat dander and dust mite matter. Figures are an average across multiple homes.