Upholstery Cleaning: 4 Hardest Stains to Remove
August 24, 2022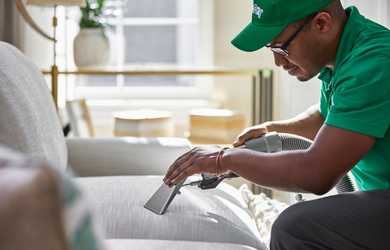 Upholstery cleaning can be challenging for homeowners, especially when stains are thrown into the mix. The simple fact is that a lot of DIY efforts can actually make stains even more unsightly and further damage your favorite upholstered furniture. 
If you're facing a particularly stubborn spot on your favorite sofa, armchair, or loveseat, partnering with an experienced upholstery cleaning professional is the best way to renew the appearance of your furnishings.
Dealing with These Stains? Turn to Our Upholstery Cleaners
Many substances can leave behind unsightly marks and spots on upholstery. However, there are some stain-causing substances that are particularly difficult to remove and often instill fear in the hearts of homeowners. 
If you're dealing with stains brought on by any of the following sources, we're here to give you peace of mind. In fact, our motto is "If we can't get it out, no one can!"
Chocolate
Chocolate, particularly if melted or in the form of hot cocoa, can cause a huge headache when it lands on your upholstery. Not only is chocolate dark making it easy to mar the look of a lighter-colored fabric, but it also contains a mixture of protein, fat, and sugar. As a result, this type of stain isn't always water soluble. 
Fortunately, our arsenal of stain removal products includes formulas that can lift away chocolate stains. With this in mind, you can continue to enjoy your favorite treats while being comfortable on your couch.
Blood
Whether you have active and adventurous kids who seem to always have a new scrape or graze, or if you are just accident-prone yourself, blood stains may be an issue for your furnishings. The protein in blood and its brightly pigmented nature make it a doozy to remove when it comes to upholstery cleaning on your own. However, our experienced team knows exactly how to approach this type of stain.
Tomato Sauce
In addition to being a robust red, tomato sauce often also contains oil or grease, which can leave behind unsightly spots that require a specialized removal process. Although these stains are a huge nuisance, you shouldn't let fear of an accident keep you from cooking all of your favorite Italian dishes.
With our team on call, you can have faith that spilled tomato sauce won't mean the end of the upholstered chairs in your kitchen or dining room.
Red Wine
Red wine may be one of the most infamous sources of stains. If you're having a dinner party or simply enjoying a quiet night at home, you shouldn't have to be on constant alert about red wine escaping the bottle or glass. We've been helping homeowners remove red wine stains from furniture and upholstered chairs for years. We can help you, too!
Avoid Further Damage By Calling Our Upholstery Cleaning Team
When one of these or other stain causing substances hit your upholstery, you may be tempted to rub, scrub, or drench the area in hopes of salvaging the situation. When that doesn't work, you may find yourself searching for the latest DIY hacks and formulas that promise to magically lift the stain away no matter what type of fabric it's on. However, it's important to refrain from panic in favor of leaving stubborn stains in the hands of our experts. 
Rubbing a stained area of fabric can actually push the pigment deeper into the fibers, leading to longer-lasting absorption of the stain. Furthermore, many tips and tricks you'll find online aren't meant for certain fabric types. By experimenting with different products you have on hand, whether it's vinegar, baking soda, detergent, or a store bought stain remover, you may end up degrading the fabric and making the spot even more unsightly than before.
In addition to avoiding unintentional damage by calling our upholstery cleaning team, you can also enjoy the benefits of our upholstery protectant services. This proactive approach to dealing with stains forms a protective barrier around the fibers of your upholstery. The next time an accident happens, you'll have a longer window of time to soak up the liquid before it sinks into and stains your furniture.
Get rid of stains through our upholstery cleaning services! Call Chem-Dry today to reach out to a professional technician in your local community.