Upholstery Cleaning: About Our Protectant and Deodorizer Options
March 23, 2022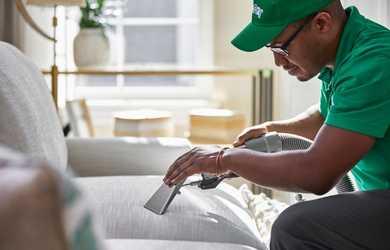 Your couches, love seats, and other upholstered furnishings don't only offer a comfortable place to sit and a colorful addition to your home's ambiance. These pieces actually play a vital role in keeping your home clean and healthy. Upholstered fabrics act as a trap for dirt particles and airborne allergens. Rather than floating around in your home's indoor air, these pollutants remain within the upholstery until they are removed. However, fabric-covered furniture can only hold onto so much dirt and dust. Without regular upholstery cleaning, neither your furnishings nor your indoor air will be as clean as you'd like. 
When done right, upholstery cleaning can make a huge difference for the level of health and comfort in your home, as well as the longevity of your furnishings. The professional cleaning services delivered by the technicians at Chem-Dry have been specifically developed to protect delicate upholstery while enabling it to perform to its potential. 
When you have our team caring for your upholstered pieces, you have peace of mind knowing they're receiving the TLC they need to continue serving as a focal point in your home for years to come.
Defend Your Furniture with Professional Upholstery Cleaning & Protection
We know you aren't willing to make any sacrifices when it comes to having your furniture cleaned. This means you need to choose a cleaning service that is committed to protecting your upholstery as well as your family and pets. 
Because the Chem-Dry upholstery cleaning process does not utilize harsh chemicals, you won't have to worry about toxic residues in the area where your family spends quality time together. Nor will you have to be concerned about us using large volumes of soapy water on your furniture, which is like laying out the welcome mat for mold and mildew. Instead, we leverage the power of nature through our safe, effective, and innovative Hot Carbonating Extraction (HCE) process for proven results. 
In addition to taking an approach that is gentle enough for all types of upholstery, we can also protect your furniture through the application of a specialized protectant product. This proactive step is crucial to preventing your upholstery from becoming resoiled quickly after cleaning due to a spill or accident. 
While most upholstered furniture is sold with a manufacturer-applied stain guard, this protection diminishes over time, leaving fabrics vulnerable to spills. Having a protectant applied during the cleaning process can reinforce that protective shield to repel stain-causing substances. Liquids will no longer seep into the fabric before you can do anything about it. Instead, you will have a longer window of time to absorb the spill and avoid a deep-set stain.
Enjoy a Fresher Feel to Your Home After Your Upholstery Cleaning
Stains aren't the only thing you have to worry about when it comes to protecting your upholstery. There are also less visible but equally evident dangers to watch out for, and these often come in the form of stubborn odors. Just as fabric-covered furniture holds onto airborne particles, upholstery fibers can trap unwanted odors that are difficult to remove without professional help. 
Even some professional services struggle to get rid of lingering odors from cigarette smoke or pet accidents and instead attempt to mask the smells. However, this often makes the problem worse by adding a second aroma to the mix that mingles with the original odor and keeps your home from feeling fresh and clean. 
At Chem-Dry, we avoid this issue altogether with our professional strength deodorizer Fresh-n-Free™, which eliminates odors instead of trying to cover them up. Thanks to this incredible product, which reaches deep into upholstery fibers and deals with odors at the source, nothing is left behind after our upholstery cleaning services except clean, fresh, and protected fabric.Fresh-n-Free™ is Chem-Dry Green Certified and is also Wool Safe Certified.  
You can count on your local Chem-Dry technician to take a comprehensive approach to upholstery cleaning with the addition of our upholstery protectant and deodorizer options. To learn more about our professional services or to schedule a cleaning, call (800) CHEM-DRY today!