Top Spring-Time Cleaning Tips from the Professionals at Chem-Dry
October 14, 2013
This spring, make your house a safer, healthier place to live. The tips below not only get your home back in shape for the spring and summer, but they help make your home a healthier place.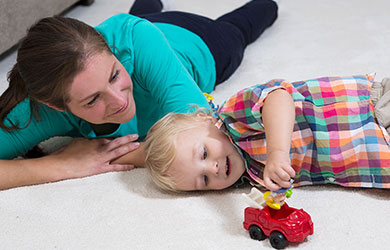 Professionally clean rugs, carpets, and upholstery. If you really want to deep clean your carpets, rugs, and upholstery and eliminate the dirt that has accumulated over the winter months, call the experts at Chem-Dry. Chem-Dry uses a green-certified solution that's safe and non-toxic for kids and pets and a low-water, carbonating cleaning process that will give your surfaces and your home a deep-down, healthier clean. And be sure to ask about our premium Healthy Home package, which includes cleaning your carpets and upholstery to reduce the unhealthy contaminants that may have collected.
Since Chem-Dry uses 80% less water than typical steam cleaning, you'll love the convenience of our speedy dry times - just a couple of hours rather than a couple of days - and not having the mold and mildew growth that can come from the excessive water used by steam cleaners.
Thoroughly dust your home and clean or replace air conditioning and heating filters; clean all ducts and vents to decrease your exposure to pollen and other airborne particles.
Remove mold and mildew in moist areas of the home. Mold is a fungus that can spark allergic reactions for many people and spring is a tough time of year for anyone with allergies of any kind. Use non-toxic cleaning products and make sure bathrooms, laundry rooms, and kitchens are free of unhealthy mold.
Don't forget the tile, stone, and grout. High traffic areas collect months of winter dirt and most weekly cleanings don't do the job when it comes to giving these surfaces a thorough, healthy cleaning. The grout between tiles and stone can be the toughest to get clean. While Chem-Dry is taking care of your carpets, area rugs, and upholstery, ask them to also give your tile, stone, and grout a professional cleaning to eliminate stains and grime from these extremely porous surfaces and start spring off on a healthier foot. 
This spring, celebrate the start of nicer weather by making your home a cleaner, safer, healthier place to live and enjoy. And you can trust the professionals at Chem-Dry to make this more manageable and to be sure your family gets the healthier home makeover you want.