Tips Tricks and Hacks to Get Your Home Organized for Summer
May 19, 2016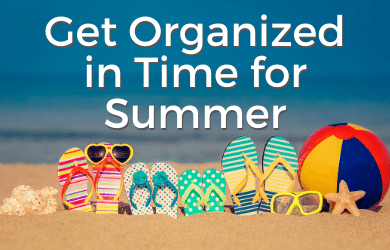 Just in time for summer fun, Chem-Dry is excited to offer a three-part series of tips, trick and hacks to help you get your home organized. We'll update this blog each week with a brand-new set of easy do-it-yourself organizational tips that won't break the bank. Hopefully you'll find a few that will help you get your home organized for a worry-free, fun-filled summer.
Enjoy!
Part Three of our series features 4 affordable hacks to keep your home clutter free and stylish!
4 Affordable and Stylish Hacks to Keep Your Home Clutter Free
While professional carpet cleaning can make your home healthy and free from allergens & bacteria, keeping it clutter free can be difficult. Fortunately, there are several inexpensive products available that you can repurpose to help organize every room in your home—from desk supplies to clothing. Check out some fun ways you can hack those products to get even more for your money and earn some style points from family and friends.
Create a Custom Dining Table from Inexpensive or Reclaimed Wood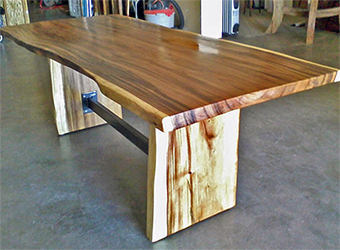 Several retailers offer simple wood tables both online and in stores. Though many of the cheapest models have a plain and unfinished look, you can change all that with an application of a darker stain. A deep brown stain will transform the table into the perfect focal point for your dining room.
For a more advanced do-it-yourself project, try your hand at a reclaimed wood table like the one pictured. Here's a helpful guide from DIYNetwork.com to get you started. (Image source: Houzz)
Mid-Century Modern Coffee Table

"Mad Men" rocketed mid-century modern furniture into the decorating spotlight, but those pieces can cost far more than your budget might allow. Create your own mid-century modern coffee table from an inexpensive, boxy table that you could pick up from any discount furniture dealer. Unscrew the bottom legs, replace them with mid-century modern replica legs you can find through various online retailers, and you have a coffee table perfect for playing games in your living room. Overstock.com has several affordable options if DIY isn't an option. (Image source: Picked Vintage)
Create a Stylish Charging Station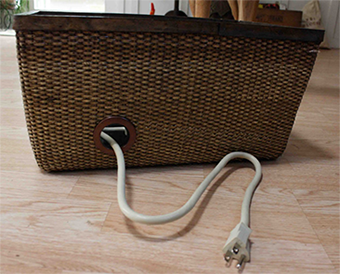 Repurpose old wicker baskets to create a stylish and attractive charging station for all of your family's smartphones, tablets and other electronics. This simple project will clean up the clutter on your kitchen countertops and can be done on the cheap. Pinterest has a nearly endless array of ideas. Here's a start. (Image source: Sprwmn)
Hide Your Litter Box in a Shelving Unit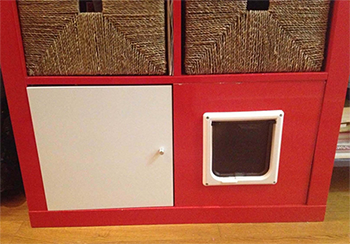 A simple, inexpensive shelving unit is perfect for hiding your cat's litter box. A great, low-cost option is the Kallax model offered by IKEA. Several other retails offer similar versions.Replace the lower shelves with doors that you can buy from home improvement store. You can close those doors and tuck the box away when company comes over. Or even convert one of the shelves into a 'doggy door', depending on the shape of the shelves. Ikeahackers.net is a great resource for ways to repurpose IKEA furniture. (Image source: Ikeahackers)
These are only a few possibilities of how to spruce up your home. Get your creative juices flowing, and come up with more ways to use inexpensive products so that you can keep your home organized without spending all your money.
Part Two of our series features 7 simple hacks for bathroom organization to make your life easier.
7 Hacks for Bathrooms to Make Your Life Easier
The way a bathroom looks and feels can make or break the comfortable feeling we seek in a home. Luckily, there are a few easy hacks that will help us keep these spaces clean, organized and stylish.
His and Hers Towel Hooks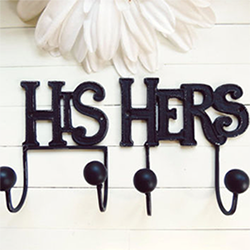 Does sharing a towel make you cringe? Screw in His and Hers towel hooks as a replacement for rods. His and Hers wall hooks are fun and decorative additions that will keep track of who the towel belongs to. (Image source: wanelo.com)
Wine Rack Towel Storage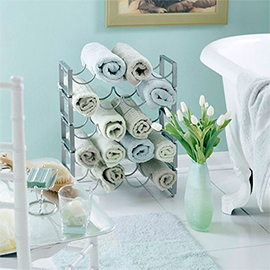 Mount wine rack on walls, or sit them on shelves or floors, to store extra towels. If closet space is lacking, or you prefer easy access in a pinch, roll towels individually and fit them into wine racks. Rolled towels also take up less space than folded ones. This simple storage hack is stylish and there are a wide range of wine rack styles to choose from. (Image source: LoveThisPic.com)
Spice Rack Storage Shelf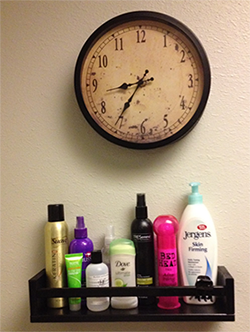 Spice racks are simply clever ways to store beauty products like lotions, extra hand soap bottles, Q-Tips, makeup, etc. These little extras can make an otherwise clean bathroom look like a cluttered mess. Since we use them daily, however, these items tend to sit on the counter and take up space. Spice racks are small, easily mountable answers for fitting and organizing all of your odds and ends.
Stick-On Pods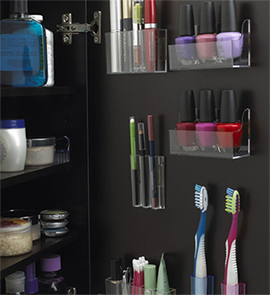 Buy inexpensive stick-on pods to hold things like nail polish, makeup and toothpaste. Make the most of your space by sticking small pods to the inside of cabinets or on walls. And the non-residue adhesive won't leave a mess when you remove them later. (Image source: thevillagesofbanyangrove-prg.com)
Large Area Rugs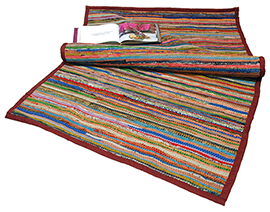 Opt for large rugs that cover the floor in front of the bathtub and the toilet so you don't have multiple pieces in the bathroom.  Especially in small bathrooms, one large rug can make a big difference. It will leave your floor clutterless while keeping your feet from touching a cold floor. These carpets will be easy to maintain.
Mason Jars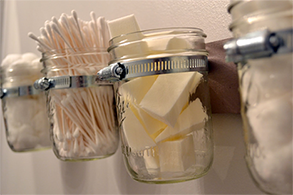 Do you have mason jars taking up space in your garage?  Move them to the bathroom to store Q-tips, cotton balls, hair bands, etc. This makes for an easy DIY project that will allow your country style to permeate this normally ignored room. With a few simple items and tools you can mount these on the wall. Use a strip of wood (reclaimed or new wood you can paint or stain), hose clamps and a picture hanging kit and you'll have a beautiful and functional storage solution. You can also leave the jars loose under the sink, or organize them in a wicker basket. (Image source: beautyandbedlam.com)
Mountable Shower Shelves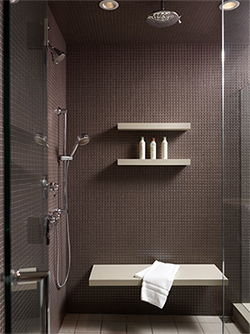 Let's be honest with ourselves and admit that shower caddies are not always reliable...or aesthetically appealing. Sometimes the shampoo bottle won't fit, other times they rust or fall apart because they aren't well-made. Therefore, mount regular bathroom shelves or even bookshelves in the bathtub to hold body washes, shampoos, conditioners, etc.  Securing shelves inside the shower, on the other hand, will keep your toiletries off the floor and within an easy reach. Just be sure that they are made with waterproof material and clean around the shelves regularly to prevent mold and mildew growth around shelves. (Image source: livindeasjournal.com)
The possibilities for inexpensive and handy storage hacks are nearly endless. Walk around the house and look for unused items that can be helpful in a different room. Remember, a few small hacks can go a long way.
Part One of our series is all about "upcycling" things you may already have around the home.
5 Hacks for Repurposing Old Items Into Storage Helpers
Once spring cleaning is done you've probably put the bleach away and your carpets have been cleaned by a professional carpet cleaner, it's time to have some fun and create storage space to keep up that beautifully organized home. For this project, why not consider upcycling? Repurposing old items is not only great for keeping the Earth happy, it will also spruce up your home without requiring you to spend a ton of money.
Suitcases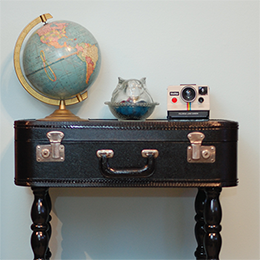 Vintage suitcases are lovely for creating a timeless piece with a lot of flair. You can add legs for a small storage stool or table, or simply display it on top of a desk to organize your beauty products. They are classy and attractive enough to display on their own, and can store sheets, clothing, or other seasonal items for added organization in the home. Though you may need to use an upholstery cleaner to clean out the inside if the suitcase, the work will be well worth the effort.
Mason Jars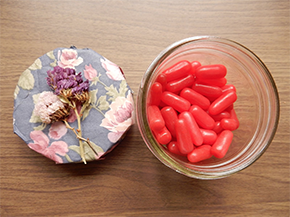 If you happen to find yourself with too many jars lying around, why not use them to hold utensils or other small household items? Not only are they pleasant to look at, they fit into many décor styles and can be extremely handy. For the powder room, you can fill your mason jars with colorful marbles and keep your makeup brushes in order as well as within reach. When storage is right at your fingertips, you are more likely to stay clutter-free, which is a wonderful feeling.
Shower Hooks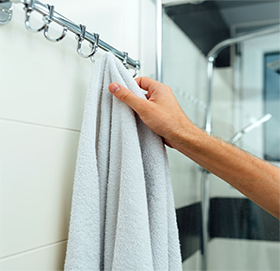 The beauty of shower hooks is that they can hang almost anything. From ties to purses, you can keep your wardrobe in line with these simple accessories. In the kitchen you can hang the hooks from rods to ensure that your pots and pans stay orderly. Although they are small, these puppies can pack a big punch in keeping a home tidy.
Wine Boxes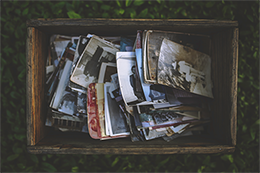 Everyone loves a good glass of wine, but the boxes that multiple bottles come in are great for stowing away shoes and other household items that are not used often. You can get very creative with the options, but using the boxes for books, Christmas decorations, and children's toys are among the favorites.
Though if you love wine, storing the bottles in these may just be the best option for you!
Hanging Shoe Racks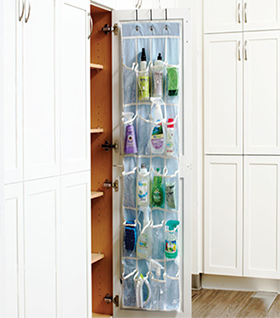 Although great for keeping shoes out of the way and easily accessible, why not have a little fun with those plastic hanging shoe racks? They are compact and can be hung almost anywhere, making staying orderly a breeze. If the pantry is looking a little hectic, use this product to store small snack items or spices. If the bathroom has tons of makeup cluttering up the counter, the small compartments will be perfect for allowing you to see what you have, but keep it neat. (Image Source: getorganizedwizard.com)
Although these are only a few options, there are many ways to keep your home organized without breaking the bank! You do not need a large budget or even a ton of time – just a little creativity can make all of the difference in the world for a tidy home.