Getting to Know Chem-Dry and Our Carpet Cleaning Services
May 25, 2021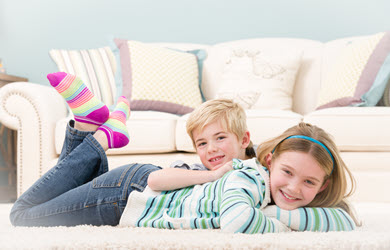 At Chem-Dry, we know your carpets are an integral part of your home. They provide the foundation of comfort and warmth in your living environment, adding to its ambiance and helping your whole family feel at ease. Because of the important role your carpets play, you need a carpet cleaning service you can trust.
The carpet cleaning service you choose should go above and beyond simply removing the surface layer of dirt from your carpets. It should be able to conduct a deep clean that leaves your home a healthier space and protects the integrity and longevity of your carpets in the process.
At Chem-Dry, our mission is to deliver a lasting clean for carpets and upholstery while providing our customers with total peace of mind. Utilizing our innovative Hot Carbonating Extraction (HCE) process and green-certified, non-toxic cleaning solution, we'll leave your carpets feeling fresh and ready to be enjoyed within hours.
What Makes Our Carpet Cleaning Services Exceptional?
Our motto of "Drier. Cleaner. Healthier.®" outlines exactly what you can expect from the Chem-Dry cleaning process. This process was developed with the belief that there simply had to be a better way to get the dirt and grime out of carpets without the sticky residue and water wastage of steam cleaning.
We found the solution in the natural deep-cleaning effects of carbonation. Leveraging the power of millions of tiny bubbles, our HCE process releases deep-set dirt, grime, and oils for easy and effective removal.
This process doesn't just get your carpets clean, it also ensures they dry faster. The HCE process uses significantly less water than steam cleaning. This means carpets will dry in a matter of hours, not days.
Traditional steam cleaning methods create a soggy environment at the base of your carpets. This in turn creates a breeding ground for mold and mildew. Our carpet cleaning services greatly reduce dry times while delivering exceptional results.
Additionally, the Chem-Dry process does not rely on cleaning solutions that contain harsh chemicals, soaps, or detergents that can generate a sticky residue and actually attract dirt. Instead, our innovative approach puts a natural, carbonated cleaning solution to work to safely and effectively get rid of dirt and promote a long-lasting clean. The result is a refreshed and healthy carpet that stays clean for longer without the mess or stress of steam cleaning.
Additional Services for a Cleaner, Healthier Home
Your carpets aren't the only areas of your home that collect dirt and grime over time. Other well-loved soft furnishings, including area rugs and upholstered furniture, also play a role in trapping pollutants that would otherwise be circulating in the indoor air. Without regular cleaning, these items can end up contributing to indoor air pollution.
We're proud to offer a range of services that can bring new life to your living space. Here are some of the many ways you can rely on Chem-Dry to promote the cleanliness of your home:
Furniture & Upholstery Cleaning
Our upholstery cleaning services remove unsightly stains and extract hidden dirt and oils on a wide range of materials, including suede, leather, denim, and other natural or synthetic fibers. We can even apply a special protectant that creates a barrier that will help resist future stains and promotes the longevity of your upholstered pieces.
 
Area & Oriental Rug Cleaning
Preserve and protect the beauty of area rugs with our expert services. Our process is gentle yet effective, encouraging the vibrancy of the colors in your rug rather than diluting its dyes. Additionally, we won't water-log your rug's backing mat, which could have a negative impact on its delicate fibers. 
 
Pet Urine Odor & Stain Removal
Left untreated, pet accidents can impact the health of your home. Our revolutionary P.U.R.T.® (Pet Urine Removal Treatment) process breaks up urine crystals at the molecular level to eliminate the source of odors, while Hot Carbonating Extraction effectively removes stains and residual liquid or debris.
Get to know more about carpet cleaning services and other residential services from Chem-Dry today! Simply contact your local Chem-Dry to learn how we can help you maintain a healthy and comfortable home or call 1-800-Chem-Dry.