Tips for Keeping Your Rugs Clean for the Holidays
November 07, 2014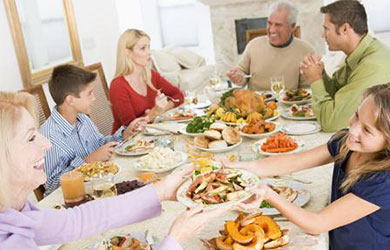 With the holidays right around the corner many of us are already thinking about hosting holiday parties and entertaining guests.   While you certainly want to present delicious foods and inviting décor for your guests, you also want to present a clean and inviting home.  In order to keep your home looking its best, it is important to maintain it from top to bottom.  Keeping your rugs and floors clean is essential for presenting a fresh, clean home.
With guests constantly coming and going during the hustle and bustle of the holidays, it can seem almost impossible to keep your rugs in tip top shape.  However, there are some simple and effective ways to keep your rugs in flawless condition.
Routine vacuuming
First and foremost, it is important to vacuum your rugs on a regular basis.  You should vacuum at least once a week and consider more frequent vacuuming if you have pets or children.  Routine vacuuming can help prevent dirt from building up in the rug fibers and causing stains and discoloration.  It can also be helpful at removing pet dander and unwanted odors. 
Remove Your Shoes
One of the simplest ways to reduce the amount of dirt and debris that can get tracked into your home and on your rugs is to remove your shoes at the door. 
Treat Spills on the Spot
Regardless of whether you are entertaining or just going about your daily routine, accidental spills are bound to happen.  The key is being ready when they do.  Be sure to address any spill as quickly as possible in order to avoid the stain setting in.  If needed, you should spot clean the spill right away.  Be sure to always blot the stain, do not rub it.  This will help to remove the moisture without rubbing the stain into the fibers. 
Use Rug Protectants
Perhaps the best way to protect your carpets is to treat stains before they occur.  Rug protectants such as Chem-Dry's Protectant will help prevent stains, should a spill occur. WIth stain blockers found in Chem-Dry's Protectant, soils have nowhere to soak in and can easily be rinsed from the rug. Contact your local Chem-Dry to ask about apply Protectant to your rugs and carpets before the food-staining opportunities of the holidays begin.
Shake and Rotate
Another simple and effective way to keep your rugs looking their best is to shake them out.  While vacuuming is certainly helpful at removing a great deal of dirt, it does not remove everything.  Taking your rugs outside to beat and shake them is another way to remove any additional dirt and debris.  You might also consider rotating your rugs periodically.  This will help your rugs to wear more evenly and can also help with any fading due to sunlight. 
Following these simple steps will not only ensure that your rugs look beautiful and clean, but it will also help your home to be a fresh and inviting place for guests.  You can be prepared to entertain this holiday season and feel confident that your house will look radiant.