Summer is Out, School is In—and So Is the Dirt!
August 13, 2015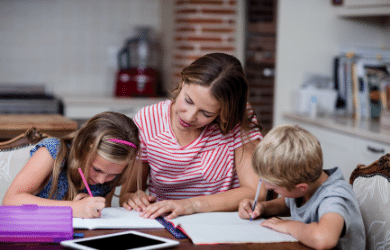 Congratulations, you've made it—summer is over and school is back in session! It's the end of wondering how to keep your kids busy, and out of trouble day after day. But with back to school in full force, comes another predicament: how do you keep the dirt off of your carpet and out of your home? With some organization, and a little creativity, your home can be squeaky clean—and stay that way. Keep reading to find out how.
Create a Shoe Organizer
A dirty carpet can make you feel like you have a dirty home. In some ways, it's true—because walking on a dirty carpet affects your physical health. Does your teenager lie down on your living room carpet while watching his favorite show? Does your first grader rough house with his siblings in the hallway? You have a busy household to run, and filled with 'precious cargo', so you don't have any time to worry about a dirty carpet. To minimize the dirt that's dragged in from every old place your child has been all day, create a shoe organizer and place it by the front door.
Head to your local department store, and purchase a shoe organizer (similar to what you use to hang up your shoes in your closet.) It won't cost you more than $20 and you'll instantly have an easy way for your children to organize their shoes and eliminate the 'dirt factor' when they come home from school.
Purchase Door Mats and Rugs to Keep Dirt at Bay
As another smart 'rule of thumb' for keeping your carpet as clean as possible, welcome mats and area rugs can help preserve the life span of your flooring. Your kids are learning lots of new rules this time of year—when homework is due, what's expected of them as a student, what school supplies they need to succeed—so give them an easy one to follow. Wipe those feet, please! With welcome mats, your children can play their part, so that your carpet lasts as long as possible.
Empower Your Teenagers with Some Light Chores (and Reward Them for It)
If there's a golden rule of clean carpets, it's vacuuming. Vacuum regularly and you'll be able to suck up tiny specks of dirt you kids bring in. In other words, when you make vacuuming a priority (especially with school back in session) you can extend the life and quality of your carpet. Get your teenager involved (as well as any other young member of your family that could benefit from some responsibility) with a weekly vacuuming chore. Create a chart of who is responsible for vacuuming on each day, or every few days. Reward your children with an allowance, so they'll be motivated to continue their enthusiasm to help out with the household work.
Need extra help? Chem-Dry is the world's leading carpet cleaning professionals, and when more dirt than usual is coming through your home, count on them to get the job done! They offer a clean and healthy carbonation formula to extract pollutants, mold, and dirt out of your carpets—which leaves you more 'family time'.
Find a local Chem-Dry in your area to schedule a cleaning today to get your home "back-to-school ready."