Recommendations for Cleaning and Protecting Leather
December 10, 2014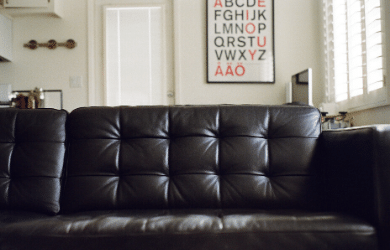 Leather furniture can add warmth and comfort to any room.  Like any upholstered furniture, it requires routine maintenance to keep it looking its best.  You can help make your leather furniture last for decades with the proper care and cleaning. 
For most normal and routine cleanings, you can remove dirt and dander by vacuuming the crevices of your leather furniture or using a dry dusting cloth.  If you do encounter a spill on your furniture, be sure to wipe it up immediately with a clean and absorbent sponge.  If there is a sticky substance on your leather, you can use a damp cloth to wipe away the residue and allow the spot to air dry on its own.  You should never use soap or a heavily soaked sponge on your leather, as this can lead to more damage.  If you are having difficulty removing a stain from your furniture, it is best to call a professional leather specialist to clean the area.   
In addition to these cleaning techniques, it is important that you keep your leather furniture out of direct sunlight.  Leather can fade over time if exposed to too much sunlight.  While you should avoid cleaning solvents, furniture polish, oils, and any other abrasive soaps, you should use a good leather conditioner on your furniture every 6-12 months. 
If you are in need of a good leather cleaning, be careful in choosing a cleaner because most cleaning products on the market are not appropriate for leather and may break down leather finishes, leading to dryness and cracking. Alternative to self-cleaning your leather, Chem-Dry offers a safe and effective leather cleaning method for leather furniture that restores its natural vibrancy and shine. With regular cleaning by a Chem-Dry Certified Leather Specialist, you can prevent undue wear and keep leather furniture looking great.
Caring for and protecting your leather furniture is an important part of maintaining its look over time.  Whether you are looking to clean your furniture, protect it against stains, or remove marks and scratches, be sure to use only those products that are safe for leather and won't damage the leather finish.  If you are ever in doubt, consult a professional like Chem-Dry that is specially trained in caring for leather.