What is The Natural? Our Carpet Cleaners Explain
September 27, 2023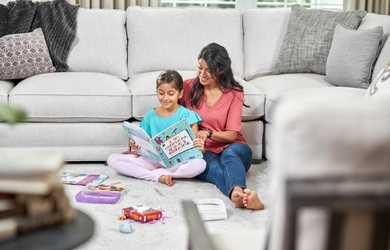 Chem-Dry carpet cleaners offer homeowners a way to maintain a healthier household as well as clean, comfortable carpets. Our team understands why many homeowners are frustrated with traditional carpet cleaning methods. 
If you are ready for a better approach to maintaining your carpets, we are proud to provide a solution to this problem. Our professional carpet cleaners use a more reliable way to keep your carpets clean without damaging them, risking the health of your family, or the balance of the ecosystem.
Why Traditional Cleaning Methods Don't Meet Our Carpet Cleaners' Standards
Conventional carpet cleaning methods include steam cleaning and carpet shampooing, both of which use chemical-laden detergents as part of the cleaning process. These detergents may help lift dirt and soil from carpeting, but their use has a number of negative consequences. 
Carpet cleaning solutions are often filled with unhealthy substances. 
You don't want toxic chemicals to be used anywhere in your home, and especially not on the surface where your kids and pets play. Yet many conventional carpet cleaners, both store-bought and professional formulas, contain chemicals that may not be safe for young children and small animals.
Carpet cleaning solutions are rarely environmentally friendly.
In addition to presenting a health risk, the chemicals in carpet shampoos and detergents can also have a negative impact on the environment, including animals, aquatic life, and air quality.
Carpet cleaning solutions are difficult to rinse from carpet. 
Conventional cleaning formulas must be thoroughly rinsed from carpet, requiring a significant volume of water. The rinsing process typically leaves carpets soaking wet, often taking hours or days to dry. In addition to disturbing your family's normal routine, these conditions offer an open invitation to the growth of mold and mildew.
Carpet cleaning solutions can leave behind a sticky residue in the carpet. 
Have you ever had your carpet shampooed or steam cleaned, only to find that they feel sticky or crunchy after the carpet cleaners finished their job? This happens when there is cleaning solution residue left in the carpet fibers. This is not only unpleasant to the touch, but can also lead to your carpet soiling more quickly as it behaves like a magnet for dirt, dust, and soil.
How The Natural® Offers a Superior Clean
Understanding that conventional carpet cleaners simply don't pass muster, we took matters into our own hands and created a better carpet cleaning solution called The Natural. This exclusive formula forms the core of our low-moisture carpet and upholstery cleaning process, Hot Carbonating Extraction (HCE).
Rather than relying on soaps and detergents to dislodge soil from carpet fibers, The Natural is a non-toxic solution that is carefully carbonated. The power of its carbonated bubbles offer a cleansing action that works deep within carpets to loosen caked-on contaminants and propel them to the surface, where they can then be extracted with our PowerHead® equipment. 
Because the Natural is soap-free, rinsing with excessive amounts of water is not necessary. You will not have to worry about dirt-attracting residues left behind in your carpet, and you can look forward to maintaining clean, cushy carpets for longer. 
Our services offer a great choice for those who want a healthier home, as The Natural is based on ingredients copied from the most natural source possible -- Mother Nature. This formula is free from soaps, detergents, solvents, and enzymes, and it is one of the purest cleaning solutions out there. 
Furthermore, all of the ingredients that make up Then Natural can be found on the Generally Recognized as Safe (G.R.A.S.) list compiled by the FDA. With this in mind, you can have confidence that this cleaning product is safe to be used around children and pets and on the surfaces they touch on a daily basis. 
Are you eager to experience the difference that Chem-Dry can make for your carpets through the use of our exclusive cleaning product and proprietary cleaning process? Dial (800) CHEM-DRY today to connect with a Chem-Dry carpet cleaner serving your local area!