Carpet Cleaning with Pets: Learn How Our Pet Urine Odor Removal Treatment Works
June 08, 2022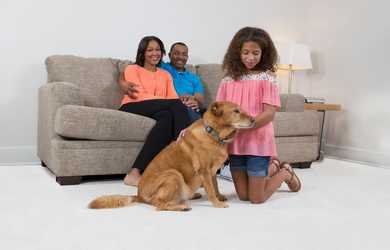 When your pet becomes part of your family, you may feel like they can do wrong. Yet when a pet accident occurs on your carpet, your perspective could shift a bit. As much as we love our pets, the accidents that sometimes happen inside can cause a huge headache, especially if you have carpet. To ensure you can keep your carpet clean and your home smelling fresh, it's important to be able to call on carpet cleaning experts who know exactly how to deal with pet accidents. 
The nature of pet accidents requires a careful approach to carpet cleaning. That's because cat and dog urine doesn't only have the potential to leave behind an ugly stain on your carpet. It also results in a strong odor that may feel impossible to get rid of. 
Pet urine penetrates deep into the fibers of carpet and in larger quantities can also penetrate the flooring underneath. As the liquid from the urine evaporates, the spot will dry, but urine crystals, where the pungent odor is concentrated, will be left behind. This is why DIY carpet cleaning methods simply won't do the trick when it comes to resolving the aftermath of a pet accident.
Our Unique Approach to Carpet Cleaning After a Pet Accident
You can rely on Chem-Dry technicians to quickly and easily get rid of the odor and stubborn stains that result from pet urine. Unlike other carpet cleaning products and deodorizers, our innovative treatment, the Pet Urine Removal Treatment (P.U.R.T.®), does not attempt to mask odors. Instead, it targets the source of these strong smells, which are found in the urine crystals stuck deep down within carpet fibers. P.U.R.T. instigates a crucial chemical reaction that breaks up these urine crystals to completely eliminate related odors. 
Our approach to carpet cleaning isn't limited to dealing with the most obvious pet accidents. We also want to take care of any issues that may have escaped your notice. From our experience, we've seen that where there's one pet accident, there are often more. That's why we arrive at your home with a special ultraviolet light which can detect pet urine that would otherwise escape the human eye. Because P.U.R.T. can be used on rugs and upholstery in addition to wall-to-wall carpeting, we can also examine these areas for potential pet accidents.
What to Expect From Our P.U.R.T. Carpet Cleaning Service
Our technicians utilize a detailed step-by-step process to ensure the best outcome for your carpet and give you total peace of mind. Starting with the ultraviolet light inspection, we will uncover problem areas and hidden urine deposits that need to be treated. Then, we'll leverage the power of our Hot Carbonating Extraction (HCE) process to conduct a comprehensive clean while also removing liquid residue from pet accidents as well as loose urine crystals. 
Following the completion of the HCE process, we will carefully apply our innovative P.U.R.T. treatment to each stain or hidden accident. This treatment seeps deep into the backing of the carpet, targeting areas where conventional cleaning processes simply can't reach.
Finally, we'll step back to allow P.U.R.T. to get to work. Over the next 24 to 36 hours, this amazing product will break down residual matter from the pet accidents. After each treated spot has completely dried, you can have confidence your carpet is free from the effects of pet accidents. 
Do you need help with a pet accident on your carpet? Call our carpet cleaning experts today at (800) CHEM-DRY to experience the revolutionary effects of our P.U.R.T. process!