Can Carpet Cleaning Remove Pet Odors?
April 06, 2022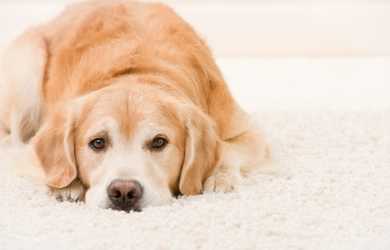 When your pet has an accident in your home, you may fear this spells the end to your carpet and a real hit to your budget. After all, pet accident odors can be some of the most stubborn smells you encounter. You may be wondering can carpet cleaning really help with the stain and smell?
Let's be honest, the last thing you want is for the odor from a pet accident to linger in your home and be the first thing to greet both you and your guests at the door. The good news is that you don't have to replace your carpet to get rid of that smell for good. 
Professional carpet cleaning from the technicians at Chem-Dry can banish stains and odors resulting from pet accidents. With our help, your carpet can live to see many more days while looking and smelling fresher than ever!
Why Professional Carpet Cleaning Is Necessary to Remove Pet Odors
Before calling on a professional, you may be tempted to try to deal with a pet accident on your carpet using some DIY hacks. However, anything more than blotting the area with a white cloth as you pick up the phone to schedule a carpet cleaning session may do more harm than good.
Many store-bought stain removers can wreak havoc on the texture and color of your carpet. Moreover, they are often full of chemicals you don't want to use around your pets. And while store-bought deodorizers may be less corrosive than stain removers, they typically only mask odors with strong perfumes rather than eliminating the odor at its source.
That's why it's important to call for professional help when your pet has an accident on your carpet. Not only do the technicians at Chem-Dry have the professional equipment and appropriate cleaning supplies necessary to get rid of pet accident residues, but they also have the essential know-how to protect your carpet in the process.
How Our P.U.R.T. Carpet Cleaning Process Targets Odors
Dog and cat urine doesn't sit on the surface of the carpet. Like any other liquid substance, it goes straight to the carpet backing and can even penetrate the flooring below. Over time, as it dries, the urine leaves behind crystals that contain the source of the pungent odor you're wanting to eliminate. That's why surface cleaning simply isn't effective against pet accidents. Instead, it's necessary to engage in deep cleaning that is designed to break down those urine crystals and leave your carpet clean and fresh
That's where our Pet Urine Removal Treatment (P.U.R.T.®) process comes into the picture. This proprietary process has enabled us to resolve the results of pet accidents for many pet owners. As a result, we have helped prevent the need for costly premature carpet replacement and allowed families to get back to life as usual quickly and comfortably.
Here's how we target pet odors and resolve them for good.
1. Pre-Cleaning Inspection
We start by doing a carpet inspection using a specialized ultraviolet light. This light helps expose urine deposits that may not otherwise be visible. Thanks to this step, we can be sure and target the source of odors stemming from other accidents that may have escaped your notice.
2. Powerful Carpet Cleaning with Hot Carbonating Extraction
As a second step, we work with our Hot Carbonating Extraction cleaning process to carefully clean your carpet. This process removes any liquid remaining from accidents and dislodges urine crystals to make them easier to eliminate. 
3. P.U.R.T. Treatment Application
Next, we apply our innovative P.U.R.T. solution to each problem area. This treatment reaches deep into the backing of the carpet to ensure no urine crystal is left unaffected.
4. Effective Results for a Fresher, Cleaner Home
Finally, we'll instruct you to sit back and let P.U.R.T. do its job. This treatment breaks down odor-causing matter over a period of 24 to 36 hours. When the areas where the solution was applied dry, you'll find that your pet odor problems are gone for good!
You can trust us to remove evidence of pet accidents in your home through our innovative carpet cleaning processes. Just give Chem-Dry a call today at (800) CHEM-DRY to discover the difference that P.U.R.T. can make for your carpets!