How to Develop a Family Cleaning Schedule
December 16, 2014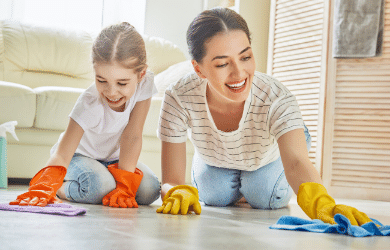 Whether you live with your significant other, or you manage a busy household of children and pets, it's not easy to keep your place clean.  In fact, it can feel like an impossible feat with beds that need to be made, floors that need to be mopped and dishes that need to be done! So why are you doing all the work yourself? Show your children to place some pride in their personal belongings and living space. Here's how to do it in a few easy and simple steps—no 'period of adjustment' required.
Get Your Toddlers Involved (It's Never Too Early!)
No matter how quiet and serene or loud and hectic your home may be, the same rule applies: when you have a heathy home, you have a happy home. When you have toddlers to clean up after, bedrooms can get messy and shared living spaces (living room, dining room, common area) can look like a disaster.  Do you have a toddler who impersonates the Tasmania devil? Great! Use it to your advantage! Teach them to be responsible for one small chore, such as tidying up their bed or putting away their toys after playing with them. Just implementing a 'one small chore' rule on a daily basis, and you'll notice the time it saves you.
Implement a Reward System
No matter what age you may be, everyone could use a reason to stay on track. Head to your local school supply store and buy some markers, stickers and a large sheet of cardboard or whiteboard. Make a list of the chores each week that you need done and assign each family members name to a few of those chores. Just make sure to keep the chores age appropriate. After all, you want each child to feel good about themselves, not frustrated because the task at hand is too difficult to complete.
Together as a family, come up with a reward for a week's worth of chores accomplished. Would your kids like to head out to their favorite burger joint? Or, would everyone enjoy a round of miniature golf? Implement a reward that will motivate your family to do a great job taking care of their personal belongings, and you'll have a family that cleans together, sticks together, and makes happy memories, together!
Turn it Over to the Professionals
Are you overdue for a professional cleaning? Chem-Dry understands your needs. As a trusted professional carpet cleaner with local Chem-Dry operators across the United States, they can clean your carpets, rugs, tile, upholstery and more. With the New Year approaching, there is nothing like the feeling of having a clean home. A professional carpet cleaner will help you accomplish just that! Contact Chem-Dry at 1-800-CHEM-DRY today or find your local Chem-Dry and contact them for the best deals!