Guide to Decorating for the Holidays
December 09, 2016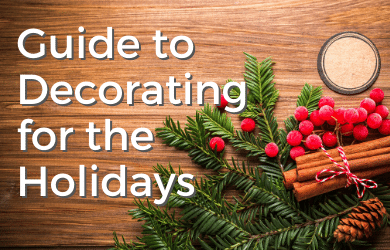 The holiday season is upon us and, as the classic song says, it really is "the most wonderful time of the year." The sparkling lights along with the sounds of holiday music and the nervous chatter of children waiting to meet Santa are instant reminders of the season. The scents of gingerbread and fresh pine decorations fill the air and make everything feel festive. In our fast-paced, modern lives some people forego those fresh pine decorations and put up artificial arrangements to save precious time. But there's really nothing quite like the look and smell of fresh, live decorations and trees.
This is the first in a series of blog posts that will teach you the best ways to select, display, and care for live decorations this holiday season, while keeping your home clean and healthy. For now, we will be focusing on how to make your home more festive using live decorations, but be sure to check in over the next few weeks to learn about maintenance and post-holiday cleaning as well!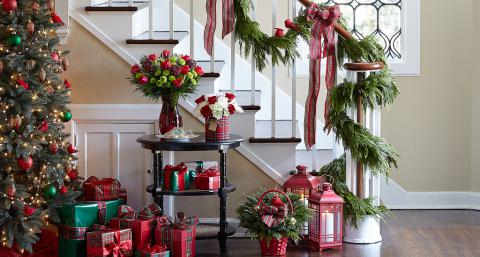 Choosing the Right Decorations
Step one is to buy decorations that are less likely to drop needles and pitch all over your clean carpets and floorboards. As you're deciding what type of tree, wreaths, and garlands to buy, pay attention to the overall color of the greenery. If it is faded, or if the younger, fresher needles on the exterior fall off easily, you probably want to keep looking.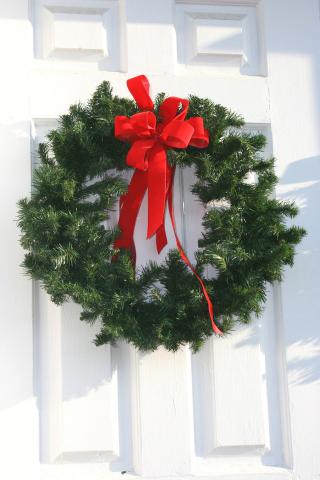 Pre-Soak Garlands and Wreaths
You want your greenery to start off as hydrated as possible, so as soon as you get home, put your garlands and wreaths into a good soak bath. A bathtub will do fine, and it will give the decorations room to soak without getting bent or crushed. Let it soak for about 24 hours, then prop it up inside the drained tub to give it an opportunity to dry.
Selecting the Right Tree
If you plan to buy a pre-cut tree from a nursery, retail store or even a scout troop, ask them how recently the trees were harvested, and where they came from. If you aren't impressed with the answers, shop elsewhere. Also inspect the trees yourself by feeling the needles: they should be flexible, not dry and brittle. The fresher the tree, the longer it will last in your living room.
Find the Perfect Setting for Your Tree
Keep the tree away from direct sunlight, heaters or fans, as these will speed up the drying process. Andersen suggests using a room humidifier, which can help keep the needles fresher longer, as well as reduce fire risk.
Speaking of fire risk, make sure any lights you put on the tree are in good working order, and are designed for the purpose. Newer LED (light emitting diode) holiday lights cost only pennies a season to run, so they are a good value, while they also decrease fire risk because they stay cooler. Also make sure to keep any open flames away from the tree.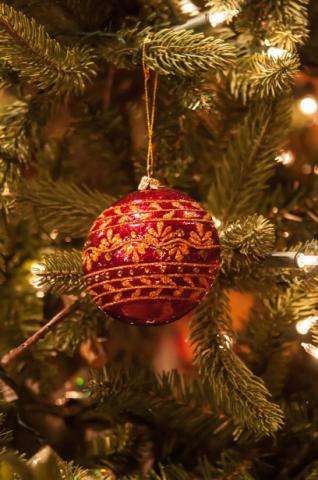 Lay Down a Plastic Tree Bag Under the Tree
This will help with your cleanup when January rolls around. When it's time to take the tree down, you will be able to pull it up over the tree and carry it out of the house without leaving a trail of needles and sap. You can cover the tree bag with a festive holiday tree skirt.
Trim the Trunk Before Putting Putting Up Your Tree
Before you place your tree in the basin or pot that will hold it and provide it with water for the next several weeks, remove a slice off of the bottom of the trunk. Trees form a protective layer of sap after they are cut that hardens and seals it from moisture, so it becomes difficult for the tree to absorb water and nutrients. By cutting the tree just before you put it in water, you can prevent that seal from hardening and allow your tree access to the moisture it needs to prevent it from drying out and dropping needles everywhere. A hack saw or hand saw should be able to handle the job. If you have a chain saw, that will work too. Please use caution and always wear safety glasses! Most live tree sellers offer this service as a courtesy, so be sure to ask when you purchase your tree!
Use a Big Enough Basin
As a rule, a tree will absorb as much as one quart of water each day per inch in the trunk's diameter, so make sure that you're using a basin that can hold plenty of liquid. For example, a tree with a four-inch trunk would require a basin that holds at least one gallon of water.
Stay tuned next week for the next installment on how to maintain the look and smell of your live holiday decorations!