Get Holiday Happy with Clean Carpets
November 03, 2014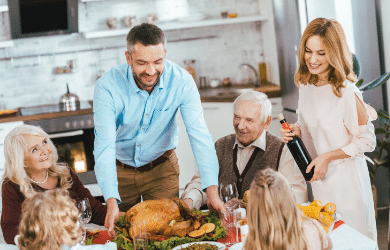 As the holiday season approaches, most of us will be busy with parties, decorating, shopping, and cooking.  With the hustle and bustle of this busy season, it can be difficult to find time for cleaning and refreshing your home.  This is the perfect time to consider having your carpets professionally cleaned.  Not only will your home be fresh, clean, and ready for entertaining, but you can leave all of the work to professionals and spend your time enjoying the holidays. 
Having your carpets professionally cleaned is beneficial for so many reasons.  For starters, it is an excellent way to present a clean, pristine home.  While it is certainly important to vacuum your carpets on a regular basis, vacuuming alone is not enough to remove the dirt and grime that gets tracked into the home.  This can be especially true for homeowners with pets and children.  Over time, your carpets can begin to look dingy.  A professional carpet cleaning service like Chem-Dry is equipped with special equipment and products that can provide a deep clean for your carpets, leaving them bright and fresh. 
If you are looking to have a home that is not only clean but hygienic as well then consider our Fresh & Healthy Home cleaning package.  With the use of products specifically designed to clean thoroughly, you can rest assured that your home will be thoroughly cleaned.  This is also a great benefit for those who suffer from allergies, as our Fresh & Healthy Home Cleaning carpet cleaning can greatly reduce the number of non-living allergens* in your home.
Furthermore, professional cleaning is highly effective at removing stains and unwanted odors.  If you are looking to entertain this holiday season, you don't want to be embarrassed by unsightly stains or unpleasant odors.  With the help of local Chem-Dry professionals, you can welcome guests and feel confident that your carpets will look and smell their best.
This holiday season, treat yourself to the gift of a clean and beautiful home from Chem-Dry.  Not only will you be enjoying the benefits of a fresh, clean, healthy home, but you will be helping to improve the life and quality of your carpets.  After all, there is no place like home for the holidays!
*Based on results from a study conducted by an independent laboratory using the Chem-Dry Hot Carbonating Extraction process. Allergens tested were dog and cat dander and dust mite matter. Figures are an average across multiple homes.