How to Keep Your Tile in Tip-Top Shape
November 13, 2014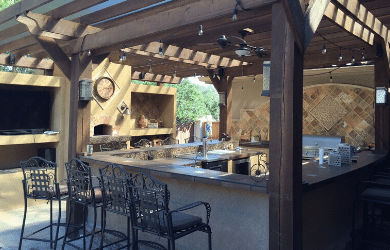 Whether you come home to a busy, growing family of six or you live alone, it's nice to know that at a minute's notice, you can turn your backyard into another room to eat, play and entertain! And, autumn is the perfect time to use it to its full advantage! Invite your next door neighbor over for an impromptu dinner while you enjoy the view, or simply turn your backyard into a fun 'overnight campout' for the entire family.
Do you have tile covering your deck or patio that you want to keep 'like new?' During these next few weeks when your backyard gets some extra action, here's how to keep the tile you love in the best shape possible!
Dealing with Durable Tile
The good news about tile is how durable it really is. It can withstand rain, wind, sleet and the pitter-patter of little feet extremely well. However, tile isn't immune to other types of wear and tear such as cracking and mold damage. If your patio is covered with heavy furniture, cover your chairs and tables with a protective mat to prevent cracking.
Have you run into multiple cracking problems? If you've experienced more than your fair share of scratched or cracked tile in the past (and you're tired of spending hours on all fours repairing or replacing it), shop around for new outdoor furniture that is less abrasive on tile in general. As a rule of thumb, avoid furniture that has harsh, sharp edges to it and choose rounded bottoms for your chairs and table, instead.  A high quality sealant will also work well to help minimize cracking – taking the time to learn which sealant is best will be worth the extra effort you put in.
Daily Cleaning is as Easy as 1, 2, 3!
Cleaning tile is easy and effortless. All it takes is a few minutes each day  and with products you already have on hand. All you need is some everyday tile detergent and a dry sponge. When cleaning tile, make sure not to wash the tile down first – cleaning it when it's dry is an important part of the process for getting and keeping it squeaky clean. Dampen the sponge with a warm water/detergent mixture, and scrub the tile gently.
If your outdoor tile is getting heavy traffic and you need extra help getting it clean, call your local Chem-Dry and let them take care of it for you! Using specialized cleaning solutions and powerful suction equipment, Chem-Dry can blast the dirt and grime from your tile, delivering a sparkling clean and extending its life