Do I Need Professional Carpet Cleaning?
January 11, 2023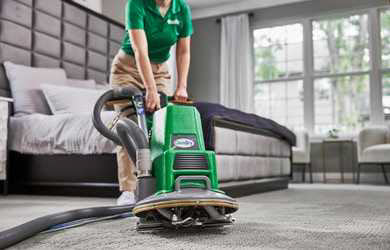 When it comes to certain investments in your home, you may feel like you know when you need to call in a professional to help you with maintenance and cleaning and when you're able to tackle this task on your own. However, you may be less than certain about when professional carpet cleaning is needed. 
If you have a regular vacuuming routine, you may assume your carpets are being cared for adequately without professional help. However, the truth is there are a number of situations in which calling on professional carpet cleaners, such as our team at Chem-Dry®, is a must. 
5 Signs It's Time for Professional Carpet Cleaning
We've gathered a list of signs that it's time to request professional carpet cleaning and situations in which working with a professional technician can be a huge help. Take a look at the list below as you determine whether getting in touch with your local Chem-Dry technician is the right next step for you.
Your pet has had an accident indoors. 
If your furry friend has had an accident on your carpets, reaching out for professional carpet cleaning can make your home feel fresh again. Our Pet Urine Removal Treatment (referred to as P.U.R.T.®) takes care of nasty pet urine odors with ease. 
Most importantly, we can give you peace of mind that there aren't other hidden accidents that have left residue behind in your carpets. Our technicians utilize a UV light to identify pet accidents that might have slipped your notice. 
You've got a stubborn stain on your carpet.
We understand just how frustrating it can be for your beautiful carpets to be marred by a single unsightly stain. Our specialty stain removal services are designed to tackle even some of the worst offenders including:
Food
Drink
Art supplies
Bodily fluids
Dirt and debris from the outdoors
Pet accidents
And more
Rather than panicking about having to completely re-carpet a room because of a stubborn stain, you can find peace of mind thanks to the knowledge and experience of our carpet cleaning experts. 
Your home smells musty or weird smell.
You may not realize it, but your carpets act as a huge air filter in your home. They trap tiny particles of dust, dander, pollen, and dirt, clinging to them and preventing them from moving around on air currents in your home. 
However, while your carpets are superheroes, they're not invincible. They can only hold onto so much dust without professional cleaning. If you've noticed that your home has a dusty, musty, or funky odor, having your carpets deep cleaned can make a huge difference and enable them to continue promoting healthy indoor air quality by improving their filtering capabilities.
You don't have a no-shoes policy in your home.
If you often have family members or guests enter your home without taking their shoes off, your carpets may be much dirtier than you realize. All of the dirt and grime that is tracked in from the outdoors can accumulate in your carpets over time and become compacted within its delicate fibers. 
The friction of dirt rubbing against these fibers causes premature breakdown and ugly traffic patterns. Of course, that's not the only concern to consider. To maintain a healthy home environment, it's also important to remove soil from your carpets through professional cleaning on a regular basis.
Your last professional carpet cleaning was more than a year ago.
Can you remember the last time you had professionals come by to clean your carpets? If your last appointment was more than a year ago, it's definitely time to get in touch with your local Chem-Dry technician. 
We recommend having carpets professionally cleaned at least once a year. However, if you have kids or pets at home, you should schedule carpet cleaning every six months. Sticking to a regular deep carpet cleaning schedule can help keep your investment in great condition and extend the lifespan of carpets, saving you from the hassle and cost of having to replace them prematurely.
Are you ready to get started with professional carpet cleaning from the experts at Chem-Dry? Just pick up the phone and call (800) CHEM-DRY to learn more about our range of service options and schedule a cleaning appointment at your home!