Deep Carpet Cleaning and The Power of Carbonation
March 01, 2023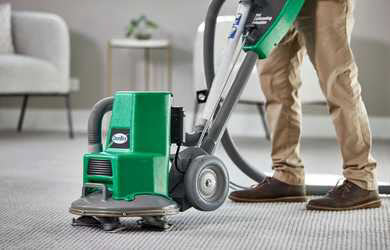 Are you curious about the process that Chem-Dry technicians use to perform deep carpet cleaning? Our proprietary process has received the Carpet and Rug Institute's Platinum Seal of Approval.
Called Hot Carbonating Extraction (HCE), this process uses carbonation to implement the key principles of cleaning, leaving carpets deeply cleaned, healthier than before, and dry within hours.
The Keys to Our Deep Carpet Cleaning Process
Ready to learn more? Here's a deep dive into how the power of carbonation can be used to deep clean the carpets in your home when you call on a Chem-Dry technician in your local area.
Our Carbonated Cleaning Solution
The star of our HCE process is The Natural®, a proprietary solution made with ingredients that can all be found on the FDA's G.R.A.S. (Generally Recognized as Safe) list. As it is free of harsh detergents and soaps, The Natural won't leave behind sticky residues that could contribute to resoiling, meaning your carpets will stay cleaner for longer. In addition, you can feel comfortable knowing that this formula is completely safe for use around kids and pets and is gentle enough to be applied to delicate carpet fibers.
Another benefit of The Natural being free of soaps is that less water is needed during the cleaning process. Soaps and detergents can be tough to rinse away without a huge volume of water. This is why other carpet cleaning methods, such as steam cleaning, leave your carpets so wet. When your carpets are moist for several hours and even days after being cleaned, they offer an inviting environment for the growth of mold. 
In addition to being formulated with ingredients copied from Mother Nature, what makes The Natural so special is that it is carbonated. The millions of tiny bubbles within the carbonated solution get to work attacking stuck-on dirt and grime within your carpet. 
If you have ever used club soda to remove spots from clothing, you know just how effective carbonation can be when it comes to lifting away stains and soil from fabric fibers. We apply this logic to the process of deep carpet cleaning with amazing results that benefit both your carpet and the health of your home. 
Our Proprietary Machinery for Deep Carpet Cleaning
While those carbonated bubbles do an excellent job of loosening the grip of stubborn soil, carbonation isn't the only form of agitation we rely on during the HCE process. The Natural is applied with our PowerHead® cleaning system, whose multi-directional cleaning offers just the right amount of agitation to continue the work that the carbonation has started. This system rotates 200 times per minute, breaking down soils and enhancing the activity of the carbonated solution as those bubbles propel dirt and grime to the surface of the carpet for easy removal. 
Finally, we work with amplified extraction equipment with exceptional vacuum strength as part of our deep carpet cleaning process. Not only does this powerful machinery help remove stubborn dirt, but it also leaves carpets with shorter dry times after cleaning. As a result, you can expect your carpet to be both deeply cleaned and ready to use within hours.
Are you ready to experience the power of carbonation in deep carpet cleaning? Contact (800) CHEM-DRY today to get in touch with a Chem-Dry technician near you!