Back to School is Ideal for Deep Carpet Cleaning
September 21, 2022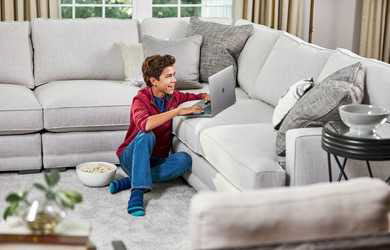 While many people choose to deep clean their homes in the spring, deep cleaning doesn't have to be a once-a-year event. In fact, a good hard reset half a year after your spring cleaning can do wonders for your state of mind as you head into the fall and winter months and start spending more time indoors. The back to school season is an excellent time to give your home a refresh and conduct some deep carpet cleaning. 
At Chem-Dry, we're proud of the difference we can make for our clients during this busy time of year. Our services can give you the peace of mind of knowing your home is clean and in order as you help the kids get into a new routine and find yourself busier than ever packing lunches and managing carpools. 
Below, we've listed a few of the reasons why we believe the back to school season is an excellent time to call on our technicians for deep carpet cleaning.
Back to school season is roughly six months after spring cleaning.
If the last time you had your carpets cleaned was during the spring cleaning season, then your carpets are due for some professional cleaning. Industry experts recommend deep carpet cleaning every six months at the very least, especially in homes with children or pets. Back to school season is an excellent time of year to mark your calendar for a visit from Chem-Dry.
Your carpets experienced a lot of traffic and wear over the summer.
With the kids at home over summer vacation, your carpets may have experienced more traffic than other times of year. If your children were constantly running in and out of your home to play in the yard or the pool, it's likely they tracked in some dirt and soil along the way. 
Add to this all the art projects and experiments that took place with your carpets as a foundation (and likely resulted in some stubborn stains), and you'll realize that your carpets could really benefit from deep cleaning now that summer's over.
It's time to settle in and get cozy for fall and winter.
With cooler temperatures coming your way, your family is going to be spending more time indoors. You may find that your children stretch out on the living room floor as their homework headquarters and that at-home movie nights and dinners in become the norm. 
After deep carpet cleaning from our technicians, you'll have confidence knowing your home is a healthier space for all of that indoor activity. Keep in mind that your carpets act as a huge air filter in your home, holding onto dust and other air pollutants. Deep carpet cleaning is the only way to clean this filter and thus helps keep the indoor air quality in your home at a healthy level. 
You'll feel better about hosting guests after deep carpet cleaning.
In addition to health benefits, deep carpet cleaning also offers the benefit of stain removal and odor elimination. If you've ever shied away from inviting friends and family over for a Halloween party or Thanksgiving dinner because you were embarrassed by your stained and odorous carpets, you may be ready to take a different approach this year. 
Our deep carpet cleaning services lift away stains and get rid of those musty odors, leaving you with a fresher, more inviting home environment where you can comfortably welcome guests in the months ahead. 
Are you ready to experience the benefits of deep carpet cleaning during the back to school season? Allow the experts at Chem-Dry to whisk away the dirt and dust of the summer and reveal cleaner, healthier carpets you can enjoy for the rest of the year. Give us a call at (800) CHEM-DRY to get started with our services!