Chem-Dry Helps Homeowners Brace for 2015 Summer "Pollen Tsunami"
June 30, 2015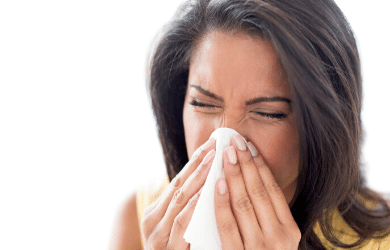 As regions across the country are experiencing the effects of a particularly brutal allergy season that experts are dubbing the "Pollen Tsunami" of 2015, Chem-Dry, the world's leading carpet and upholstery cleaning service, is arming consumers with scientifically-backed advice to significantly reduce non-living allergens in the home.
Typically, trees release their pollen in early spring and other plants and grasses follow suit weeks later. Due to the long, ruthless winter, however, trees' pollen has been delayed and is now combining with all other pollen released this time of year. This has created the perfect pollen storm, with pollen collecting in thick clumps on the ground and even coating cars.
Chem-Dry recently released a study, conducted by a leading independent air quality laboratory in a cross-section of U.S. and international homes, which proved its Hot Carbonating Extraction (HCE) cleaning process removed an average of 98 percent of common non-living allergens* from carpets and upholstery we clean. 
The HCE process harnesses the power of millions of microscopic bubbles to penetrate deep into carpet fibers, lifting particles to the surface so they can be easily extracted. In addition, by using 80 percent less water than typical steam cleaning, the HCE process leaves carpets dry in a couple of hours versus a couple of days, also reducing the risk of mold and mildew growth.
To supplement the study findings, Chem-Dry has prepared an Allergy Survival Kit, complete with tools and tips for keeping pollen and non-living allergens at bay inside the home, particularly for the 50 million Americans who suffer from nasal allergies. Tips include:
Freshen Beds: Mattresses should be vacuumed at least once a month and turned over every six months to reduce dust mites. Linens should be washed every two weeks in hot water over 130 F. Pillows, mattresses and box springs should also have dust-proof covers.
Bathe Pets: Chances are pets will be spending more time outdoors. In addition to their dander, they will be bringing in more dirt this time of year, and should be bathed regularly. To keep their dander at bay, pets should be kept out of the bedroom and the bedroom doors should remain closed to prevent dander floating into the room.
Incorporate Doormats & Area Rugs: It is a common misconception that bare floors are cleaner than carpets, when in fact, dust and dirt particles settle on hard surfaces only to get stirred back into the air more easily than floors with carpets, and carried deeper into the home whenever there is activity in the room. Placing rugs down in high traffic areas will help trap these particles and keep them in place until it is time to vacuum.
Vacuum Upholstery & Carpets: In between professional carpet and upholstery cleaning, carpets and upholstery should be vacuumed at least once a week with a HEPA-filter vacuum to pick up trapped pollen, dust and dirt particles, which settle on soft surfaces and get pushed deeper into the fibers over time.
Replace Blinds: Because blinds are near open windows, they collect a lot of dust and dirt particles and should be wiped down weekly. For less maintenance, consider replacing them altogether with window shades.
Following these tips, combined with regular professional carpet cleanings by Chem-Dry utilizing our HCE process, can be instrumental in reducing symptoms for the 1 in 5 Americans who suffer from allergies and the 24 million Americans with asthma. Carpets, area rugs and upholstered furniture help indoor air quality by acting like giant air filters that absorb and trap dirt and dust and prevent them from spreading throughout the home. But these areas must be professionally cleaned to remain optimally effective, as indicated by our recent study.
*Based on results from a study conducted by an independent laboratory using the Chem-Dry Hot Carbonating Extraction process. Allergens tested were dog and cat dander and dust mite matter. Figures are an average across multiple homes.