Chem-Dry Leads in Franchise Development
February 28, 2014
As published on Forbes.com 2/28/14
According to an article in the Wall Street Journal last year the majority of franchisees are men and are between the ages of 45-54. Among the states California and Texas seem to have the most and among industries the most popular choices for franchisees are quick service restaurants and lodging.
The total average investment is $520,000 per franchisee. The article contains an infographic which highlights this and other data. 
But what about those on the other end of the proverbial line, the franchisor? They're the ones who are of course trying to reach the potential franchisees.
In 2014, being a franchisor will mean marketing and more marketing. It's always a good idea to amp up your marketing efforts whenever possible, but there are more factors in marketing when it comes to franchises. For one, as a franchisor you have to market yourself to find prospective franchisees—not just consumers. This type of marketing is known as franchise development marketing.
Of course in today's digitally crazed world, any marketing of any kind will be inclusive of online and along those lines, no pun intended, I spoke with Scott Langdon, Managing Partner of SEO firm HigherVisibility, about the very topic of franchise development marketing. Langdon says it's all about marketing your franchise opportunity to people who want to start their own business.
He offers the following tips to help you promote your opportunity:
Franchise Directories
Franchise directories are an excellent place to connect with potential franchisees because you have everything in one place. Many people who want to start their own business will use a franchise directory because they allow you to browse by different criteria including investment requirements, industry, brand, or location.
Gregory Marco of Franchiseexpo.com, one of the leading franchise directories on the web, explained to me that "purchasing a franchise is one of the biggest decisions a person makes in their professional life, so you have to make sure that you're finding the opportunity that is perfect for you. Visiting a directory is an excellent way to make sure that you're not cutting corners and you're finding a franchise that you'd actually love to own."
Search Engine Optimization (SEO)
Create a separate webpage to target people interested in starting a business.
Creating a webpage specifically for those interested in starting a business is an excellent way to move up in the organic search results on a search engine. By having a webpage dedicated to this subject, you can optimize that page with keywords and content.
Bill Zinke, Vice President of Marketing for Chem-Dry, explained that their company has been doing this for quite a while and has seen great results. When I spoke with him, he explained that "having a button on the navigation bar at the top of our chemdry.com consumer site homepage ensures that all of our consumer traffic is exposed to the idea of owning a Chem-Dry franchise. When someone clicks on that button, it links to a website dedicated to sharing information with potential franchisees about our business.
It's a simple and effective way to maximize visibility of our franchising opportunities and boost traffic to our franchise site. Being able to expand our network with ambitious new franchisees is an important part of our overall growth plan. And using the valuable homepage real estate on our public site and creating a dedicated franchise website in this way is a no-brainer because it helps us rank for queries directly related to this goal."
Below is an example of Chem-Dry's public homepage and the "own a franchise" button it has within its core navigation bar, along with a portion of the homepage of its dedicated chemdryfranchise.com site (CLICK ON THE PICTURE BELOW FOR YOUR FREE FRANCHISE REPORT TO LEARN MORE ABOUT OWNING YOUR OWN CHEM-DRY):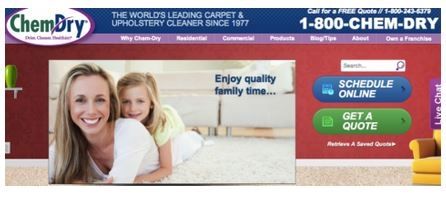 As you can see, the page has everything someone would need to get started—an easy "online application" button, tabs explaining the research you might need, a download link to their franchise report, international franchises, and news.
Create content about franchise ownership.
The content you create has a huge effect on your SEO and rankings. Make sure to publish content on your website frequently, and the more you can center your content around franchise ownership the better. You want others to share this content and link back to it to improve your SEO rankings. You can even consider creating franchise pieces to publish on other websites as a guest author.
Target franchisee related keywords.
Part of optimizing your content is thinking about keywords you want to rank for on a Google SERP. You don't want to stuff your keywords all over your content, but you want to make sure they are natural and you include them in your Meta tags.
Trying to rank for keywords like "franchise opportunity" is an excellent way to grab their attention, but it's important you try to do a little bit of keyword research to make sure you have a good chance. You can learn more about keyword research here.
A few tips to getting started include:
Advertise your page about franchise development.
The Chem-dry example above shows a company that created an entire webpage targeted toward those wanting to start their own business. A good move would be to advertise this page through paid search. Below is a screenshot of a few companies that did just that: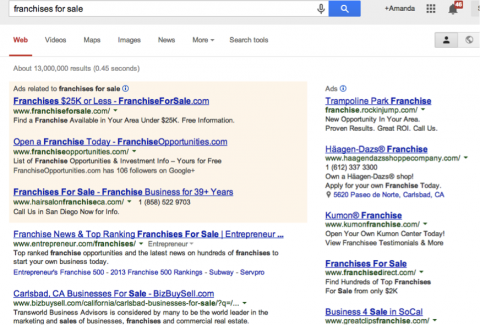 As you can see there are a few ads from companies that are strictly only trying to sell franchises (like a franchise directory) such as franchiseforsale.com and franchiseopportunities.com, but there are several other companies you can see above that are taking advantage—the Rockin Jump Trampoline Park, Haagen-Dazs, and Kumon.
Track your costs against what it's worth for a franchise opportunity.
It's important to track your costs against what a prospective franchisee lead is worth. In the majority of cases, you'll find that paid search was definitely worth the money and you can optimize your paid search budgets accordingly.
Conduct keyword research.
As discussed in the SEO section, we can't forget about keyword research. You always want to know what your audience is searching for when they go to Google and you want to optimize your campaign so that your ad listing is showing up in front of that audience.
Sources: Wall Street Journal, Google Images