Chem-Dry and the Power of Carbonation: the Greener Solution
August 06, 2018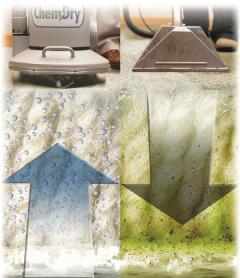 Chem-Dry is able to thoroughly clean carpets and upholstery using no harsh chemicals and less water than other cleaning solutions. A huge part of why this is possible is our revolutionary Hot Carbonating Extraction (HCE) process. Rather than using regular steam cleaning techniques — which involve pumping soapy water into your carpet — the Chem-Dry process uses the power of carbonation -- millions of tiny bubbles loosen and lift the dirt to the surface to be easily removed using powerful extraction equipment. Other methods may cause dirt to get inadvertently trapped at the base of the carpet by using excessive amounts of soapy water, The Chem-Dry method more effectively frees up dirt which can then be extracted with our machines. The HCE process will remove 98% of non-living allergens* from your carpet. What's more, it accomplishes this with non-toxic ingredients.
If you own pets, the Chem-Dry Pet Urine Removal Treatment combined with our Hot Carbonating Extraction process means Chem-Dry is the best carpet cleaner for pet urine and the odors associated with pet accidents.  Since owning pets can often mean cleaning carpets regularly, it is reassuring to know that Chem-Dry can provide a thorough clean that is safe and non-toxic. Using less water than traditional methods means your carpet can be dry and ready to walk on in just a couple of hours.
Chem-Dry is not only the best carpet cleaner for pet urine and stains, but one of the only carpet cleaning services that is truly dedicated to greener solutions that actually work. Whether you need to clean your carpet, upholstery, or tile and grout, Chem-Dry is the best way to go. 
*Based on results from a study conducted by an independent laboratory using the Chem-Dry Hot Carbonating Extraction process. Allergens tested were dog and cat dander and dust mite matter. Figures are an average across multiple homes.