What Kind of Carpet Cleaners Do Professionals Use?
August 31, 2022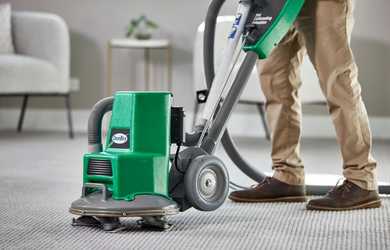 When your carpet is visibly dirty, you may wonder how you can go about cleaning it most effectively. There are several methods you can use to clean your carpets, and even professional carpet cleaners use diverse techniques to get the job done. Of course, each of these methods comes with pros and cons. 
If you're interested in partnering with professional carpet cleaners to bring your carpeting back to life after heavy traffic or stain-causing accidents, it's important to do some research. Depending on your priorities and preferences, you may find that some of the methods used by professionals are not right for your home.
Popular Methods Used By Carpet Cleaners
Below, we've provided a brief overview of some of the most popular carpet cleaning methods currently on the market. Using this information, you can gain a much better idea of which carpet cleaners are the best pick for your home. 
Steam Cleaning
Steam cleaning is a carpet cleaning method commonly used by professionals. In fact, it's so popular that homeowners often try to implement this technique themselves by renting a steam cleaning machine for a day or two. These machines work by injecting very hot water into carpets with the help of a high-pressure application system. The pressure and heat are thought to break down dirt and debris that are stuck to carpet fibers. 
As widespread as steam cleaning is, there's one huge drawback to keep in mind: removing all that moisture from your carpet can be a near-impossible feat, even for professionals. As a result, steam cleaning requires many hours or even days of dry time, a long enough window for mold, mildew, and bacteria to gain a foothold in your moisture-rich carpet.
Carpet Shampooing
When you think about cleaning your carpet, one of the first techniques to come to mind is likely shampooing. After all, this is the same method you use to clean your hair, clothes, and dishes: you create a lather with a sudsing agent that lifts away dirt molecules. However, cleaning your carpet in this way is not quite as simple as with other objects because it's impossible to fully rinse away the lather. 
Carpets that undergo shampooing often start to take on a dingy color because the shampoo residue left behind has a sticky nature that attracts dirt. As a result, carpet shampooing is an underwhelming choice if you want your carpet to look clean long-term.
Bonnet Cleaning
If you've ever seen professional carpet cleaners at work in a commercial facility such as a hotel, you've likely witnessed bonnet cleaning. Bonnet cleaning is performed with heavy-duty machinery equipped with a spinning motorized pad. The pad, which is filled with cleaning solution, soaks up dirt from the surface layer of carpeting. 
The result is a carpet that looks clean quickly but doesn't require long dry times. This is why it is often used in high-traffic areas seen by customers. However, because bonnet cleaning only deals with the top layer of dirt, there is always grime left deep within the carpet that can continue to degrade the fibers and produce an unpleasant odor.
Hot Carbonating Extraction
Hot carbonating extraction (HCE) is a process created by Chem-Dry as an alternative to less effective methods. As part of this process, the power of carbonation is leveraged to loosen dirt and debris from carpets without the need for sudsy detergents that leave behind a sticky residue. 
Dirt and grime are then whisked away by professional extraction equipment that also sucks up the minimal water used in the process. HCE only requires a fraction of the water needed for other techniques, such as steam cleaning and carpet shampooing, allowing for a significantly reduced dry time without the worry of mold or mildew. When you choose Chem-Dry, you'll also be sure to get the deep cleaning your carpet and family deserves.
Choose the Best Carpet Cleaner For Your Home
When it comes to choosing the right carpet cleaning method for your home, there are several elements to consider. These include the health and comfort of your family, as well as the need to prolong the lifespan of your carpet through gentle but effective care. The HCE process from Chem-Dry allows you to tick all of these boxes and leaves you with both peace of mind and the deeply cleaned results you're looking for.
To learn more about getting started with a professional Chem-Dry carpet cleaner in your local area, call (800) CHEM-DRY today!