Our Carpet Cleaners' Steps for Proper Care
November 23, 2022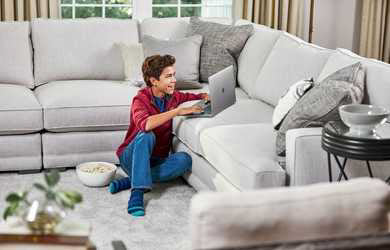 If you want your carpet to look its best for as long as possible, protecting your investment while also enhancing the comfort of your home, following proper maintenance practices is a must. Not only will the right cleaning practices help extend the longevity of your carpet, but they can also make a difference in your home's indoor air quality and even preserve your warranty.
Following our carpet cleaners' steps for proper care can give you confidence that you're doing everything right when it comes to maintaining the carpet that you love.
Step 1: Vacuum on a regular basis.
Vacuuming may be something you only do when you have a few minutes to spare on a Saturday morning or right before you have company over. However, if you really want your carpet to stay plush, maintain its beautiful color, and feel fresh, you'll need to make a regular habit of vacuuming.
Vacuuming at least once a week is ideal, and even more frequent sessions may be necessary if your carpet receives a lot of foot traffic, if you have pets that shed, or if you have children.
In addition to how often you vacuum, how you vacuum also makes a difference. Keep in mind that running over the carpet quickly with the vacuum won't achieve the task that you've set out to accomplish. 
Instead, go slow and steady, making a ritual of giving the equipment time to suction up the dirt and dust that's fallen onto your carpet over the past week. It's also important to carefully tend to corners and any oddly shaped crevices, and also to empty out or replace your vacuum bag before it is completely full.
Step 2: Deal with spills and accidents right away.
When it comes to preventing deep-set stains, quick action is key. Always keep a cloth or paper towels somewhere within easy reach, so you can carefully blot liquids before they seep into carpet fibers. Choose white rather than colored or printed fabric, as the dyes can transfer to the moist carpet. 
Refrain from rubbing or scrubbing the area, and instead gently pat it with the cloth until it is basically dry. Never use a brush, as the harsh bristles can fray carpet fibers and push the stain deeper into the carpet. If there are any solid particles involved in the accident, scoop them up and then finish off by vacuuming the area.
After you've done this quick work, give our carpet cleaners a call. You can trust us to remove spots resulting from some of the worse stain-causing culprits, from red wine to chocolate. Furthermore, leaving stain removal to our professionals can help you avoid doing further damage to your carpet through the use of store-bought stain removers that may not be made for your particular carpet type.
Step 3: Take preventative measures.
There are some simple preventative measures you can implement to prevent excess dirt and grime from being tracked into your home and onto your carpet. One is to halt dirt at the door with two doormats - one outside, and one inside. 
Taking off your shoes before entering your home is an even better solution, as you won't risk having outside contaminants coming into contact with the carpets your children and pets play on. Even if you do implement a no-shoes policy, it's still a good idea to keep the doormats in place just in case a visitor walks in or a family member forgets to take their shoes off.
As another preventative measure, our carpet cleaners can apply a protective stain repellant to your carpets. This solution will coat carpet fibers with a professionally developed formula that gives you more time to absorb stain-causing liquid before it can start to damage your carpet.
Step 4: Bring in professional carpet cleaners on a regular basis.
Calling on professional carpet cleaners is a must if you want to give your carpets proper care. Our professionals utilize in-depth techniques that lift away dirt and grime that's made its way deep into your carpet, preventing this soil from becoming compacted over time.
Through our Hot Carbonating Extraction process, we can also erase traffic patterns and stains, refreshing the look and feel of your carpet and protecting its lifespan by removing the dust and dander that would otherwise wear down its fibers over the long run. For the best results, we recommend having your carpet professionally cleaned at least once per year, and preferably every 6 months if you're a pet owner.
Make sure you're following all the right steps for carpet care by getting started with our professional carpet cleaners. Contact Chem-Dry at (800) CHEM-DRY for details about our services and to connect with a knowledgeable technician near you!