Looking for the Best Carpet Cleaner? Warning Signs to Avoid
August 03, 2022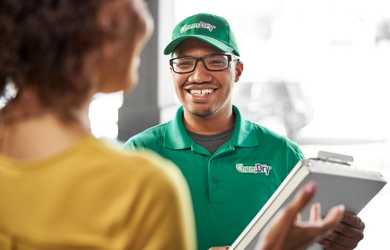 When you truly care about the investment you've made in your carpet, finding the best carpet cleaner to care for it is essential. A high-quality carpet cleaning professional should be able to get rid of deep-set dirt and grime, eliminate stains and traffic lines, and bring back the thick, fluffy texture your carpet once had. An excellent carpet cleaner should also be able to extend the lifespan of your carpet and thus prevent you from having to purchase new carpeting prematurely.
Unfortunately, it's not always clear from the outset which carpet cleaners are going to be capable of meeting these criteria. Some carpet cleaning companies have slick marketing that easily draws in customers, but even the best marketing can't make your carpet clean. 
To find the best carpet cleaner in your area, it's crucial to be able to identify the red flags that may warn you a company is less than reputable or doesn't provide the best service.
Red Flags that Could Indicate Less-Than-Stellar Service
As you investigate various carpet cleaning services in your community in hopes of finding the best carpet cleaner for the job, keep the following warning signs in mind:
An unclear cleaning process.
Many carpet cleaners will tout a magical cleaning process but never go into detail about how it actually works. When it comes to your home, it's important to know what is going to be taking place, and what types of formulas are going to be used. 
If the carpet cleaner isn't able to provide a step-by-step overview of how your carpet will be cleaned and what substances and equipment will be involved in the process, then it's time to look elsewhere.
Unprofessional attire and unmarked vehicles.
The benefit of working with a professional carpet cleaner should be the ability to put the care of your carpet in the hands of someone who is clearly knowledgeable and experienced. If you were okay with an amateur cleaning your carpet, you would likely attempt to do it yourself. 
As a result, it's important to consider how employees are dressed and how they transport their carpet cleaning equipment. Basic business necessities like clean branded uniforms and company vehicles show the technicians take pride in their work, their brand name, and are willing to back the results they deliver.
Flat rates or quotes devoid of details.
Providing a fair quote requires a knowledge of key factors including:
The area size of the carpet that needs to be cleaned
Its current condition and stain severity
The level of foot traffic the area experiences
If the cleaning company only offers a flat price or does not inquire about the details of your request, your guard should go up. The best carpet cleaners will provide a quote that clearly reflects your needs and sets the expectations for what area will be cleaned well in advance of the visit.
A lack of reviews and testimonials.
You should be able to learn about the experiences of the company's prior customers in some way, whether through testimonials provided by the company itself or ample reviews that you find online. If the company is hesitant to provide testimonials, only offers anonymous testimonials, or you can't find up-to-date online reviews of their services, this is a major red flag.
The Best Carpet Cleaner Gives You Peace of Mind
Are you ready to get started with a carpet cleaning company you know you can trust? At Chem-Dry, we pride ourselves on a transparent cleaning process explained in clear language that everyone can understand. 
Our technicians are proud to be helping homeowners in the local area through the services they deliver, and their uniforms and trucks reflect this fact. Finally, we have accumulated plenty of online reviews that give you a precise idea of the level of professionalism you can expect from our team. 
Get started with the best carpet cleaner in your area! Call (800) CHEM-DRY today to learn more.