Best Carpet Cleaner for Pet Messes
June 30, 2021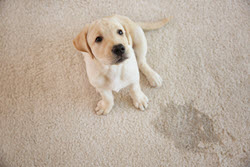 Are you looking for a carpet cleaner that will actually get rid of traces of pet urine, not just mask the odor? The best carpet cleaner for pet messes is one that can break down pet urine crystals at the molecular level for efficient and effective extraction, leaving your carpet like new. The Pet Urine Removal Treatment (P.U.R.T.®) from Chem-Dry does exactly that while offering additional benefits. 
Our carpet cleaning professionals get rid of stains from pet messes as well as odors and bacteria. With our help, you can have confidence that even if accidents occur, your home will remain a clean, comfortable, and safe space for the whole family.
What Makes Chem-Dry One of the Best Carpet Cleaner for Pet Messes?
The mission of our company is to help people live healthier and more comfortable lives. We understand your pet is a much-loved member of your family. However, when they make a mess in your living space, it certainly isn't easy to deal with. The resulting stains and odors aren't just embarrassing and off-putting. The odor-causing bacteria in these areas can actually put your family's health at risk.  
That's why it's always best to reach out for professional help with pet messes on your carpets or upholstery. The very best carpet cleaner has experience dealing with these accidents and can even pinpoint affected areas that may have escaped your notice. 
At Chem-Dry, we utilize a special UV light to detect any residual pet urine in your home that is invisible to the naked eye. That way, we can ensure we're providing a comprehensive treatment that promotes your family's well-being and your peace of mind.
Our technicians aren't only the right pick for your tricky situation because they can identify overlooked accidents, they also have the tools and equipment to effectively deal with pet messes at the source. 
The P.U.R.T. breaks down urine crystals removing them and the odor they cause. Then our Hot Carbonating Extracting process deep cleans carpet fibers to eliminate dirt, residue, and bacteria. Once the treated area has dried, you can find a sense of relief knowing those stubborn odors and stains will be gone for good.
Other Advantages of Choosing Chem-Dry to Handle a Pet Accident
Getting rid of the visual appearance and lingering stink of pet messes is an important part of the cleaning process, but it's not the only goal we have in mind. We also make it our priority to eliminate the germs surrounding these areas. 
In fact, our proprietary process has been specifically designed to target bacteria and allergens. According to the results of an independent laboratory study, P.U.R.T. removes 99.9% of pet urine odors from carpets on average. When used in tandem with our Hot Carbonating Extraction process and a sanitizing solution, 99.2% of bacteria lingering in pet urine stains are swiftly eliminated.
Another key consideration to make when choosing the best carpet cleaner to deal with pet accidents is the type of treatment used during the cleaning process. You don't want the solution to be worse than the problem at hand. 
Many professional cleaners will utilize soapy formulas with harsh chemicals on your carpets and upholstery. You may even wonder if these chemical solutions could be harmful to your pet.
Our P.U.R.T. product and The Natural®, the primary cleaner used in the Hot Carbonating Extraction process, are both non-toxic and safe for use around all members of your family, including your pets and children. Whenever a pet accident occurs, you'll never have to question whether you're putting your pet's health at risk by resolving the issue. Instead, you can rest easy knowing we'll take every last measure to provide results that actually promote the health of your indoor environment.
When you have a pet accident on your hands, choose the best carpet cleaner for the job! Get in touch with Chem-Dry today at (800) CHEM-DRY to learn more about our professional carpet cleaning process.