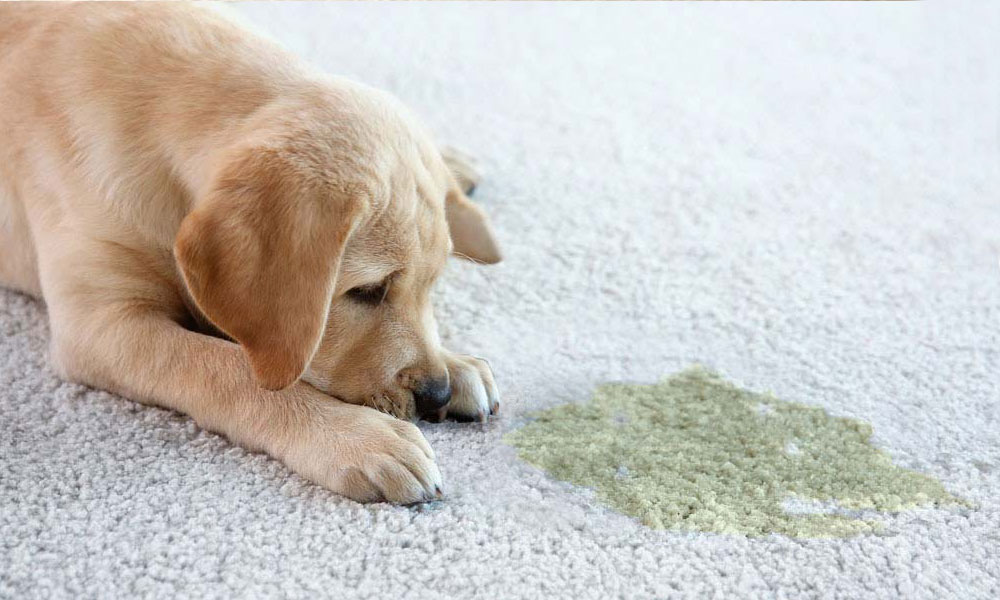 Pet Carpet Cleaning: Stain and Odor Removal
At Chem-Dry, we love our pets — but we don't love pet accidents. That's why we offer our P.U.R.T.® service for pet urine stains and pet odor removal. Our Pet Urine Removal Treatment (P.U.R.T. for short) combines our carpet cleaning services with an odor-eliminating treatment. We use a special pet stain carpet cleaner to destroy urine smells at the source, neutralizing odors for good!
Thanks to P.U.R.T., Chem-Dry can eliminate even the most stubborn urine odors and stains. Instead of simply masking urine odors, we destroy the chemical compounds that cause these smells.
And unlike steam cleaning — which can make urine smells even worse — our process is proven to remove over 99% of pet urine odors from carpets.*
Want to eliminate pet stains and odors from your home? Find your local Chem-Dry today for pet carpet cleaning in your area!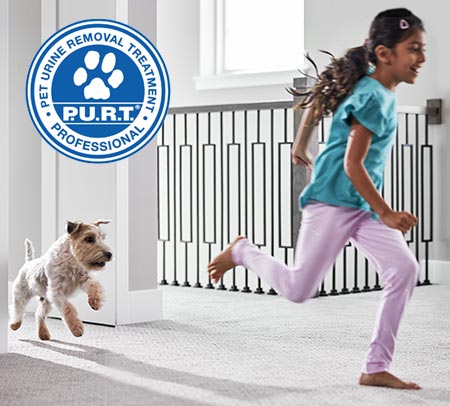 P.U.R.T. Removes 99.9% of Pet Urine Odors
In a study by an independent lab, tests showed that our Pet Urine Removal Treatment removes 99.9% of pet urine odors from carpets on average.*
To conduct this test, the lab identified the most common chemical sources of dog urine and cat urine odors. After the P.U.R.T. process, these compounds were virtually eliminated from carpet samples.
These results show that P.U.R.T. is more effective than store-bought products and systems used by other companies.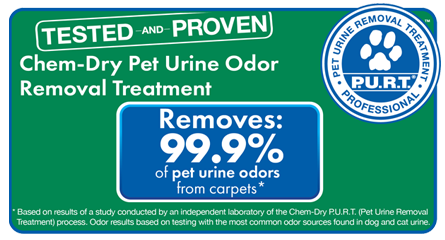 How Our Pet Stain Removal Service Works
Wondering how P.U.R.T. works? Let's take a closer look at each step in the cleaning process.
1. Identify Pet Urine Stains
First, we'll find any hidden urine stains. Many urine deposits are invisible or hard to spot with regular lighting. This can make it difficult for homeowners to detect the source of urine odors. Before we start cleaning, we use a special ultraviolet light to find any hidden urine deposits.
2. Remove Urine Odors
Next, we'll eliminate urine odors with our P.U.R.T. product. Unlike products that simply mask pet urine odors, P.U.R.T. destroys odor-causing molecules. The solution penetrates the carpet all the way down to the subfloor, eliminating the source of pet urine odors.
Over the next 24 hours, P.U.R.T. will break down the odor-causing matter inside your carpets. Once the area has dried, the odors are gone for good!
3. Clean Stained Surfaces
Finally, we'll deep clean your carpets with our Hot Carbonating Extraction (HCE) cleaning process. This system uses the natural power of carbonation to penetrate carpeting and remove deep-seated soiling. The Hot Carbonating Extraction (HCE) cleaning process will remove liquid and loose urine crystals from carpet fibers.
Pet Odor Removal for Upholstery
In addition to carpets, P.U.R.T. also works on furniture!
As part of our upholstery cleaning service, we can apply the P.U.R.T. cleaning solution to urine stains on furniture. It's an easy and effective way to eliminate urine odors from your favorite pieces of furniture.
Our cleaning experts can handle pet stains on sofas, armchairs, mattresses, and other upholstered items. Learn more about our upholstery cleaning services here, or contact your local Chem-Dry for an estimate.
Pet Carpet Stain Cleaning Tips
When accidents happen, it's important to act quickly. If you find a fresh urine stain, you may be able to prevent long-term staining and odors.
Blot the stain to soak up the urine. Apply a clean, dry cloth or a layer of paper towels over the stain. Press down firmly to absorb the urine, but avoid rubbing the stain into the fibers. Repeat this process until no more liquid is absorbed.

Rinse the stain lightly with water. Wet a clean cloth or paper towel and apply to the stain until the area is damp. Avoid soaking the carpet fibers with too much water, since this can cause the urine to soak deeper into the carpet.

Blot the area until the carpet is dry. Apply a clean, dry cloth or a layer of paper towels to blot the rinsed area. Repeat this process until no more liquid is absorbed. 

Continue rinsing and blotting. Repeat steps two and three until there are no lingering odors or visible stains.
While this process usually works on fresh stains, it may not work if the urine has already set or leaked into the padding or subfloor.
If you're unable to completely remove the stain, contact your local Chem-Dry for assistance.
Find a Local Pet Carpet Cleaner
Looking for a pet urine carpet cleaner in your area? Enter your ZIP code below to find your nearest Chem-Dry location!
Frequently Asked Questions