Find Carpet Cleaning Services in Washington D.C.
Chem-Dry Carpet Cleaning Services in Washington D.C. 
Chem-Dry is your prime source for carpet cleaning in Washington D.C.! As one of the most visited cities in the United States, Washinton D.C. is full of history, art, and culture. The bustling city is also host to 177 foreign embassies and headquarters of many international organizations, trade unions, and national non-profits. 
Chem-Dry is proud to assist you in maintaining a cleaner, healthier home. Our process is unique as it uses no harsh chemicals or soapy detergents. Instead, we clean carpets with a Chem-Dry Green-Certified product called The Natural®, which uses the natural power of carbonation to deep clean carpet fibers quickly and effectively.  
Our quick and effective process is a perfect choice for busy families in the D.C. metropolitan area as it removes dirt, grit, and deep-seated stains to deliver a deep clean to your home with 1-to-2-hour dry times! This is a fraction of the time you can expect with steam cleaning, in which dry times can last 24 hours or more. Our cleaning process gives you more time to enjoy the museums, art galleries, and concerts Washington D.C. has to offer!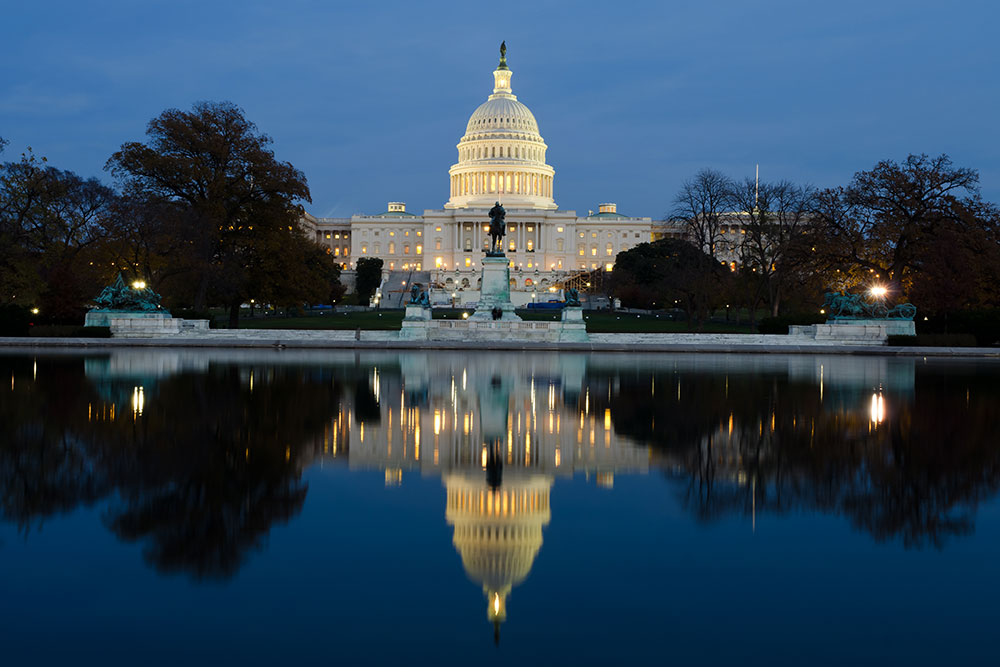 D.C.'s Carpet Cleaning Experts 
Chem-Dry has been America's most dependable carpet cleaner for more than 40 years. You can trust our cleaning experts in Washington D.C. to make hiring a professional carpet cleaning company easy for local families. 
How Chem-Dry Cleaning Works 
Our cleaning process is unique to Chem-Dry and helps differentiate us from other Washington D.C. carpet cleaners. 
Our Hot Carbonating Extraction process uses roughly 80% less water, which reduces the dry time. Instead of the excess volumes of water or soapy detergents, we harness the power of carbonation and as a result, we reduce the risk of mold or mildew growing while your carpets dry. 
This is how the Chem-Dry cleaning process works: 
Initially, Chem-Dry technicians vacuum your carpet with HEPA filter vacuums to remove any loose dirt, grit, and allergens from the carpet fibers. 

Then we apply our Chem-Dry Green Certified cleaning product The Natural®, which releases millions of carbonated bubbles into your carpet. These bubbles attach to the deep-seated soil and grime and pop, lifting the soil and grime to the surface of your carpet.  

Our powerful PowerHead® extraction equipment then whisks all the soil away. Once we're done, you can expect your carpets to dry in about 1 to 2 hours. 
Thanks to this process, we lower the risk of resoiling so your carpets will stay cleaner longer.   
And our favorite part of the Chem-Dry process is it delivers a deep, long-lasting clean, and a healthier home for you and your family! 
Additional Cleaning Services We Offer 
Our Chem-Dry carpet cleaners don't stop with carpet cleaning! We can provide a deeper clean to your entire home! For service details in your area, contact your local franchise. 
Rug Cleaning Services 
Area rugs act like giant air filters in your home and need to be properly maintained and kept clean. Your Chem-Dry carpet cleaning company will do just that! Our technicians are trained to offer professional cleaning for oriental rugs and area rugs in a wide variety of synthetic and natural fabrics. 
Upholstery Cleaning Services 
Our unique Hot Carbonating Extraction cleaning process that is used on carpets is the same for your upholstered furniture! Our upholstery cleaning service is suitable for sofas, recliners, and more. We also offer a specialty leather cleaning service. 
Stain Removal Services 
When carpet stains happen, and they often do, the stain removal experts at Chem-Dry are ready to help! The Chem-Dry Specialty Stain Removal process makes removing tough stains like red wine or permanent marker from carpets, upholstery, and area rugs seem effortless.  
Pet Urine Cleaning Services 
Chem-Dry offers an exclusive cleaning treatment to fight stains and odors from pet urine. Our P.U.R.T.® service is proven to remove 99.9% of pet urine odors! 
Proudly Serving Washington D.C. & the Surrounding Areas 
Your Chem-Dry carpet cleaner's objective is to provide the best professional carpet cleaning services in Washington D.C. All Chem-Dry franchises in the D.C. area are locally owned and operated with a commitment to excellent customer service. 
Chem-Dry has earned positive reviews from local homeowners in Alexandria City, Arlington County, Fairfax County, Fairfax City, Falls Church City, and other parts of the Washington D.C. metro area. 
Chem-Dry franchises provide professional carpet cleaning in: 
Arlington, VA.   

Mount Rainier, MD.  

Chillum, MD.  

Friendship Village, MD.  

Takoma Park, MD.  

Silver Spring, MD.   

Hyattsville, MD.  

Bethesda, MD. 
Are you ready to get started with a deeper clean of your home's carpets? Contact your local Chem-Dry by phone or online to book your next cleaning! 

Contact your local Chem-Dry today to book a carpet cleaning in Washington D.C.!