Find Carpet Cleaning Services in Trenton
Chem-Dry Carpet Cleaning Services in Trenton 
Chem-Dry is your source for carpet cleaning services in Trenton! Trenton is New Jersey's capital and is one of only two capitals in the United States that border another state. The city is also home to beautiful Cadwalader Park, which covers 100 acres. Trenton can be compared to a busy metro but has a suburban feel as it's within an hour of two major cities, New York City and Philadelphia. 
Chem-Dry takes great satisfaction in helping homeowners maintain a cleaner, healthier home. Our proprietary low-moisture Hot Carbonating Extraction cleaning process uses a Chem-Dry Green Certified cleaning product to get a deeper clean and deliver fantastic results. It is our goal to offer customers a safer, healthier option when it comes to professional carpet and upholstery cleaning.  
 
Chem-Dry is a perfect choice for families in Trenton who want products that clean their carpets more deeply. Carpets act like giant air filters which collect dirt and allergens and keep them out of the air you breathe. Like any air filter, carpets need to be cleaned to be effective. The Chem-Dry process uses the natural power of carbonation to deliver this deeper carpet cleaning, thus preserving the life of your carpet and giving your family the peace of mind of a healthier home.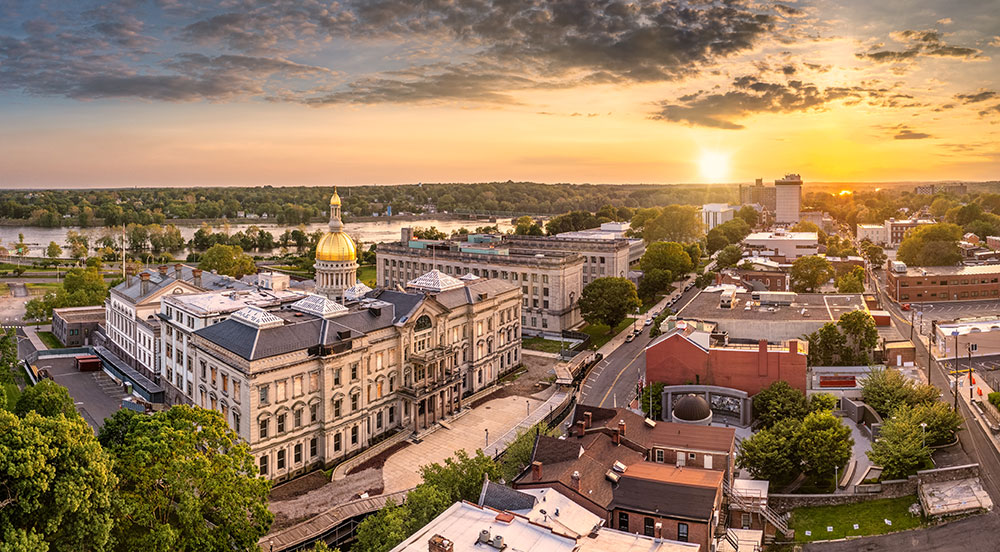 Trenton's Carpet Cleaning Experts 
Chem-Dry has been a leader in carpet care for over 45 years. Our carpet cleaners in Trenton are experts that you can trust to provide a professional clean. 
The Chem-Dry Cleaning Process  
The Chem-Dry process sets a new standard for carpet cleaning companies in Trenton. 
Our unique approach uses no harsh chemicals or soapy detergents. Instead, we clean carpets with a Chem-Dry Green-Certified product called The Natural®. This product uses the natural power of carbonation to deep clean carpet fibers.  
Here's how the Chem-Dry carpet cleaning process works: 
Chem-Dry technicians use HEPA filter vacuums to vacuum your carpet to remove loose dirt, grit, and allergens from the carpet fibers. 
The Natural®, a Chem-Dry Green-Certified cleaning solution that releases millions of carbonated bubbles into your carpet is then applied. These bubbles attach to deep-seated soil and grime, and when the bubbles pop, they dislodge the grime from the carpet fibers. 

The dirt and grime are then whisked away with our PowerHead® extractor. After we're finished, you can expect your carpets to dry in 1 to 2 hours, reducing the risk of mold or mildew growth. 
Because Chem-Dry leaves no soapy residues behind after cleaning, we lower the risk of resoiling which helps keep your carpets cleaner longer.  
The best part of our process is that it provides a deep, long-lasting clean, and a healthier home for you and your family! 
Additional Cleaning Services 
Not only does Chem-Dry offer carpet cleaning in Trenton, but we also offer a range of other cleaning services for your entire home! For service details in your area, contact your local franchise. 
Upholstery Cleaning Services 
The same unique Hot Carbonating Extraction cleaning process we use to clean your carpets is used on your upholstered furniture! We clean sofas, recliners, and more. We recommend your upholstery is professionally cleaned once every 24-28 months. Learn more about our upholstery cleaning service.  
Rug Cleaning Services 
Just like carpet and upholstery, area rugs act like giant air filters in your home. You can trust Chem-Dry will properly maintain and clean your rugs so they can continue filtering the air in your home! Our technicians are trained to offer professional cleaning for oriental rugs and area rugs in a wide variety of synthetic and natural fabrics. 
Stain Removal Services 
When carpet stains happen, the stain removal experts at Chem-Dry are ready to help! With our Specialty Stain Removal Service, we make removing tough stains from carpets look easy. Even stubborn stains — like lipstick and permanent marker — are no match for Chem-Dry. 
Pet Urine Cleaning Services 
Pet stains and odors are common if you have pets. Chem-Dry offers an exclusive Pet Urine Removal Treatment that is proven to remove 99.9% of pet urine odors! 
Proudly Serving Trenton & the Surrounding Areas 
Your Chem-Dry carpet cleaner's objective is to provide the best carpet cleaning services in Trenton. All Chem-Dry franchises in Trenton are locally owned and operated with a commitment to excellent customer service. 
Chem-Dry has earned positive reviews from local homeowners in Bucks County, Burlington County, Mercer County, Middlesex County, Somerset County, Monmouth County, Ocean County, and other parts of the Trenton metro area. 
Chem-Dry franchises provide professional carpet cleaning in: 
Hopewell  

Princeton   

Rosedale  

Pennington  

Lawrenceville  

Windsor  

Groveville    

Allentown  

Titusville  

Yardley  

Woodside  

Penn Valley   

Levittown  

Applegarth  

Cranbury  

Roosevelt 
Want to bring a deeper clean to your home's carpets? Contact your local Chem-Dry by phone or online to book your next cleaning! 
 
Contact your local Chem-Dry today to book a carpet cleaning in Trenton, NJ!