Find Carpet Cleaning Services in Tampa
Chem-Dry Carpet Cleaning Services in Tampa 
Chem-Dry is your source for carpet cleaning services in Tampa! Tampa is Florida's third most populated city in the state and home to the Tampa Bay Buccaneers. If you live here, take advantage of the non-stop events Tampa has to offer: visit Busch Gardens amusement park, attend a sporting event, rest on one of Tampa's relaxing beaches, or take a beautiful hike. Tampa is a city that has something for everyone, especially for dog owners. It's considered one of the most dog-friendly big cities in the U.S.!   
Here at Chem-Dry, we take pride in maintaining cleaner and healthier homes for pets and children. Our unique way of carpet cleaning uses no harsh chemicals or soapy detergents. Rather, we use a Chem-Dry Green-Certified cleaning solution called The Natural® to clean your carpets. The Natural® uses the power of carbonation to deep clean your carpets fibers, removing dirt and grime.  
Chem-Dry is a great choice for homeowners in the Tampa area, especially if you're fighting spots on your carpets from all of the outdoor exploring your family or dog is doing. The dust, dirt, and sand that are so common in Tampa area homes are very abrasive and can actually damage your carpets over time. You can count on Chem-Dry to help! Routine professional carpet cleaning will not only remove dirt, grit, and sand, but will also extend the lifespan of your carpets.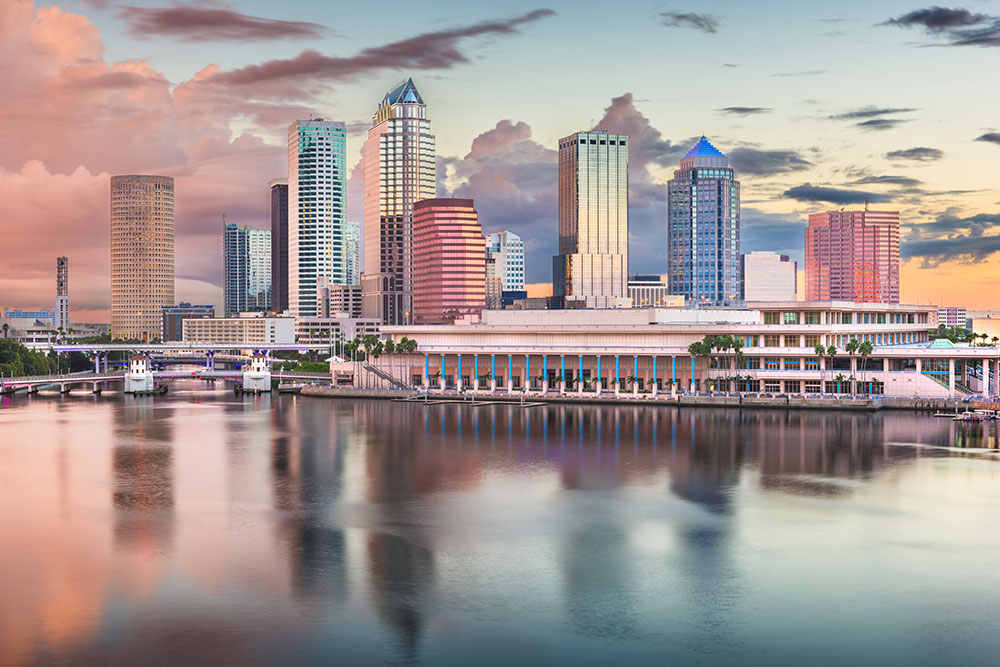 Tampa's Carpet Cleaning Experts 
Chem-Dry has been an expert in carpet cleaning for more than 40 years. Our carpet cleaning technicians in Tampa deliver expert care to your carpets and make having cleaner carpets easy for local families. 
The Chem-Dry Cleaning Process  
Chem-Dry has a different cleaning process which sets us apart from other carpet cleaning companies in Tampa. 
Chem-Dry doesn't use excess volumes of water or soapy detergents, rather we tackle dirty carpets with the natural power of carbonation. 
Here's how our unique carpet cleaning process works: 
Technicians will first vacuum the carpeted areas with a HEPA filter vacuum to clear away any loose dirt, grit, and allergens from the carpet fibers. 

Next, technicians will apply our carbonating solution, The Natural®, one of our Chem-Dry Green-Certified products that works to dislodge the deep-seated dirt and grime from the carpet fibers.  

In the final step, we draw out the dirt with our PowerHead® extractor. After we're finished, your carpet will take 1 to 2 hours to dry. 
Thanks to this extraction process, Chem-Dry leaves no soapy residues behind after cleaning, lowering the risk of resoiling. Your carpets will also dry much faster compared to traditional steam cleaning, which reduces the risk of mold or mildew growth. 
The best part of our process is you are left with a deep, long-lasting clean, and a healthier home for you and your family! 
 
Additional Services We Offer 
Chem-Dry doesn't stop at carpet cleaning; we can deliver a deep cleaning to your whole home! Our carpet cleaning company in Tampa offers a range of other cleaning services. For specific service offerings in your area, contact your local franchise. 
Pet Urine Cleaning Services 
Pet owners know all about the stains and odors that pet urine causes. Chem-Dry offers an exclusive Pet Urine Removal Treatment that is proven to remove 99.9% of pet urine odors! Thanks to P.U.R.T.®, we can knock out even the most stubborn urine odors, but we don't just mask the urine odors; we destroy the chemical compounds that cause these smells! 
Upholstery Cleaning Services 
Chem-Dry uses the same unique Hot Carbonating Extraction cleaning process on your upholstered furniture! Our upholstery cleaning service is perfect for all sofas, recliners, and more. We also offer a specialty leather cleaning service. 
Rug Cleaning Services 
You can trust Chem-Dry will protect your area rug investments! Our technicians are trained to offer professional cleaning for oriental rugs and area rugs in a wide variety of synthetic and natural fabrics.  
Stain Removal Services 
Chem-Dry technicians are stain removal experts! When stubborn carpet stains happen — like lipstick and permanent marker — the stain removal experts at Chem-Dry are ready to help! With our Specialty Stain Removal Service, we make removing tough stains from carpets, upholstery, and area rugs a breeze.  
Chem-Dry is Proud to Serve Tampa & the Surrounding Areas 
At Chem-Dry, we are proud to provide the best carpet cleaning services in Tampa. All Chem-Dry franchises in Florida are locally owned and operated with a commitment to excellent customer service. 
Chem-Dry has earned positive reviews from local homeowners in Citrus County, Hernando County, Hillsborough County, Manatee County, Pasco County, Pinellas County, and other parts of the Tampa metro area. 
Chem-Dry franchises provide professional carpet cleaning in: 
Lutz  

Citrus Park  

Oldsmar  

Thonotosassa  

Seffner   

Brandon  

Valrico  

Gibsonton  

Riverview  

Plant City   

Lithia  

Apollo Beach 
 
Ready to get started with a deep clean of your home's carpets? Contact your local Chem-Dry carpet cleaners by phone or online to book your next cleaning! 

Contact your local Chem-Dry today to book a carpet cleaning in Tampa, FL!