Find Carpet Cleaning Services in St. Louis
Chem-Dry Carpet Cleaning Services in St. Louis 
Chem-Dry is your source for carpet cleaning services in St. Louis! As the largest metropolitan area in Missouri, St. Louis is a great place to live with lots of restaurants and shopping options for business professionals and families. It's home to 8 Fortune 500 companies and the St. Louis Cardinals.  
Chem-Dry carpet cleaners love providing cleaner, healthier homes. Our unique approach uses no harsh chemicals or soapy detergents. Instead, we clean carpets with a Chem-Dry Green-Certified product called The Natural®. This product uses the natural power of carbonation to deep clean carpet fibers and is safe for kids and pets.  
This makes Chem-Dry a perfect choice for families and pet owners alike in the St. Louis area. Our core carpet cleaner contains no soaps, solvents, enzymes, detergents, or fragrances, and all of its ingredients are on the FDA's G.R.A.S. (Generally Recognized as Safe) list. Most importantly, it's gentle enough to be used around children and pets. We love the fact that we can offer customers a safer, healthier option when it comes to professional carpet and upholstery cleaning.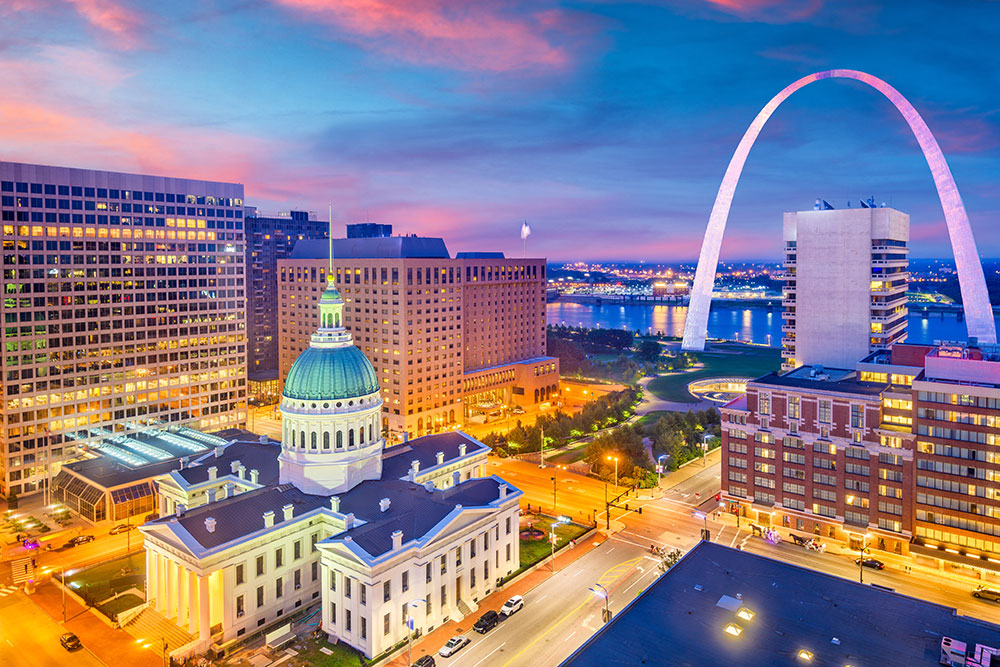 St. Louis's Carpet Cleaning Experts 
For over 45 years, Chem-Dry has been a forerunner in carpet care. Our carpet cleaners in St. Louis are experts that you can trust to provide a professional clean. 
How Our Cleaning Process Works 
Chem-Dry boasts a unique cleaning process that consistently sets us apart from other carpet cleaning companies in St. Louis. 
Unlike steam cleaners, Chem-Dry uses approximately 80% less water. And we can help improve indoor air quality inside your home. That's why we say, "We clean for your health like no one else.®" 
Here's how the Chem-Dry carpet cleaning process works: 
First, technicians use HEPA filter vacuums to vacuum your carpet removing loose dirt, grit, and allergens from the carpet fibers. 

Then, our core cleaning solution, The Natural® releases millions of carbonated bubbles into your carpet. These bubbles latch onto deep-seated soil and grime and lift them to the surface of your carpet. 

After we're finished, we whisk away the dirt with our PowerHead® extractor. It should take 1 to 2 hours for your carpet to dry. 
Our unique process delivers a deep clean to carpet fibers, without the soapy chemicals and excessive amounts of water used by other carpet cleaners. This means your carpets will dry more quickly, reducing the risk of mold or mildew growth. 
The best part of our process is it delivers a deep, long-lasting clean, and a healthier home for you and your family! 
 
Other Chem-Dry Services 
With Chem-Dry, you can bring a deep clean to your entire home! Our carpet cleaners in St. Louis offer a range of other cleaning services. For service details in your area, contact your local franchise. 
Stain Removal Services 
If you have kids or pets, you know carpet spots and stains are inevitable. But you don't have to combat them alone. Chem-Dry technicians are stain removal experts! Our innovative Hot Carbonating Extraction cleaning process is gentle on carpet fibers, yet powerful enough to tackle most spills and spots. With our Specialty Stain Removal Service, we make removing tough stains from carpets, upholstery, and area rugs a breeze. Even stubborn stains — like lipstick and permanent marker — are no match for Chem-Dry. 
Pet Urine Cleaning Services 
Pet owners know all about the stains and odors that pet urine causes. Chem-Dry offers an exclusive Pet Urine Removal Treatment that is proven to remove 99.9% of pet urine odors! Thanks to P.U.R.T.®, we knock out even the most stubborn urine odors by destroying  the chemical compounds that cause these smells! 
Rug Cleaning Services 
Area rugs act like giant air filters in your home. They trap dirt and allergens, keeping them out of the air you breathe. However, rugs are only able to do this if they are properly cleaned. You can trust Chem-Dry will do just that! Our technicians are trained to offer professional cleaning for oriental rugs and area rugs in a wide variety of synthetic and natural fabrics. 
Upholstery Cleaning Services 
The Chem-Dry upholstery cleaning service is perfect for all sofas, recliners, and more. We recommend your upholstery is professionally cleaned once every 24-28 months to prevent staining, reduce non-living allergens, and help maintain the fabric. We also offer a specialty leather cleaning service. 
Proudly to Serving St. Louis & the Surrounding Areas 
Chem-Dry has been a trusted carpet cleaning company for over 45 years. As your carpet cleaner, our objective is to provide the best carpet cleaning services in St. Louis. All Chem-Dry franchises in Missouri are locally owned and operated with a commitment to excellent customer service. 
Chem-Dry has earned positive reviews from local homeowners in St. Louis County, St. Charles County, Jefferson County, Madison County, St. Clair County, and other parts of the St. Louis metro area.  
Chem-Dry franchises provide professional carpet cleaning in: 
 Jennings  

 Ferguson  

 Berkeley  

 Overland  

 University City  
 Webster Groves  

 Affton  

 Lemay  

 Mehlville 
 
Ready to bring a deeper clean to your home's carpets? Contact your local Chem-Dry by phone or online to book your next cleaning! 
 
Contact your local Chem-Dry today to book a carpet cleaning in St. Louis, MO!