Find Carpet Cleaning Services in San Diego
Chem-Dry Carpet Cleaning Services in San Diego 
Choose Chem-Dry for superior carpet cleaning services in San Diego! San Diego is frequently referred to as the "Birthplace of California" and is the eighth most populous city in the United States. It is home to the San Diego Padres MLB team and the San Diego International Airport, which is the busiest single-runway airport in the world!  
Chem-Dry is a great choice for families in San Diego who want a carpet cleaning company that doesn't rely on harsh chemicals or soapy detergents. Our unique approach to carpet cleaning centers around one of our Chem-Dry Green-Certified products called The Natural®. This cleaning solution utilizes the power of carbonated bubbles to provide a deeper, healthier clean for your carpets. 
Chem-Dry is also an excellent choice for professional carpet cleaning if you're fighting spots on your carpets from everyday life with your kids or pets. Our professional carpet cleaning technicians are stain removal specialists who make removing even the most stubborn stains seem easy. You can count on Chem-Dry to deliver a deep, long-lasting clean!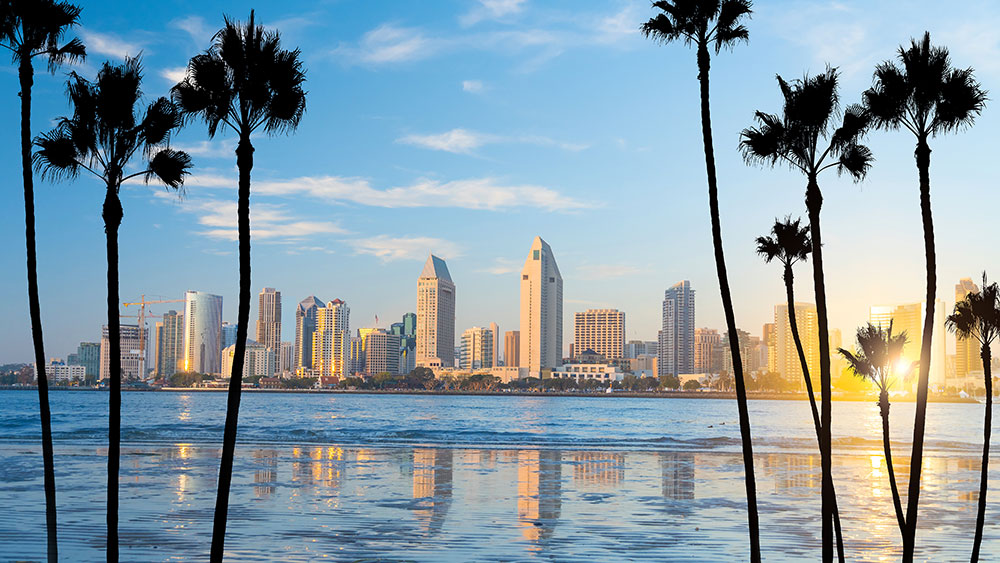 San Diego's Carpet Cleaning Experts 
Chem-Dry has been a trusted name among carpet cleaners for more than 45 years. Our carpet cleaning experts in San Diego are committed to providing an excellent carpet cleaning service for local families. 
How the Chem-Dry Cleaning Process Works 
Chem-Dry boasts a unique cleaning process which separates us from other carpet cleaning companies in San Diego. 
Chem-Dry doesn't use excess volumes of water or soapy detergents. Instead, we harness the natural power of carbonation from our core cleaner, The Natural® for cleaning carpets. 
Here's how the Chem-Dry carpet cleaning process works: 
Chem-Dry technicians will vacuum using HEPA filter vacuums to remove dirt, grit, and allergens that are loose in the carpet fibers. 

Next, we will apply a Chem-Dry Green Certified product called The Natural®. This cleaning solution uses the natural power of carbonation to release millions of bubbles into your carpet.  

These carbonated bubbles latch onto the deep-seated soil and grime deep in your carpet's fibers and lift the soil and grime to the surface. 

Finally, we will use our PowerHead® extractor to whisk away the dirt. After we're finished, you can expect your carpet to dry in 1 to 2 hours – much faster than a traditional steam cleaning. 
Thanks to this exclusive process, Chem-Dry leaves no soapy or dirt-attracting residues behind after cleaning. This helps lower the risk of resoiling, which means your carpets stay cleaner longer. 
Best of all, our process delivers a deep, long-lasting clean, and a healthier home for you and your family! 
 
Other Chem-Dry Services  
Chem-Dry not only offers carpet cleaning in San Diego, but we also offer a range of other cleaning services. For service details in your area, contact your local franchise. 
Pet Urine Cleaning Services 
San Diego ranks as the third most pet-friendly city in the United States, thanks to its numerous dog parks, pet-friendly restaurants, and local pet businesses. If you have pets, you know all about the stains and odors that pet urine causes. Chem-Dry offers an exclusive Pet Urine Removal Treatment that is proven to remove 99.9% of pet urine odors!  
Stain Removal Services 
Chem-Dry technicians are stain removal experts! With our Specialty Stain Removal Service, we make removing tough stains like lipstick and permanent marker from carpets, upholstery, and area rugs look easy. 
Upholstery Cleaning Services 
We employ the same reliable Hot Carbonating Extraction cleaning process that we use on carpets for your upholstered furniture. Our upholstery cleaning service is perfect for sofas, recliners, and more. We also offer a specialty leather cleaning service.  
Rug Cleaning Services 
Want to bring the power of Chem-Dry cleaning to rugs in your home? Our technicians offer professional cleaning for area rugs and oriental rugs in a range of natural and synthetic fabrics.  
Proudly Serving San Diego & Surrounding Areas 
Chem-Dry takes pride in offering our neighbors in the San Diego area the best in carpet care. Every Chem-Dry franchise in California is locally owned and operated, with a commitment to excellent customer service. 
Chem-Dry has earned positive reviews from local homeowners in San Diego County, Orange County, Riverside County, Imperial County, and other parts of the San Diego metro area. 
 
Chem-Dry franchises provide professional carpet cleaning in: 
Point Loma  

Ocean Beach  

Pacific Beach  

Clairemont  

Mission Valley   

La Jolla  

Torrey Pines  

Miramar  

Scripps Ranch  

Rancho Peñasquitos  

Black Mountain Ranch  

Carmel Mountain Ranch  

Rancho Bernardo  

Del Dios  

San Pasqual Valley 
Ready to experience a deep clean for your home's carpets? Contact your local Chem-Dry by phone or online to book your next cleaning! 
 
Contact your local Chem-Dry today to book a carpet cleaning in San Diego, CA!