Find Carpet Cleaning Services in Sacramento
Chem-Dry Carpet Cleaning Services in Sacramento 
Choose Chem-Dry for your carpet cleaning services in Sacramento! As the capital of California, Sacramento is home to The Crocker Art Museum, which is the oldest public art museum west of the Mississippi River. Sacramento has been nicknamed the "City of Trees" due to the large number of urban trees in town. Sacramento, or Sactown, has more trees per capita than anywhere else in the world. 
Chem-Dry is a perfect choice for families in Sacramento who want products that have been evaluated and assessed against strict qualifications. When you see our Chem-Dry Green Certified emblem, you can trust that the cleaning solution is: Safe for humans, safe for animals, safe for aquatic life, and meets clean air requirements. 
Our proprietary low-moisture Hot Carbonating Extraction cleaning process uses one of these Chem-Dry Green Certified cleaning products, called The Natural® to get a deeper clean and deliver fantastic results. The Natural contains no soapy detergents, harsh chemicals, or fragrances. It is our goal to offer customers a safer, healthier option when it comes to professional carpet and upholstery cleaning.  
 
You can count on the Chem-Dry cleaning process to deliver a deep, long-lasting clean.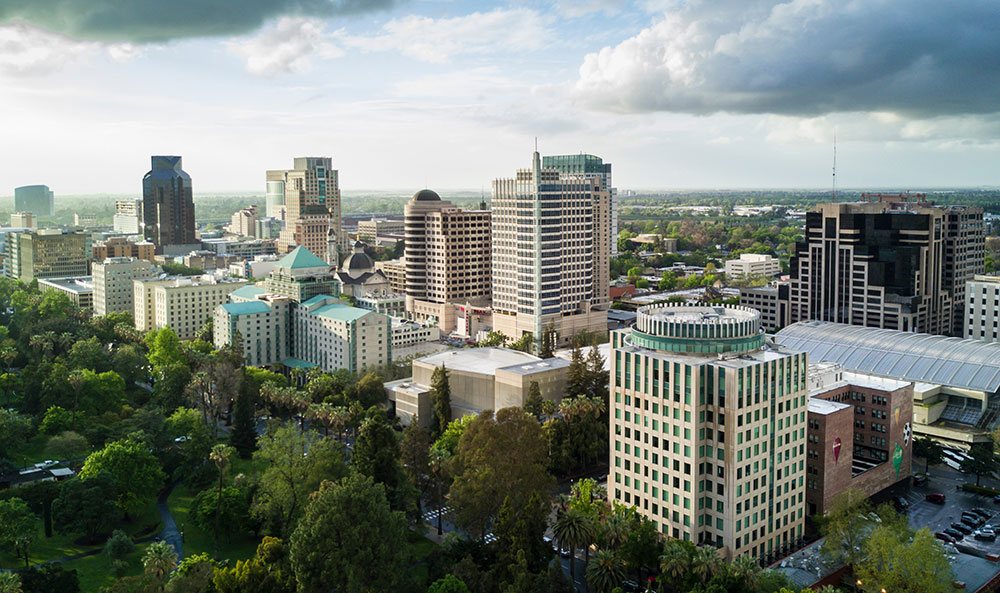 Sacramento's Carpet Cleaning Experts 
Chem-Dry has been a leader in carpet care for over 45 years. Our carpet cleaners in Sacramento are experts that you can trust to provide a professional clean. 
The Chem-Dry Cleaning Process  
The Chem-Dry process sets a new standard for carpet cleaning companies in Sacramento. Our innovative approach uses less water than traditional steam cleaning by relying on the power of carbonation to provide a deep clean. 
Here's how the Chem-Dry carpet cleaning process works: 
Chem-Dry technicians vacuum your carpet to remove loose dirt, grit, and allergens from the carpet fibers. 
Then we apply The Natural®, a Chem-Dry Green-Certified cleaning solution that releases millions of carbonated bubbles deep into your carpet. These bubbles attach to the soil and grime deep in your carpet fibers and lift them to the surface.  

The dirt and grime are then whisked away with our PowerHead® extractor. 
After we're finished with your cleaning, you can expect your carpet to dry in 1 to 2 hours, reducing the risk of mold or mildew growth. And because Chem-Dry leaves no soapy residues behind after cleaning, we also lower the risk of resoiling. This means your carpets will stay cleaner longer. 
Our process delivers a deep, long-lasting clean, and a healthier home for your family! 
 
Other Chem-Dry Cleaning Services 
Chem-Dry is more than just a carpet cleaning company. We also offer a range of other cleaning services for your entire home! For service details in your area, contact your local franchise. 
Pet Urine Cleaning Services 
Chem-Dry understands that your pets are part of the family. We also understand that pets are prone to accidents that leave behind strong odors. Chem-Dry offers an exclusive Pet Urine Removal Treatment that is proven to remove 99.9% of pet urine odors. 
Rug Cleaning Services 
Area rugs act like giant air filters in your home. You can trust Chem-Dry will properly maintain and clean your rugs so they can continue filtering the air in your home! Our technicians are trained to offer professional cleaning for oriental rugs and area rugs in a wide variety of synthetic and natural fabrics. 
Stain Removal Services 
When carpet stains happen, as they often do with kids and pets, the stain removal experts at Chem-Dry are ready to help! With our Specialty Stain Removal Service, we make removing tough stains, like lipstick and permanent marker from carpets look easy. 
Upholstery Cleaning Services 
The same unique Hot Carbonating Extraction cleaning process we use to clean your carpets is used on your upholstered furniture!  Learn more about our upholstery cleaning service. We also offer a specialty leather cleaning service. 
Proudly Serving Sacramento & the Surrounding Areas 
Here at Chem-Dry, our goal is to provide you with the best carpet cleaning service in Sacramento. All Chem-Dry franchises in California are locally owned and operated with a commitment to excellent customer service. 
Chem-Dry has earned positive reviews from local homeowners in El Dorado County, Nevada County, Placer County, Sacramento County, Sutter County, Yolo County, Yuba County, and other parts of the Sacramento metro area. 
 
Chem-Dry franchises provide professional carpet cleaning in: 
Kiesel  

Beatrice   

Rio Linda  

North Highlands  

La Riviera  

Rosemont  

Lemon Hill   

Florin  

Vineyard  

Laguna  

Freeport  

Riverview  
Want to bring a deep clean to your home's carpets? Contact your local Chem-Dry by phone or online to book your next cleaning! 
 
Contact your local Chem-Dry today to book a carpet cleaning in Sacramento, CA!