Find Carpet Cleaning Services in Portland
Chem-Dry Carpet Cleaning Services in Portland 
Chem-Dry is a leading choice for carpet cleaning services in Portland!  Sometimes referred to as "Bridgetown" due to the number of bridges that span the Willamette River, Portland is the largest city in the state of Oregon. This vibrant city has a lot to offer including many sports teams to support, performing arts, music, and film, and the Oaks Amusement Park, which is one of the longest-running amusement parks in the country.  
Chem-Dry is a perfect choice for families in Portland who want products that have been evaluated and assessed against strict qualifications. When you see the Chem-Dry Green Certified emblem on many of our products, you can trust that the cleaning solution is: Safe for humans, safe for animals, safe for aquatic life, and meets clean air requirements. 
Chem-Dry is also an excellent choice for professional carpet cleaning if you're fighting spots on your carpets from your kids or pets. We can remove dirt, grit, and deep-seated stains, which will help extend the lifespan of your carpet fibers. We also have a unique Pet Urine and Odor treatment that is proven to remove 99.9% of pet urine odors! You can count on the Chem-Dry cleaning process to deliver a deep, long-lasting clean.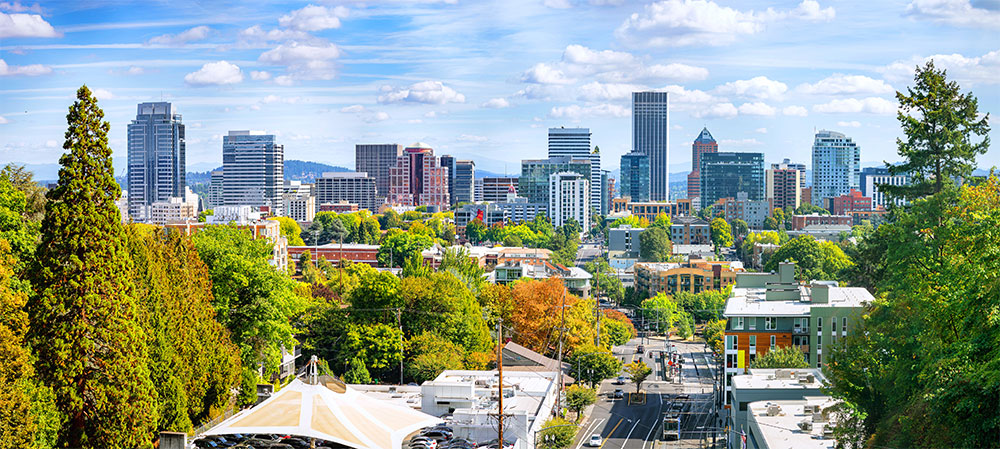 Portland's Carpet Cleaning Experts 
Chem-Dry has been a trusted name in carpet care for more than four decades. Our cleaning experts in Portland make hiring a professional carpet cleaning service an easy task for local families. 
How Our Cleaning Process Works 
Chem-Dry has an unparalleled cleaning process that separates us from other carpet cleaning companies in Portland. 
We use approximately 80% less water than a typical steam cleaning, and we avoid soapy detergents. Instead, we harness the natural power of carbonation from our core cleaner, The Natural® for cleaning carpets. 
How does the Chem-Dry carpet cleaning process work? 
In order to remove loose dirt and grit, our technicians will vacuum your carpet using HEPA filter vacuums.  

Next, Chem-Dry technicians will apply The Natural®, a Chem-Dry Green-Certified product that is free from soapy detergents and harsh chemicals. It releases millions of bubbles into your carpet.  

These carbonated bubbles latch onto the deep-seated soil and grime in your carpet fibers and when they pop, the bubbles dislodge the grime and lift it to the surface. 

Finally, our PowerHead® extractor will whisk away all of the dislodged dirt and grime. After we're finished, you can expect your carpet to dry in 1 to 2 hours. 
Thanks to the Chem-Dry process, your carpets have a lower risk of resoiling because we leave no soapy or dirt-attracting residues behind after cleaning. Your carpets will also have a reduced risk of mold or mildew growth because of our shorter dry time.  
Best of all, our process delivers a deeper, long-lasting clean for you and your family! 
Additional Services We Offer 
Chem-Dry provides a deeper clean to your entire home! We not only offer carpet cleaning in Portland, but we also offer a range of other cleaning services. For service details in your area, contact your local franchise. 
Pet Urine Cleaning Services 
If you have pets, you know all about the stains and odors that pet urine causes. Chem-Dry offers an exclusive Pet Urine Removal Treatment that is proven to remove 99.9% of pet urine odors!  
Rug Cleaning Services 
Chem-Dry technicians use the same Hot Carbonating Extraction cleaning process to offer professional cleaning for area rugs and oriental rugs. Our technicians are trained to clean rugs with a wide range of natural and synthetic fabrics. 
Stain Removal Services 
Chem-Dry technicians are stain removal experts! With our Specialty Stain Removal Service, we make removing tough stains like lipstick and permanent marker from carpets, upholstery, and area rugs a breeze. Even stubborn stains are no match for Chem-Dry! 
Upholstery Cleaning Services 
The Chem-Dry upholstery cleaning service is perfect for sofas, recliners, and more. For leather furniture, we also offer a specialty leather cleaning service.  
Proudly Serving Portland & the Surrounding Areas 
Chem-Dry is proud to provide the best carpet cleaning services in Portland. All Chem-Dry franchises in Oregon are locally owned and operated with a commitment to excellent customer service. 
Chem-Dry has earned positive reviews from local homeowners in Multnomah County, Hood River County, Clackamas County, Yamhill County, Tillamook County, Clatsop County, Columbia County, Washington County, and other parts of the Portland metro area. 
Chem-Dry franchises provide professional carpet cleaning in: 
St. Johns  

Northeast Portland  

Parkrose  

Hazelwood  

Southeast Portland   

Northwest Portland  

Forest Park  

Milwaukie  

Tigard  

West Slope 
Are you ready to get started with a deep clean for your home's carpets? Contact your local Chem-Dry carpet cleaning company by phone or online to book your next cleaning! 

Contact your local Chem-Dry today to book a carpet cleaning in Portland, OR!