Find Carpet Cleaning Services in Pittsburgh
Chem-Dry Carpet Cleaning Services in Pittsburgh 
Chem-Dry is your source for carpet cleaning services in Pittsburgh! Steel City is home to three professional sports teams – the NFL's Steelers, the NHL's Penguins, and the MLB's Pirates. All three teams share the same color scheme of Black and Gold, making Pittsburgh the only city in the United States where this solidarity in city colors takes place. 
Chem-Dry carpet cleaners work hard to help you maintain a clean, healthy home. Our unique carpet cleaning process is able to remove dirt and grime from your carpets without the use of harsh chemicals or soapy detergents. Instead, our innovative process relies on the natural power of carbonation to deep clean your carpets. At the heart of our process is a Chem-Dry Green Certified cleaning solution that we call The Natural®. 
This makes Chem-Dry a perfect choice for families and pet owners alike in the Pittsburgh area. Regular professional carpet cleaning not only removes dirt and grime, but can also help extend the lifespan of your carpet. We love the fact that we can offer customers a safer, healthier option when it comes to professional carpet and upholstery cleaning!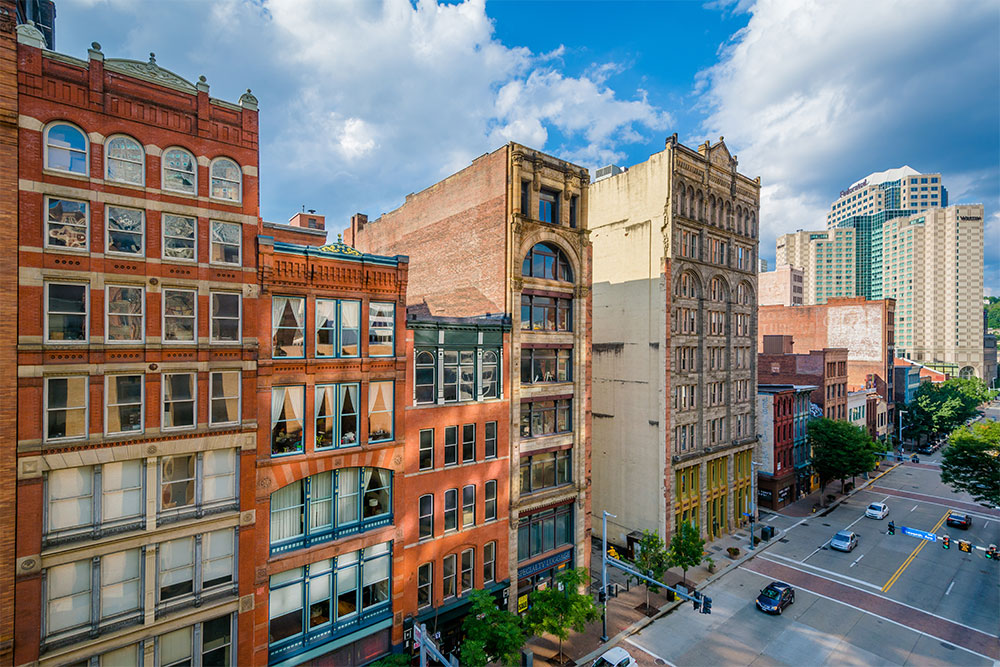 Pittsburgh's Carpet Cleaning Experts 
For over 45 years, Chem-Dry has been a frontrunner in the carpet care industry. Our carpet cleaners in Pittsburgh are experts that you can trust to provide a professional clean. 
How Our Cleaning Process Works 
Chem-Dry offers a unique cleaning process that sets us apart from other carpet cleaning companies in Pittsburgh.  
Unlike steam cleaners, the Chem-Dry process doesn't require excessive amounts of water. In fact, our Hot Carbonating Extraction cleaning method uses about 80% less water than typical steam cleaning! 
Here's how the Chem-Dry carpet cleaning process works: 
First, our technicians will go over your carpet with HEPA filter vacuums to remove loose dirt, grit, and allergens from the carpet fibers. 

Next, we will apply our core cleaning solution, The Natural®, which releases millions of carbonated bubbles into your carpet. These bubbles will attach themselves to any deep-seated soil and grime and lift it to the surface of your carpet. 

Lastly, we whisk away the deep-seated soil and grime with our PowerHead® extractor, and you can expect your carpet to dry in 1 to 2 hours. 
Our unique process delivers a deeper clean to your carpet fibers, without the soapy chemicals and excessive amounts of water used by other carpet cleaners. This results in a faster dry time that reduces the risk of mold or mildew growth. 
Our favorite part of the process is that it delivers a deep, long-lasting clean, and a healthier home for you and your family! 
 
Other Chem-Dry Services 
Our Chem-Dry carpet cleaners in Pittsburgh offer a range of other cleaning services for your entire home! For service details in your area, contact your local franchise. 
Stain Removal Services 
Do you have a stubborn stain on your carpet? Our technicians are experts in stain removal. Our Specialty Stain Removal Service can get tough stains out of carpets, rugs, and upholstery.  
Pet Urine Cleaning Services 
Pet owners know all about the stains and odors that pet urine causes. Chem-Dry offers an exclusive Pet Urine Removal Treatment that is proven to remove 99.9% of pet urine odors!  
Rug Cleaning Services 
You can bring the unique power of Chem-Dry cleaning to the area rugs in your home! Our technicians are trained to offer professional cleaning for oriental rugs and area rugs in a wide variety of synthetic and natural fabrics. 
Upholstery Cleaning Services 
The Chem-Dry upholstery cleaning service is perfect for sofas, recliners, and more. For leather furniture, we also offer a specialty leather cleaning service. 
Proud to Serve Pittsburgh & the Surrounding Areas 
Chem-Dry has been a trusted carpet cleaning company for over 45 years. Our primary objective is to provide the best carpet cleaning service in the Pittsburgh area. All Chem-Dry franchises in Pennsylvania are locally owned and operated with a commitment to excellent customer service. 
Chem-Dry has earned positive reviews from local homeowners in Allegheny County, Armstrong County, Beaver County, Butler County, Washington County, Westmoreland County, and other parts of the Pittsburgh metro area. 
Chem-Dry franchises provide professional carpet cleaning in: 
McKees Rocks   

Ingram  

Crafton  

Carnegie  

Green Tree  

Mt Oliver   

Dormont  

Brentwood  

Homestead  

Munhall  

Swissvale   

Wilkinsburg  

Sharpsburg  

Millvale  

Bellevue 
 
Ready to bring a deeper clean to your home's carpets? Contact your local Chem-Dry by phone or online to book your next cleaning! 
 
Contact your local Chem-Dry today to book a carpet cleaning in Pittsburgh, PA!