Find Carpet Cleaning Services in Phoenix
Chem-Dry Carpet Cleaning Services in Phoenix
Look to Chem-Dry for your carpet cleaning services in Phoenix! The Valley of the Sun is the fifth-most populous city in the United States, and the capital of Arizona. The year round sunshine and warm weather have attracted over a million residents to this ever growing metropolitan area. 
At Chem-Dry, we're proud that our unique carpet cleaning process can help you maintain a cleaner, healthier home. Our Green-Certified cleaning solution, The Natural®, is used instead of harsh chemicals or soapy detergents. By relying on the power of carbonation, this product is able to achieve a deep clean for your carpet. Millions of little bubbles reach deep into your carpet fibers to bring grime and dirt to the surface where our powerful extraction equipment will remove it. 
All of these things makes the Chem-Dry cleaning process perfect for families in Phoenix, especially those with small children or pets. Our gentle carpet cleaner will keep your carpets looking great without harmful chemicals. Turn to Chem-Dry for a safer, healthier carpet cleaner.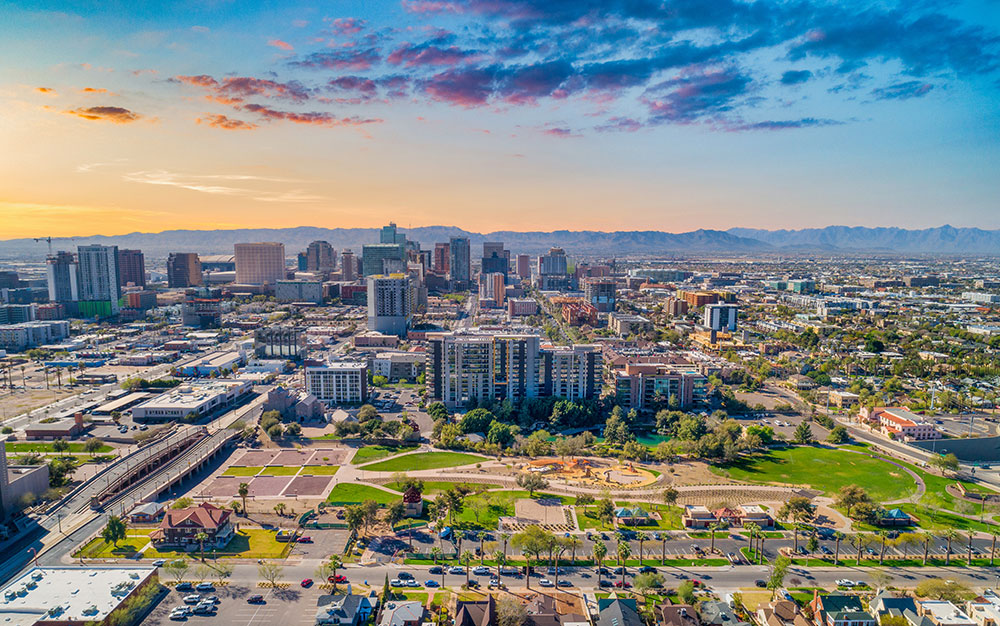 Phoenix's Carpet Cleaning Experts 
Chem-Dry has been professionally cleaning carpets for over 45 years. We are dedicated to providing the best carpet care in the Phoenix area. 
How Chem-Dry Cleaning Works 
Chem-Dry uses a unique cleaning process that sets us apart from other carpet cleaners. 
We use significantly less water than typical steam cleaners, about 80% less. This creates faster dry times, which are approximately 1-2 hours. 
This is how our process works: 
First, our technician vacuums your carpet to get rid of any loose dirt, grit, and allergens.

Next, our technician will use our main cleaning product, The Natural

®

. It sends millions of little carbonated bubbles into your carpet. These bubbles extract any soiling or grime from the carpet fibers and bring them up to the surface. 

Finally, our technician will use our Powerhead

®

extractor to remove dirt.
This Hot Carbonating Extraction process uses less water and no soapy detergents, giving you faster dry times and lower risk of mold or mildew growing. This also means there is no soapy residue left after cleaning, resulting in a lower risk of resoiling so your carpets stay cleaner longer. 
Our process delivers a deeper, longer lasting clean, and a healthier home for your family! 
Additional Chem-Dry Services 
It doesn't end there! Chem-Dry is more than just a carpet cleaning company. We offer services for the rest of your home as well. Reach out to your local franchise for details. 
Upholstery Cleaning Services
Our unique Hot Carbonating Extraction process also works on your upholstered furniture! Chem-Dry provides upholstery cleaning services that are perfect for sofas, recliners, ottomans and more. We also offer a specialty leather cleaning service. 
Rug Cleaning Services
Our technicians are also trained to clean your area rugs! We offer professional cleaning for a wide variety of oriental rugs and area rugs. 
Stain Removal Services
Do you have a stain that won't come out, like lipstick or permanent marker? Our technicians are experts at stain removal. With our Specialty Stain Removal Service, getting those tough stains out of carpets or rugs is easy. Even the most stubborn stains are no match for Chem-Dry. 
Pet Urine Cleaning Services
Chem-Dry understands that your pets are part of the family. We also understand that pets are prone to accidents and odors. Chem-Dry offers an exclusive Pet Urine Removal Treatment that is proven to remove 99.9% of pet urine odors. 
Proud to Service Phoenix & Surrounding Areas 
Chem-Dry is proud to provide the best carpet cleaning services in Phoenix. All Chem-Dry franchises in Arizona are locally owned and operated with a commitment to excellent customer service. 
Chem-Dry has raving reviews from local homeowners in Maricopa County, Pinal County, and other parts of the Phoenix metro area. 
Chem-Dry franchises provide professional carpet cleaning in: 
Scottsdale 

Midtown 

Tempe 

Glendale 

Mesa 

 

Paradise Valley 

Grandview 

Tolleson 

St. Johns 

Peoria 

 

Sun City 
If you are ready for your carpets to have a deeper clean contact Chem-Dry today via phone or online to schedule a cleaning! 
Contact your local Chem-Dry today to book a carpet cleaning in Phoenix, AZ