Find Carpet Cleaning Services in Orlando
Chem-Dry Carpet Cleaning Services in Orlando
Look no further for the best professional carpet cleaners in Orlando! Between theme parks, cultural sites, and world-renowned nightlife, Orlando is one of the most visited cities in the world. Orlando is also one of the busiest cities for conferences and conventions. The variety of activities nearby provides a lot of opportunity to get outside and hit the town. 
Chem-Dry is the perfect carpet cleaning company to keep the outside grime out and maintain a cleaner, healthier home. Our carpet cleaning process delivers a deep clean through the process of Hot Carbonating Extraction. This process uses millions of tiny bubbles that reach deep into your carpet fibers to bring grime and dirt to the surface. It is then whisked away by our powerful extraction equipment. 
Our fast and effective process gets rid of deep-seated stains, dirt and grit all with 1-2 hour dry times! This lets your family go about their day without the disruption of wet, drying carpet. Shorter dry times also reduce the possibility of mold or mildew growing in the carpet. Routine professional carpet cleaning can even extend the lifespan of your carpets.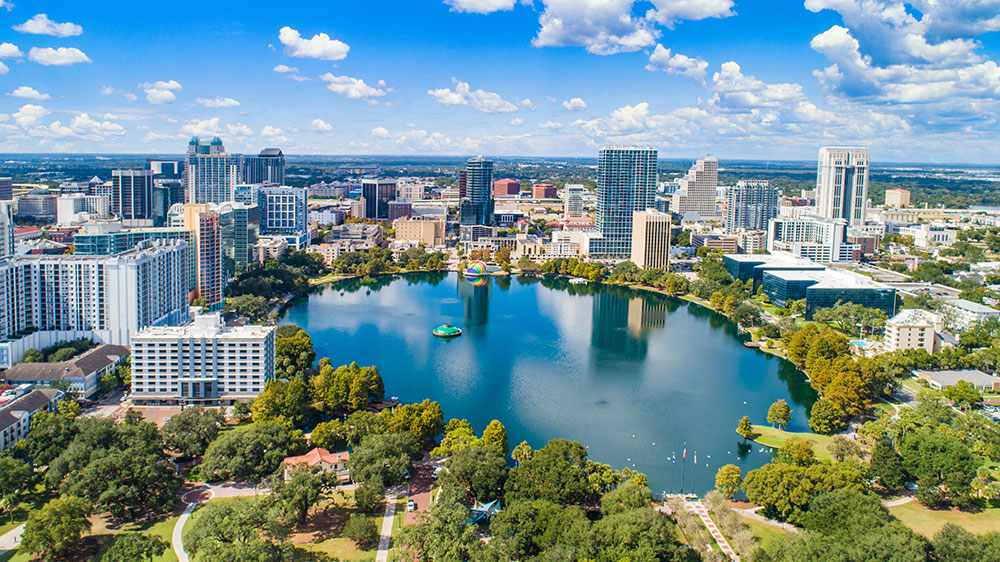 Orlando's Carpet Cleaning Experts
For over 45 years Chem-Dry has been a leader in the carpet care industry. Turn to Chem-Dry in Orlando for a deep clean from technicians that you can trust. 
Our Cleaning Process
The cleaning process unique to Chem-Dry sets our franchises apart from other carpet cleaning companies in Orlando. 
Harnessing the power of carbonation is a key part of our unique process. It allows us to avoid using excess water or soapy detergents that are commonly used by steam cleaners. 
Lets outline the process: 
To start, our technicians will vacuum to remove loose dirt and grime using a HEPA filter vacuum.

After vacuuming, we use The Natural

®

, our Green Certified cleaning solution that releases millions of tiny carbonated bubbles into your carpet fibers. The carbonation in the cleaning solution lifts dirt and grime to the surface of your carpet. 

To finish, we use our Powerhead

®

extraction equipment to whisk away the dirt. 

Once the process is complete, it takes approximately 1-2 hours for the carpet to dry. 
Our cleaning process doesn't leave behind any soapy, dirt-attracting residue. This means there's a lower risk of resoiling, so your carpet stays cleaner longer. 
The best part of this process is that it delivers a deep, long-lasting clean along with a healthier home for your family! 
Other Cleaning Services
Along with carpet care, Chem-Dry offers a variety of additional services for your home. For details on services provided in your area, contact your local franchise. 
Upholstery Cleaning Services
The Chem-Dry process is effective in cleaning upholstered furniture as well! Our upholstery cleaning service works on all sofas, recliners, ottomans, and more. We also offer a specialty leather cleaning service. 
Rug Cleaning Services
Rugs often require specialty cleaning, which is exactly what you can trust our carpet cleaning professionals to do. Our technicians are trained on cleaning a wide variety of synthetic and natural fibers for oriental rugs and area rugs. 
Stain Removal Services
We understand that accidents happen! That's why Chem-Dry has stain removal experts ready to help! The specialty stain removal process at Chem-Dry makes it easy to get tough stains such as red wine or permanent marker out of carpets, upholstery, and area rugs. 
Pet Urine Cleaning Services
It is not uncommon for our furry family members to have accidents, causing stains and odors. Chem-dry offers an exclusive Pet Urine Removal Treatment that is proven to remove 99.9% of pet urine odors! 
Proudly Serving Orlando & Surrounding Areas
Chem-Dry is dedicated to providing the best professional carpet cleaning services in the Orlando area. All Chem-Dry franchises in Florida are locally owned and operated with a commitment to excellent customer service. 
Great reviews have been given to Chem-Dry franchises from Orange County, Polk County, Osceola County, Brevard County, Seminole County , Lake County, and other parts of the Orlando area.   
Chem-Dry services carpet cleaning in:
Taft 

 

Sky Lake 

Oak Ridge 

Pine Castle 

Edgewood 

Conway  

 

Orlovista 

Pine Hills 

Union Park 

Fairview Shores 
Are you ready to give your carpets a professional clean? Contact your local Chem-Dry by phone or online to book a cleaning! 
Contact your local Chem-Dry today to book a carpet cleaning in Orlando, FL!