Find Carpet Cleaning Services in New Orleans
Chem-Dry Carpet Cleaning Services in New Orleans 
Chem-Dry is your go-to for carpet cleaning services in New Orleans! New Orleans is known all over the world for its music, cuisine, and big celebrations like Mardi Gras. The French Quarter draws tourists to the heart of the city to take in beautiful architecture and vibrant culture.
Chem-Dry takes pride in providing you with a cleaner, healthier home. Our carpet cleaning process uses the natural power of carbonation through a Chem-Dry Green Certified product called The Natural® to deep clean carpet fibers. The Chem-Dry Green Certified seal means our product has been evaluated and assessed against strict qualifications to make sure it is safe for humans, animals, aquatic life, and meets clean air requirements. 
Chem-Dry is a great choice for professional carpet cleaning if you are struggling with stubborn stains. Our Hot Carbonating Extraction cleaning process can remove dirt, grit, and most deep-seated stains from your carpet fibers. For particularly stubborn stains, like those from wine and permanent marker, our technicians can also provide a specialty stain removal service. You can trust Chem-Dry to deliver a deep, long-lasting clean for your carpet and upholstery.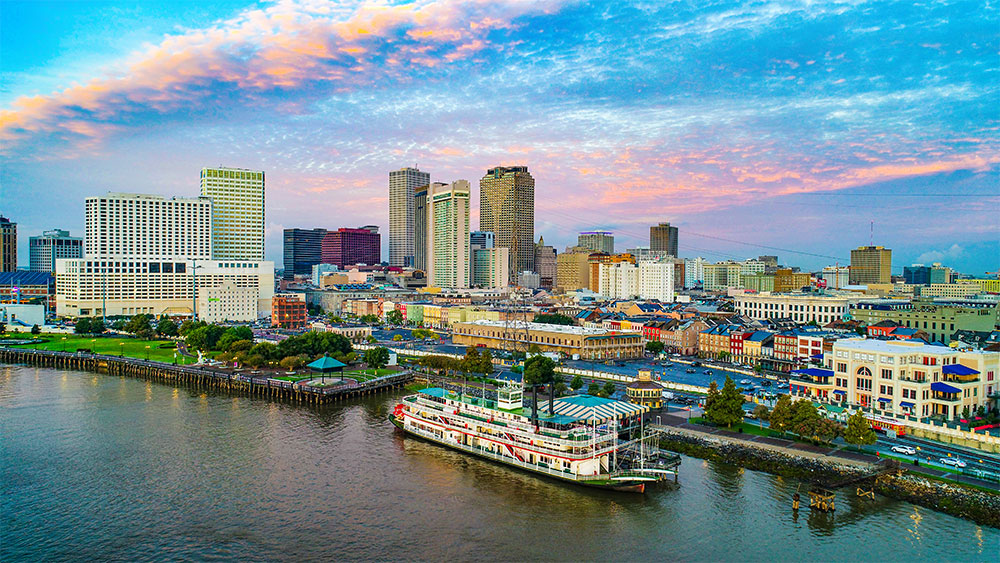 New Orleans' Carpet Cleaning Experts
For the past 45 years Chem-Dry has been a trusted name among carpet cleaners. Our cleaning experts in New Orleans make the carpet cleaning process easy for local homeowners.
Our Cleaning Process
Our carpet care process  is unique from other carpet cleaning companies in the New Orleans area. 
Chem-Dry uses about 80% less water than typical steam cleaners. Because of this, it takes just 1-2 hours for your carpet to dry. 
Here are the steps in the Chem-Dry cleaning process:
First, our technicians remove loose dirt, grit, and allergens from the carpet fibers using a HEPA filter vacuum. 

Next, we apply our Chem-Dry Green Certified cleaning solution called The Natural

®

. It releases millions of tiny carbonated bubbles deep into the carpet. 

These tiny bubbles latch onto the soil and grime in the carpet, bringing them up to the surface. 

Finally, we whisk away these unwanted elements with our PowerHead

®

extractor. 
Since Chem-Dry avoids using harsh chemicals and soapy detergents, there is no sticky, dirt-attracting residue left behind after cleaning. This lowers the risk of resoiling, which means that your carpets stay cleaner, longer!
Best of all, our carpet cleaning service delivers a deep, long-lasting clean to your carpets. This makes Chem-Dry the perfect choice for your home! 
Additional Cleaning Services
Chem-Dry can provide a deep clean to more than just your carpet! Our carpet cleaning company in New Orleans offer a variety of other services. For specific service details in your area, reach out to your local franchise. 
Stain Removal Services
Do you have a stain that won't come out? Our technicians are experts at stain removal! Our

Specialty Stain Removal Service

can get those tough stains out of carpets or rugs.  
Upholstery Cleaning Services
The Chem-Dry Hot Carbonating Extraction process works on upholstered furniture as well as carpets! We provide

upholstery cleaning services

that are great for sofas, recliners, ottomans and more. For leather furniture, we also offer a specialty

leather cleaning service

. 
Rug Cleaning Services
Chem-Dry technicians are specially trained to clean your area rugs. We offer professional cleaning for a wide variety of

oriental rugs and area rugs

. Our technicians will recommend a cleaning process that is tailored to your unique rug's design.
Pet Urine Cleaning Services
Chem-Dry offers an exclusive Pet Urine Removal Treatment that is proven to remove 99.9% of pet urine odors. 
Proudly Serving New Orleans & Surrounding Areas
With Chem-Dry, you can trust that we are giving the residents of New Orleans the best carpeting cleaning service possible. Each Chem-Dry franchise in Louisiana is locally owned and operated, with a commitment to go above and beyond with customer service. 
Our franchises have great reviews from local homeowners in Jefferson Parish, Orleans Parish, Plaquemines Parish, St. Bernard Parish, St. Charles Parish, St. James Parish, St. John the Baptist Parish, and St. Tammany Parish. 
We also offer professional carpet cleaning in: 
Metairie 

Jefferson 

 

Westwego 

Harvey 

Gretha 

Violet 

Meraux 

 

Chalmette 

Seabrook 

Littlewoods 
Are you ready to schedule a carpet cleaning for your home? Contact your local Chem-Dry by phone or online to book your next cleaning! 
Contact your local Chem-Dry franchise today to book a carpet cleaning in New Orleans, LA.